Wish You Well. Tremonti and Man the Mighty at Austin's Fuel Room in Libertyville, IL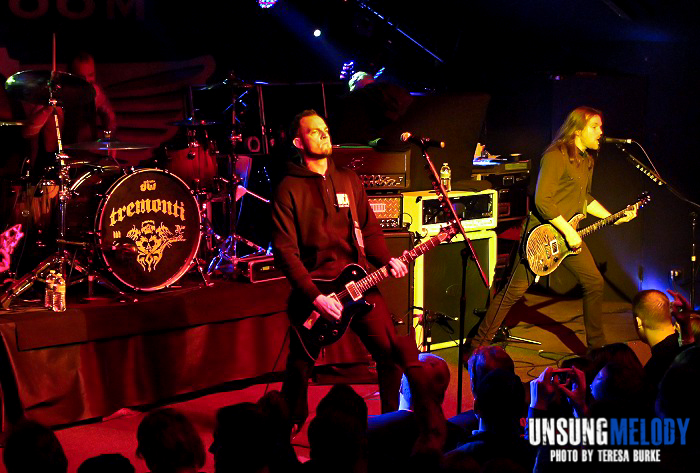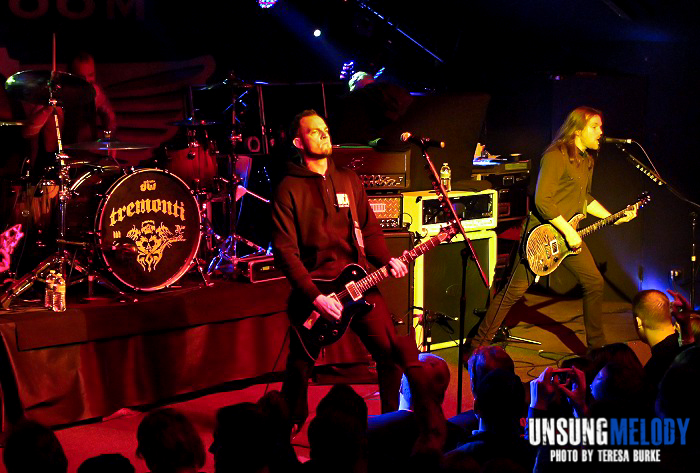 Mark Tremonti, best known from his other bands Creed and Alter Bridge, is still out touring in support of his solo album, All I Was. This time, he made a stop at Austin's Fuel Room in Libertyville, a far northern suburb of Chicago. Playing a Friday night during the winter didn't keep many people away as the venue was pretty well packed.
The night started off with local band A.D.D. This female-fronted rock band with raspy sounding vocals and dual guitars, played their 25 minute set to a receptive crowd. After a quick set change, another local band, Man the Mighty, took the stage. Currently on tour with Tremonti, they showed this crowd what they were all about.
Playing songs from their newest release, I Am Icarus, their 40 minute set was full on rock. When I saw this band last year, one thing was apparent; Mark Tremonti's style was a huge influence on them. Taking advantage of the sound dual guitars brings to the mix, singer Derek Smith, who also played guitar along with guitarist Tim Tournier, made sure there was nonstop shredding all night. They even played The Trooper by Iron Maiden, which really got the crowd going. Bassist Tyler Nelson and drummer Matt Harmoning, who also happened to be playing with a broken foot, rounded out the band's sound.
Check out my photo gallery of Man the Mighty here.
Having seen this band a couple times before, once I saw Tim make his way to Tyler's side of the stage, I knew what was coming. Towards the end of After Glow, they each played notes on the neck of the other person's instrument. Definitely a cool signature move.
For anyone that saw Mark Tremonti's solo tour last year, you are already well aware of the powerhouse machine he has with this line up. For those that haven't witnessed this yet, I can honestly say this band is locked and loaded. With Mark on lead vocals and Eric Friedman on backing vocals, the band has a great sense of vocal melodies. They both bring a next-level attitude of guitar playing to the rock table, not to mention some wicked guitar solos. Add to that Garrett Whitlock's pummeling drum beats running rampant throughout these songs and Wolfgang Van Halen's tremendous bass presence and additional backing vocals. Combined, the Tremonti set is just non-stop, in your face, balls to the wall hard rock.
Check out my photo gallery of Tremonti here.
They started the off night with Leave It Alone and didn't stop until every song from All I Was had been played, along with two b-sides. Talk about a bonus! From the get go, this mostly male-dominated crowd was every bit into what the band was feeding us, which was straight up honest rock 'n roll. They continued with heavy-hitter Giving Up before going into the title track All I Was. Mark shredded his way through some crazy guitar licks in this one.
They slowed things down a bit with Proof, but the mad guitar skills continued with So You're Afraid. Mark and Eric's determination while playing was clear; Rock the heck out of these songs all the while headbanging along as if they were the fan, not the artist. To see them enjoying playing and getting into the groove of each and every song was a pleasure to watch. Feeding off the energy of the crowd feeding off the energy of the band was a glorious cycle to see first hand. For some, it may have been strange to see Mark in the lead vocalist role, but let me tell you, with this many shows under his belt now, it seems second nature to me. Mark really had a handle on pulling double duty and balancing out the two.
The first surprise of the night came when Mark announced they were going to play one of their b-sides, a song called All That I Got. This song was heavy and it rocked! Had it made it onto the album, it would have been right at home. Wolfgang and Eric also provided backing vocals.
The last half of their set was insanely fast and aggressive. They started off with their current single Wish You Well, which lead into You Waste Your Time, both crowd favorites. Not only during these two songs, but all night, Garrett was pretty much all arms. He was beating the hell out of his kit, his raw aggressive power threatening to bring everything crashing down, literally.
Mark commented that they were going to change pace and they slowed things down for a bit with New Way Out, but right away, they were back to that ferocious guitar-driven sound with Decay. This time though, Mark wanted the crowd to sing and they all happily obliged. Mark's expression was slightly angered as everyone in unison screamed, "Fading like decay."
The band left the stage for a few minutes before coming back out for the encore. Eric teased the crowd by playing some notes on his guitar before Mark announced they would be playing another b-side called Gone. The tempo of this one was not as aggressive, but the guitar playing from Mark and Eric was just as massive. Once again, Wolfgang provided backing vocals. I hadn't noticed this before, but he tends to play bass as if he were strumming a guitar versus plucking the strings of a bass. Regardless, his style is a great fit for this band.
They ended the night with Brains. While it starts off slowly, it quickly kicks into a machine gun style, hard driving wicked onslaught of pure guitar madness. All the guys were headbanging in unison, but Mark was headbanging so hard, I thought he was going to snap his neck. This is for sure the song to go out on. People attend live shows for various reasons, but I'm sure it's safe to assume, everyone left with a supercharged energy that equated to feeling satisfied that they had gotten more than their monies worth.
Keep up with the bands below:
www.fret12.com/
www.facebook.com/ManTheMightyOfficial