Lifting My Spirit. Lacuna Coil at Diamonds Pub & Billiards in Louisville, KY.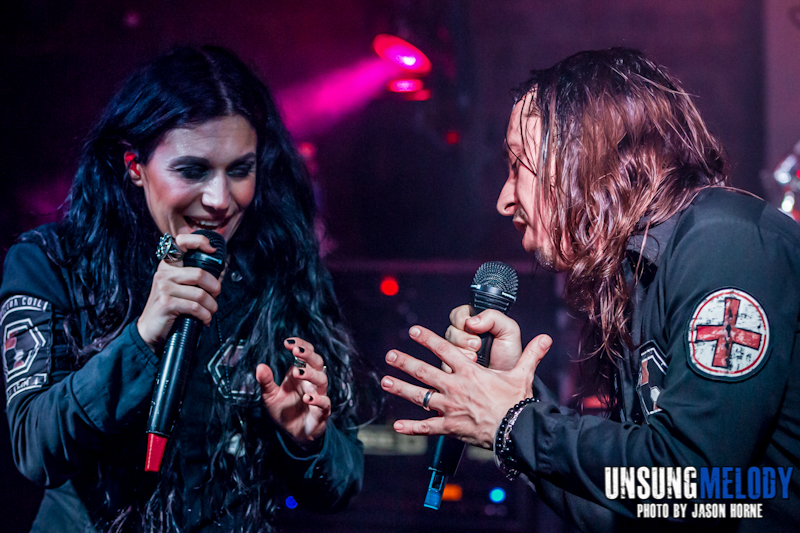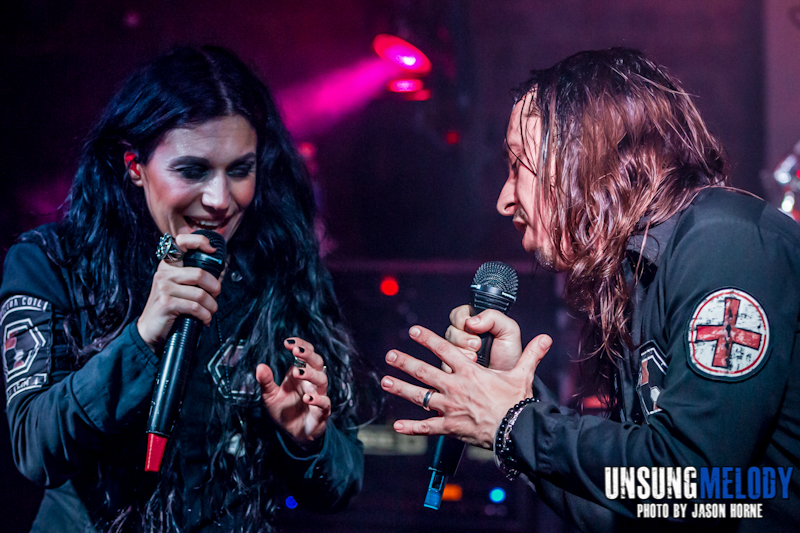 Lacuna Coil puts on one hell of a rock show, and that's just what they did at Diamond Pub & Billiards in Louisville, KY. All the way from Milan, Italy, Lacuna Coil has quite a history in the music industry, spanning over 19 years. Six studio albums, 2 EPs, and 11 music videos later, they are still rocking as hard as ever.
The band lineup looked a little bit different with the absence of bassist Marco Coti Zelati and drummer Cristiano Mozzati. Marco was back home rehabbing for shoulder tendinitis and writing new material, while Cristiano was on paternity leave. While they did use a bass track to fill in for Marco, everyone definitely felt the presence of Ryan Folden (This Is She, After Midnight Project) taking the reins behind the drum kit. Ryan is no stranger to Lacuna Coil. He has been their drum tech for the past 4+ years, on and off.
Diamond Pub, formerly Jillian's, has only been open for a little over a year, but is no stranger to hosting rock concerts. Chevelle, Seether, Days of the New, and Trivium are just a few of the bands who have graced that stage in the past.
After three local opening bands, the crowd had multiplied to a few hundred people that were ready to let loose for Lacuna Coil. With a ground shaking intro, they entered onto the stage and began the show with a track from their current release Dark Adrenaline called "I Don't Believe in Tomorrow". I thought that song was a perfect choice to lead us into the night with its in-your-face bass line and slower headbanging tempo. They didn't waste any time speeding up the tempo with the next two songs though, "I Won't Tell You" and "Kill the Light". At this point, Cristina already had the crowd pumping their fists in the air and yelling "hey, hey, hey…" to the beat.
Andrea spoke briefly in between songs, thanking everyone for coming out on such short notice. The Louisville show was added to their itinerary only two weeks beforehand, as this was to be their last show before heading off to South America. So, Andi wanted everyone to know just how much they appreciated the support and intended on making this a special show for everyone.
Be sure and check out the Lacuna Coil gallery here.
He then introduced the next song as a track off of the album Comalies called "Self Deception". This was the album that really propelled Lacuna Coil into the public eye across the world. Mainly due to the success of the album's first single "Heaven's A Lie", which they played next. As soon as they hit the first chorus, the crowd belted out the words louder than the band! We were all in high gear by this point. The vibe around the place was awesome. There were so many different people and all with a wide range in age. For me, that's one of the greatest things about rock music; diversity.
Next, they played two songs from their 2006 release Karmacode. First up was "To the Edge", followed by "Fragile". Towards the end of "Fragile", Cristina had everyone in the place jumping in unison to the fat bass line and funky drumbeat outro to the song. For a second, I was distracted and forgot I was supposed to be shooting photos of the show. That's one of the things about this job, it's so easy to lose yourself in the music and the moment. Let me correct myself a bit, that's the greatest thing about this job. HA!
Speaking of funky beats, "Upsidedown" was next on the list. With its pounding beats and groove riffs, it kept everyone banging their heads to the beat and throwing horns in the air. They decided to slow things down a bit with "End of Time". Just like the song before, it too is from Dark Adrenaline. This is also their most current single from the album, and only the second ballad to be a single in Lacuna Coil's career.
Things immediately kicked back into full steam ahead with the next song, "Survive". Off the album Shallow Life, it begins with an eerie intro that will leave you with goosebumps just before it completely kicks your ass with a double bass drumbeat and heavy metal guitar riff.
Cristina introduced the next song by saying, "If you've ever been hurt or betrayed by the one you love the most, then you know that's one of the worst types of hurt you can go through. We can only learn from it, and rise above because we're better than that. Let's get a little revenge with the next song, one of our new songs, Intoxicated." They followed that up with their first single from the new record, "Trip the Darkness", just before exiting the stage for what appeared to be the end of the show. However, it was only a short break, as they came back out to a chanting crowd to pound out a four-song encore for us.
There was no talking, just a rumbling intro with hand drums beating in the background as they kicked it right into one of my favorite songs called "Our Truth". The crowd sang along with every word, especially, Cristina's most notable part to the song, which is just an ad-lib chant. Next up was "Swamped", a song that combines Cristina's vocals and Andrea's screams perfectly, with a very melodic chorus.
Then, Cristina asked the crowd if they could still sing. Of course, she received tons of yes's from the crowd, so she proceeded to instruct them when to sing on the next track, "Spellbound". This song was their first single to debut in the top 30 on Billboard's Hot Mainstream Rock Tracks chart. It also peaked at #24 on the US Active Rock chart in September of 2009. So, I guess you can say it was a very successful single for them and the crowd did not disappoint the band. It was late in the night, but the energy had never been higher.
As they were saying their goodbyes before the last song, Cristina explained that the next song was actually written the same night that Peter Steele (lead singer of Type O Negative) passed away. She said Peter was a close friend of the band and they greatly admired him, and that Type O Negative was one of their biggest inspirations as well. She went on to say this song also goes out to anyone who might have lost someone that was very close to them. It was yet another track from Dark Adrenaline, and it was "My Spirit". At first, I wasn't sure if that was the right way to end the night, but after seeing and hearing the emotion coming from the stage, there was no question. It was a perfect ending to an amazing night of metal.