Been Away Too Long. Soundgarden at the Riviera Theater in Chicago.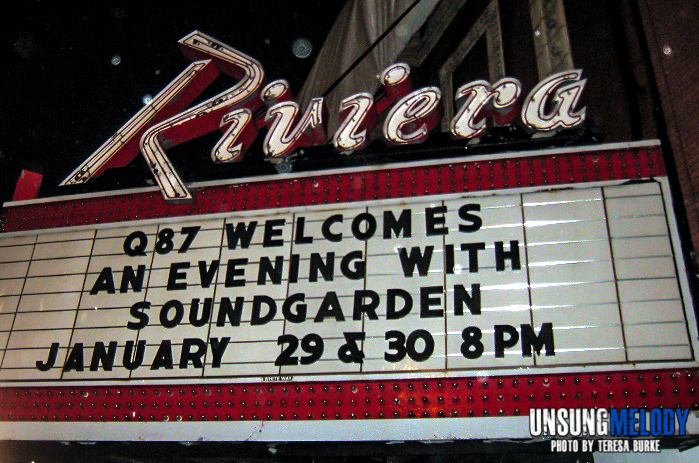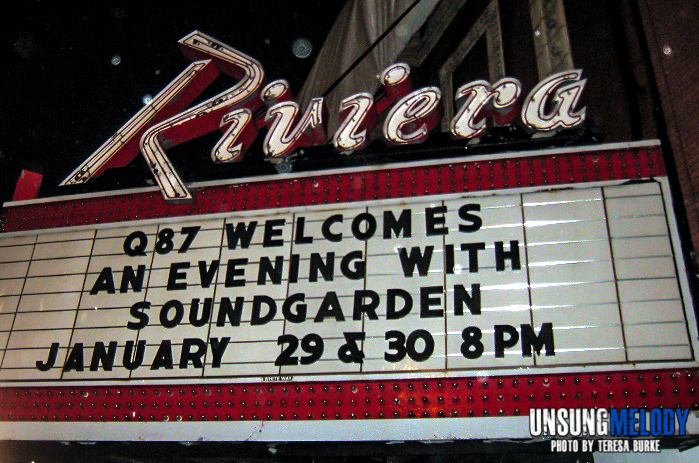 When Soundgarden decided to get back together in 2010 and announced just a handful of dates, I was extremely thankful to have attended their sold out show at the Vic Theater in Chicago. Prior to that, the last time I saw Soundgarden was at Lollapalooza in 1996! Fast forward to 2013 and once again, I was lucky enough to attend the first of two sold out shows in Chicago. This time, they were playing at the Riviera Theater. Slightly bigger than The Vic, but still pretty intimate. I could not wait for the night to start.
I also couldn't help but wonder. Would they play my favorites? How many new songs were they going to play? How long were they going to play?
Yes.
5.
Approximately 2 hours and 10 minutes, or 26 songs.
Even though the show was supposed to start at 8pm and there was no opener, it wasn't until approx 8:25pm that the intro music got a little louder and all the guys eventually walked out on stage. They kicked off the night with a new song, Been Away Too Long, from King Animal, their first album in 16 years. As Chris sang the lyric, "I've been away for too long", I couldn't have agreed more. Yes, Soundgarden HAD been away for too long. Hearing the new songs live, even though I owned King Animal, was even better.
They went straight into My Wave, which lead into another song from King Animal, Worse Dreams. Ben Shepherd's bass line in this song is simply ridiculous. Add in Kim Thayil's creaky space-like opening guitar notes, Chris Cornell's soothing vocals and Matt Cameron's steady rhythm, and the fine people in Chicago were treated to a beauty of a song.
"CHICAGO! VIC THEATER! HOW ARE YOU? MAKE SOME NOISE!" Chris yelled and the crowd went wild with cheers. I looked at my friend and asked quizzically, "Did he just say Vic Theater?" He continued, "It's great to be here. It's great to see you. All of you. Fuck yeah! Right On!" More cheers from the crowd. He mentioned that it was great to be there and thanked everyone for coming out. The next song was Room A Thousand Years Wide from Badmotorfinger.
I had no idea at what point this next song would pop up, but I hoped and prayed that it would, and it did. That quick drumming from Matt immediately tipped me off as Kim's guitar notes quietly began taking shape. As Chris spoke, "Jesus loves me, this I know. Because, he told me so," Kim's playing turned into a rapid screaming, repetitive zany guitar sound that took on a life of its own, sounding far more out there than I had remembered. This eventually turned into a repetitive, intense succession of deep tones that almost sounded like we were literally ready to take off to some other place.
Chris started, "You stare at me," then stretched out both of his arms, as if hanging on a cross and continued with, "in your Jesus Christ pose."
I don't know what it is about this song, but Kim's guitar playing just takes me to another place. Once the song ended, I could have walked out of the building right then and there. Everyone has that one song they hope to hear, and well folks, that was my one song. Lucky for me, the show was nowhere near over. They continued with Rhinosaur and then Chris spoke to the crowd. He thanked everyone again and mentioned they planned to play a pretty long set that would include a lot of old stuff and pretty much something from every record. Up next, though, was another new song, Non-State Actor. Like I said before, hearing these new songs live really gave you a different perspective. There's a lot of room to rock out, chill out, zone out, vibe out, whatever your thing is. Music is always open for interpretation and Soundgarden left the door wide open.
Be sure and check out my photo gallery from Soundgarden here.
Matt's drumming was also quite prevalent. All night, song after song, he just laid it down like there was no tomorrow, all while filling in on backing vocals from time to time, never missing a beat. The next few songs were a nice trip down memory lane with a mix of the early days and some of their biggest hits from the 90's. Based on crowd reaction, and lasting only 2 minutes and 15 seconds long, Drawing Flies made a lot of people in the building extremely happy. Again, Ben's bass playing in this song is pretty wicked.
As they took us farther and farther into their back catalog with each and every song, my smile got bigger and bigger. I wasn't the only one reacting that way either. From time to time I would look around and everyone had their eyes on the stage, singing along, dancing, crowd surfing, moshing. You name it, people were into it! Chris spoke again, "This is from one of our first recordings. This is called Hunted Down." This was the band's first single from 1987. Talk about going WAY back! Clocking in at just under 2 minutes and 30 seconds, again, there were a lot of happy people in the crowd.
Next up were two from 1989's Louder Than Love. First was Loud Love, with its super groovy beat and awesome guitar solo. When the song ended, there were lots of cheers from the crowd and Chris asked how everyone was. He asked for the house lights to come up so he could see everyone and commented that everyone looked relaxed, like they were chilling at home, and he liked it. They went into Big Dumb Sex, which Chris mentioned they didn't play very often. You have to love a hardly played song!! Matt counted off the song and the crowd cheered! Needless to say, I think everyone helped with the chorus. They continued with Blow Up the Outside World and Fell On Black Days, which the crowd thoroughly approved of from all their clapping and cheering. I should note, given that Chris plays guitar while singing most of the night, his hair was always in his face. Mouth to the mic, we were unable to see his expressions until he'd throw his head back and we'd get a glimpse of his emotion for that particular song.
Once again, Chris spoke to the crowd, talking about their long break and how their first show back as a band was in Seattle, where they started. He then mentioned their second show was in Chicago. He referred to Kim as one of the founding members, and called him our "homeboy from Chicago." As a result, Chris said Chicago was their second home, that they played there almost more than Seattle and that it really meant a lot to them. Probably a big reason we were getting the set list we were. He thanked everyone for welcoming them back with open arms.
I should mention for almost every song, there was some sort of visual on the screen behind the band. They were mostly still photos, sometimes with subtle and other times more obvious varying degrees of movement. It was pretty damn cool to say the least and something I had not really seen at a show before. Add to that the ever changing lights, and it made for a pretty spectacular show, visually.
A Thousand Days Before, another new song, had more beautiful guitar work from Kim and Chris' sweet, mellow sounding voice elevated each word to a magical place everyone was all too familiar with. What an amazing song to hear live. Before, I think, anyone realized it, we were transported back to 1994 with the next 5 out of 6 songs coming from Superunknown. They started with the title track, which sounded better than ever.
"Alive in the superunknown,
Alive in the superunknown
Alive in the superunknown
First it steals your mind
And then it steals your soul"
That lead to Fresh Tendrils, to deep cut Nothing to Say, off their Screaming For Life EP from 1987, to Spoonman. Right before Black Hole Sun, Matt thanked the crowd in general and then thanked Chicago for producing Mr. Kim Thayil. Yes, thank you very much!
Talk about a super fantastic evening. WOW! Up to this point, everything was simply amazing! They ended the main set with another one of my favorite songs, 4th of July. That dark, ominous bass tone under Chris' vocals gave this song a creepy vibe that was every bit as wonderful as you can imagine. Not to mention Matt's monstrous sounding drums that reminded me of a giant marching. As the band left the stage, Chris' vocals and the music echoed over and over.
Again, if they would have ended the night at this point, I'm sure everyone would have been more than satisfied. But no, they were not done. What more could they give? What more did they have for us?
A four song encore.
Not one or two, but FOUR. Aside from one new song, they were taking us back. Back to Badmotorfinger and even farther back with a song from Ultramega OK that left me speechless.
After just a minute or two, the band came back out and Chris yelled to the crowd to make some noise! He then introduced everyone in the band and they got back down to business. Kim started off playing a weird swirling type sound before they launched into Outshined and after that, almost immediately you heard those very familiar opening notes to Rusty Cage. Once again, Ben's bass playing is very prominent in this song. For me, this is a major part of the awesomeness of this song. If any song had a trademark, this bass line stands out far and above any other part of this song.
I don't know about anyone else, but the intro to By Crooked Steps is just a lot of fun. Plus, I couldn't stop thinking about the video they had just released for this song. Seeing Soundgarden as a biker gang on segue's? Brilliant. Way to go Dave Grohl!
They ended the night with an insane nine minute version of Incessant Mace from 1988's Ultramega OK. The slow groove throughout made you want to sway back and forth while Chris' vocal lead you on a musical journey to a place where there were no worries or cares. I also need to mention, Kim's playing on this song was on another level. I was blown away. Whoever had the idea to close out with this song…it left me SPEECHLESS. I literally could not believe I had just witnessed that.
GOD BLESS ROCK 'N ROLL!!
Chris and Matt eventually left the stage but Kim and Ben stayed and kept playing. I wasn't quite sure exactly what was going on, or if it was planned or not, but what appeared to be an impromptu guitar and bass jam was pretty cool. It definitely left you wanting more. This went on for 4 minutes before the night was officially over.
For anyone that may have thought Soundgarden were touring with a greatest hits type set, that was definitely not the case. As Chris stated early on, it was a great mix of songs from all their albums. Old stuff, radio hits, new stuff and a few nuggets in between. One thing is for sure, Soundgarden are back and just as good as ever. That night in Chicago, I went to a different place. I'm not sure if anyone else in the building was in the same boat I was, but I'd bet money there were a lot of people transported somewhere else. Having said all that, I hope I've truly captured that amazing night. If not, well, I guess sometimes you just have to be there to fully understand!