More Than Fate. Eye Empire, Surrender the Fall and Three Years Hollow at Mojoe's in Joliet, IL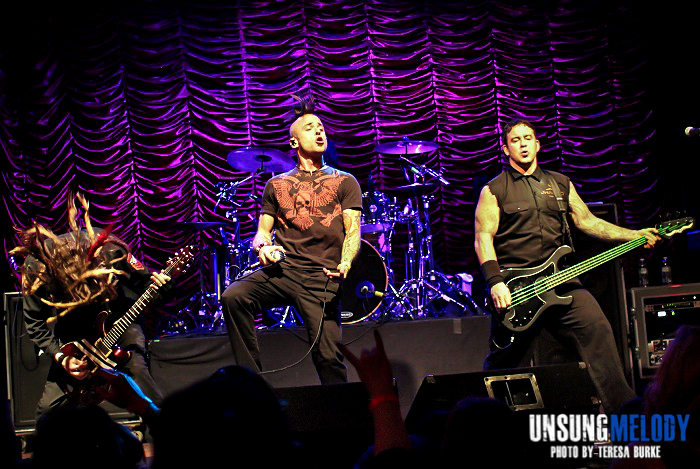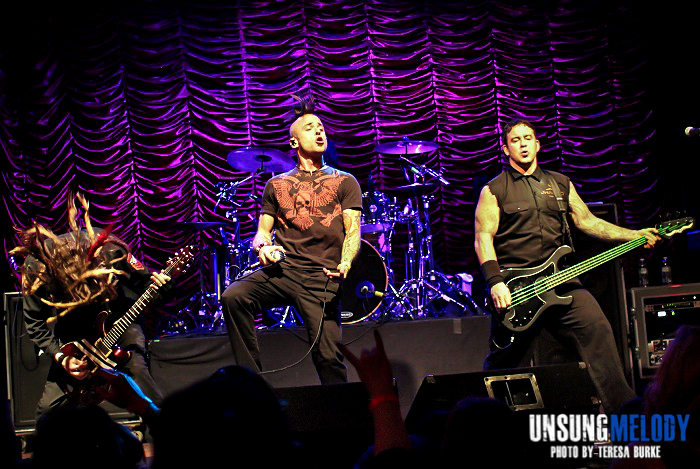 Whenever I attend a rock show on a weeknight, I'm always curious to see the turnout. Kudos to the fans in Joliet and probably some surrounding cities, that didn't let a "school night" keep them from supporting their favorite bands.
By the time I arrived, local band, She Loves Seven were playing their last song. It didn't take long before Quad Cities rockers, Three Years Hollow, took the stage and brought the energy in the room up a level. With a two guitar attack, powerful vocals and a solid back beat, they played their 30-minute set to an eager crowd.
Check out my photo gallery of Three Years Hollow here.
They ended with their two most popular songs from their 2012 release, Remember. Current video single, Chemical Ride, and the title track. Singer, Jose Urquiza, mentioned the single, Remember, was currently #5 on the SiriusXM Octane Big 'Uns Countdown. For an unsigned band, that's pretty decent. I checked their placement the Saturday after the show and it had moved up to #3 between Halestorm and Stone Sour. Not a bad place to be. Not a bad place at all.
Next up was Memphis natives Surrender the Fall. They too brought the energy level in the room up another notch. In fact, they reminded me a lot of Papa Roach. All night, singer, Jared Cole worked the stage. He barely stood still for a minute, consistently standing toward the edge and making eye contact with the crowd, getting everyone pumped up.
Check out my photo gallery of Surrender the Fall here.
Bassist Devin Hightower was a ball of hair and fury while drummer, Rick Anderson, played with a crazed look and at a ferocious pace. Guitarist, Eddie Tyre reminded of the character Hyde, intense but calm with his playing, while guitarist Anthony Pitts was like Jekyll. More the showman of the two, with his rock faces and poses. Overall, the band played their songs to a very receptive crowd. At one point Jared even had a good portion of them jumping up and down. You've got to love an active audience! Before playing their last song, Jared commented that it was good to see people supporting Rock and Roll and he thanked everyone for coming out. They ended the night with Some Kind of Perfect.
One of the great things about an Eye Empire show is the energy they bring. Not only are they a hard rock band with fast guitar licks, pounding drums, heavy bass tones and some angry sounding vocals, singer, Don Carpenter's range is definitely something to be admired.
The night started off with a new unreleased song, Can't Forget. This would be the first of three during the night and they just kept getting better and better. This lead into Ignite, with Don's long drawn out opening scream, Ryan Bennett's pummeling drums and Corey Lowery's heavy bass groove intro. By the time Don sang the chorus, you really were aware of the night and day range of his vocals. Add in the killer guitar solo from B.C. Kochmit and overall this song had such a massive sound.
With its machine gun style guitar riffs and aggressive vocals, Eye Empire kept up their high energy pace with Idiot. Before starting Great Deceiver, Don stated, "Music is our refuge. Music is our sanctuary." Yes, indeed. Trying to describe this four song opener is nothing compared to seeing and hearing it live. Eye Empire's set is best witnessed in person where you can soak in their true Rock 'n Roll impact.
The second unreleased song of the night was Weakness. Again, B.C.'s guitar playing was pretty prominent. With hair flying, he ripped through this song like his guitar was on fire. Don, who standing in his usual hunched over pose, gripping his mic tight while showing an intense facial expression, screamed out the chorus, "I smell the weakness on you."
At one point during the night, Don spoke to the audience about coming to a rock show and forgetting about your worries and just having a good time. With the set they were giving us, I don't think anyone was having a bad time. Eye Empire continued their set with a couple melodic songs. Feels Like Im Falling, which has a lyric that really stands out to me, "I wanna feel alive today, I don't wanna waste my life away" and Obvious. Another clear crowd favorite was Bull in a China Shop. I fully expected some sort of mosh pit to break out, but instead, fans just got crazy in their own space on the floor.
Check out my photo gallery of Eye Empire here.
Not only are Eye Empire's songs energetic and often times thought provoking, just watching these guys on stage, you can tell they are putting their mind, body and soul into their performance. Between B.C.'s constant head banging (how does he not have permanent whiplash?) and furious guitar solos to Ryan's insane style of drumming of all hair and arms flying. Not to mention Corey's command of his bass and ominous presence on stage to Don's extremely intense facial expressions which also provide a window into his soul as you feel every emotion he projects onto the crowd.
Once again, Don spoke to the crowding commenting on how there wasn't enough proactive love in the world and that the next song was about making an impact. Of all their songs, I feel Angels and Demons showed a talent in this band that many may not even realize. The harmonies throughout this song are straight up insanely good. Especially toward the end when you hear the pleading tone in Don's voice as he screams, "Don't let them take my…." which leads into Don, Corey and B.C. angelically singing the word "Soul." This line is repeated a few times over and standing in the middle of the crowd that night, I was just blown away.
At some point during their set, Don told the crowd, "It's not how many people are here, it's who is here." With songs like Self Destructive, their current single More Than Fate, and Victim, those in attendance that night won't soon forget the massive rock show Eye Empire brought to Mojoe's.
As the night came to a close, we were treated to one more unreleased song. The night before, a friend had seen Eye Empire in another state and mentioned they had played some new songs. She used two words that I will now use to describe One Day. Balls Out! As silly as that may sound, once again, I was standing in the middle of the crowd in total awe of what I was hearing. This song was in your face, aggressive, fast-paced and exciting. Don mentioned to the crowd that this song was very personal to him. I'm glad they decided to share it with all of us.
The band left the stage for a minute or two before ending the night with I Pray. If anyone thought the band had nothing left to give, they were sadly mistaken. They ended the night with just as much energy as they started with, both musically and vocally. Not to mention this song has one of B.C.'s most wicked guitar solos. Well, in my opinion anyway. But really, who's going to argue over guitar solos? For anyone debating whether or not they should go see Eye Empire, especially if it's during the week, do yourself a favor and get to a show ASAP. Not only are you in store for some killer hard rock music, you may just get a taste of the future of Eye Empire.
Keep up with the bands below:
www.eyeempire.com
www.surrenderthefall.com
www.threeyearshollow.com