Warner Drive with Vayden, Love and a .38, Soul Exchange, and The Resonators at The Roxy in Hollywood!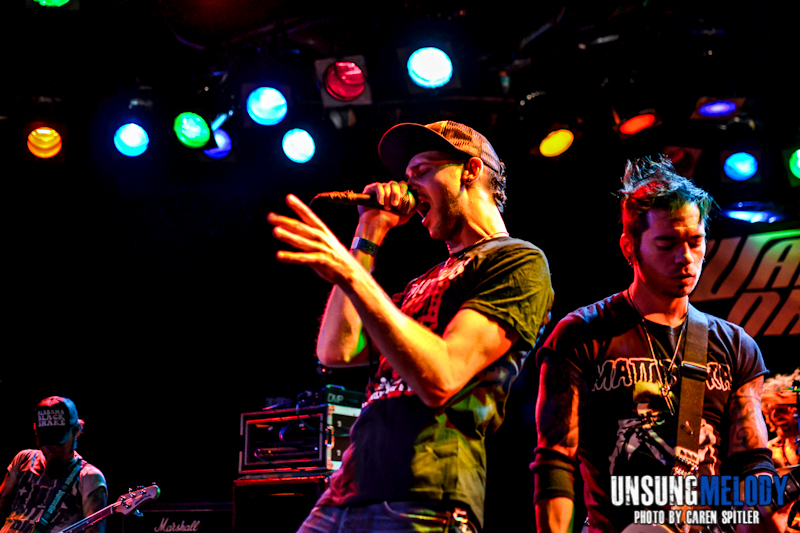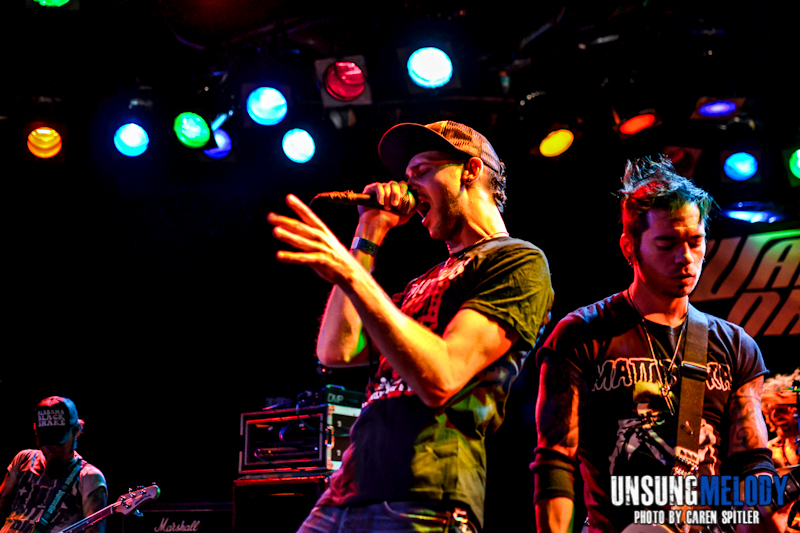 Nothing better than a night on the Sunset strip. For those music fans who live outside of the greater Los Angeles area, I suggest that when you come to visit the City of Angels, you skip the usual tourist traps and make it a point to find a show at one of the venues in West Hollywood like The Roxy, the Viper Room, the Key Club, or the Whisky A-Go-Go, which all happen to be on the strip. Or there's also the Troubadour on Santa Monica Boulevard, sitting on the border of West Hollywood and Beverly Hills.
I arrived at the venue extra early this day to sit down with Warner Drive for one of our UMtv interviews. (You can read the interview here.) Having met the band before, I was really excited to talk to them again. They have the vibe of the "rock-star" exuding them, but not the attitude. They are just regular people who happen to be in a kick-ass band. Talking to them is a genuinely good time. I hope they enjoyed it as much as I did.
As I approached the venue seeking out my chance to connect with the band (post sound check), there were some very eager fans waiting in line. I hung out and talked with them a bit. A group of four Warner Drive fans arrived at 3pm that day to make sure to be in front. Another group was up front to make sure they could get up-close for Love and A .38. One girl wanted to make sure she was in front of Love's bass player, Justin Emord. I think it must have been her first live show because she asked me if the bass player would be on the right side of the stage. My answer was, of course, that it depends on the band. The early group of devotees shared their stories of finding and following their favorite bands with me. It was great to talk to them and hear about their experiences connecting to the music.
After completing my business with Warner Drive, I then joined the fans again to wait for the show to start. There were five bands on the bill, only two of which I was at all familiar with. The line-up included The Resonators, Soul Exchange, Love and A .38, Vayden, and Warner Drive.
As usual, I wasn't sure what to expect from the line-up. There are times when you find yourself watching an opening band and you have to fight the urge to walk out of the room. This was not one of those evenings. All five of these bands came out with their own distinctive sounds and ALL of them did a great job performing what they offered. I did have my favorite moments of the evening and left wanting to know more about some of the bands over others.
Once inside, I was standing up front of the stage waiting for The Resonators to start the night off. I turned around to find that in just a few moments, the room had become tightly packed. The majority of the fans surrounding me were a bit younger than usual. The band had fans who were in their early teens. I always brace myself when I start to see people under 16 at a show. I know that totally betrays my age, but in all honesty, not every young band is going to come out of the gate knowing what they are doing. Every musician needs time to learn their craft and sometimes age can show they still have work to do. Again, this was NOT the case tonight. These boys can play. They tore it up and the singer/lead guitarist Henry Michaelson plays some impressive blues guitar. The band plays an energetic style of blues infused rock 'n' roll. Think Cream meets White Stripes with some rockabilly vibe on top.
By the time the curtain went back onstage, the fans had recycled into a more typical rock crowd, late-teens to early 20's. Oh, and the few who don't cease to rock when they get above that age.
The next act was Soul Exchange, a band who don't take themselves too seriously, but they do when it comes to their sound. The members of this band have experience and history that they brought together in 2010 and crafted a memorable sound. Highly fueled, ferocious, yet smooth with pleasing melodic undertones guided by front-man Jim Schueller's strong vocals. They are crushingly loud, but yielding when they hit a breaking point.
By the time Love and A .38 were about to come on, there was some of the usual push and shove that goes on at every show. Fans try hard to position themselves at the front of the stage to be up-close and personal with the objects of their musical desire. I was excited to see this band live, having heard their music, but hearing even more about them as a live act. Oh yeah, and they didn't let me down! They came on stage and went beyond the hype. West Hollywood-based boys Ryan Hudson (Vocals), Danny Excess (Drums), Domo Domaracki (Guitar), and Justin Emord (Bass) have a sound that speaks volumes beyond their "rock-star" good looks. They are a hard rock band playing a more traditional sound. Imagine a modern Bon Jovi or Guns 'n' Roses. They had the crowd going and asses movin'.
Another break and more juggling, pushing, shoving, and even some cajoling of the crowd. Then Vayden took the stage; Curtis Casey (Vocals), Bruce Weitz (Drums), Armin Peterson (Guitar), and Jeffrey Covey (Bass). Another gear switch, and completely different sound from the bands before them. Vayden is, musically speaking, a thing created in crushing beauty. Complex, intricate, fierce and untamed. Their sound exists in some mystical place in the middle of Pearl Jam, Incubus, and classic Led Zeppelin. And the vocals are simply stunning.
Curtain down once more for the final equipment change before the headliners. By now the crowd has all packed as tightly to the stage as possible waiting for the curtain to go up on Warner Drive. There is always an excitement in the air by this time in a show. The last gasp before the final climax. The band was revealed looking super excited to be playing a show in their home base LA. The first LA show after their return from travels in Europe this summer. Warner Drive are Jonny Law on the vocals, Ryan Harris and Candice Levinson on guitar, Elvis James on bass and Jonny U on drums. This band writes catchy riff-driven tunes with a punk rock edge. I especially love the vocal delivery of front-man Jonny Law. I'm gonna call his vocals "rural-urban-twang." Whiskey-soaked with a cutting finish. Not far off the mark from another fellow baritone, Mike Ness. This is one tight-ass band who play perfectly as a unit.
Their set featured a lot of the new material that will be on the next album. A day before the show, Jonny Law gave the fans a sneak preview of a few of the tunes. I don't think the band played them all at the show. They did play the Drinking Song (not sure if that is the title…I asked, but not sure I got a real answer on that), You Make Me Smile, and Boys and Girls. Warner Drive creates songs that are instantly accessible. It's sometimes hard to play songs that no one knows at shows, but their songs had everyone moving along as if they'd heard them all before. I could see the people who got to the venue early up front totally enjoying every second for each new song. Their new material (like their old) is catchy, sometimes loaded with a kick to the pants of unexpected humor. The crowd ate it up, but the band raised it to another level when they started to play some of the older tunes like Ok-K-Go and Scarecrow. A highlight was The Shocker, an irreverent, humorous, and raunchy tune about where they might put a pinky finger. They perform this while jumping in unison at certain down-beats in the song. The room went wild, holding their hands in the air with a Warner Drive signature hand gesture in place of what might usually be devil horns (metal sign.) The band also performed their cover version of the Roxy Music song She's Got the Look. Jonny Law said he wanted to do it because Candice Levinson was suffering from laryngitis and he wanted to make her sing. It was pretty funny, but I hope she recovered fast.
This evening was about as well rounded as any show probably could have been. Each act of the night was entertaining. They were also so different from each other, but not such a gear change that you wanted to walk out. There was some talent on that stage. I very highly recommend you check out some of these bands, if not all. I am certain at least one is gonna blow your mind.
Check out the bands below:
Warner Drive
Vayden
Love and A .38
Soul Exchange
The Resonators