Hinder featuring Aranda, live and acoustic in Chicago!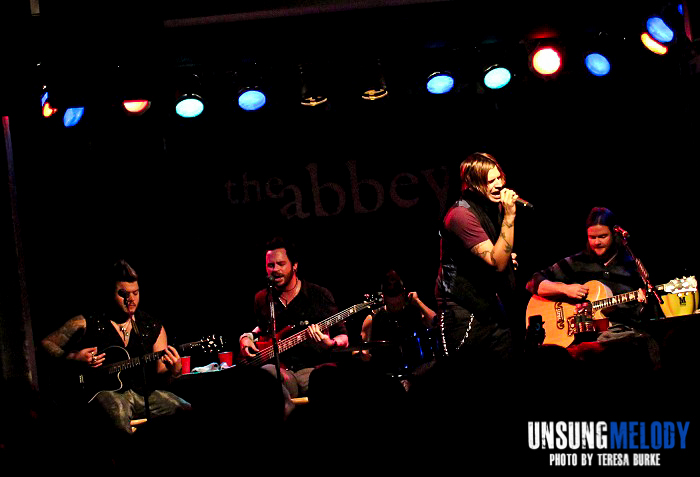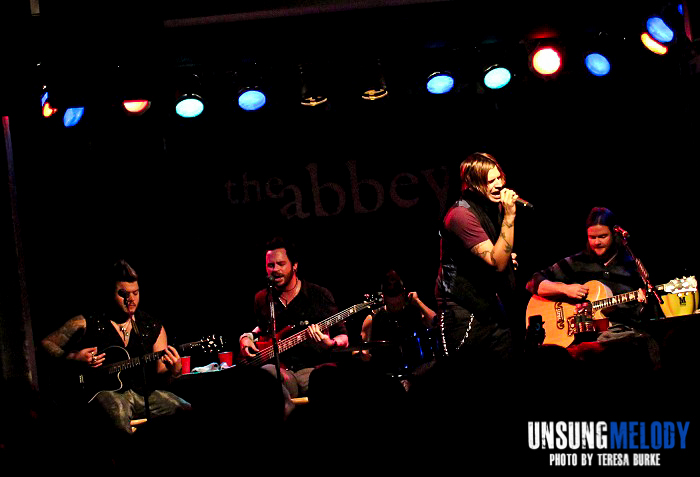 Be sure and check out the Hinder photo gallery here, and the Aranda gallery here.
To help promote their new album, Welcome to the Freakshow (available Dec 4), Hinder played several intimate live and unplugged acoustic shows. Openers, Aranda, also performed an acoustic set to crowds that seemed open to something that was not the norm for either of these bands. The Abbey Pub in Chicago, IL was the perfect setting for this show because it allowed fans to get up close and personal.
The night started off with a local opener, Bullet Called Life. Their 30-minute set had what some might call a calm sludgy tone. Even the tempo during their cover of the Talking Heads' classic "Psycho Killer" seemed slower than the original. Personally, I loved it. Lead singer and guitar player, Aaron Hosek's vocals were deep and mesmerizing. As with most bands, bass player, Dave Lundeen and drummer, Jake Abry, kept everything in a perfectly timed groove. Most noticeably different was their keyboard player, Tom Miller. Not many rock bands are using this sound within their music but I felt it added a dimension that made them unique.
After a quick set change, Aranda started of the night with their current single, "One More Lie." Brothers Dameon and Gabe Aranda, along with bassist B. Webb, played an acoustic set that clearly had the energy of an electric one. Right from the start, Dameon's guitar playing was pretty intense not to mention his vocals that could have been heard outside the building.
What really sets Aranda apart from other bands is the fact that they basically have two lead singers. Depending on the song, Dameon may sing lead a little more than Gabe and vice versa. However, during the songs where they are singing together, their harmonies are simply amazing. Ultimately, they are both doing each song justice as their passion for the music really shines through.
Prior to the show, I was fortunate enough to interview both Dameon and Gabe and I asked if they felt their songs would translate well in an acoustic format.They both agreed they would since they really started off that way. After seeing what they could do within a 45-minute set, I would most certainly agree. You can watch the entire interview here.
While Aranda normally has a drummer, Mike Walker was not on tour with them. However Gabe pulled double-duty by playing various percussion instruments. Needless to say, there was never a dull moment on stage. Playing a mix of songs from their newest album, Stop the World, and their self-titled first album, the set was a huge hit with this Chicago crowd. All night people were singing, dancing and generally appeared to be having a great time. Aranda got a little funky with "Testify," soulful with "Gravity" and really surprised everyone with a Michael Jackson song medley.
Starting off with "The Way You Make Me Feel," which really showed off Gabe's vocals, everyone was on board with this strange unexpected twist in the set. During "Black or White," much to everyone's surprise, Dameon and Gabe started beat boxing and then Dameon busted out the first three lines from Run-DMC's "Peter Piper." "Wanna Be Startin' Somethin'" ended with B. Webb plucking strings like there was no tomorrow, but as he went into the opening notes of "Billie Jean," everyone was along for the ride to Funky Town! Dameon ad-libbed about how they came to Chicago Bears' country before they went into "Man in the Mirror." Apparently Dameon is a huge Bears fan. I must add, both brothers sang the trademark Michael Jackson high note "hee's" and "whoo's" at all the right times.
Before leaving the stage for the night, Gabe played keyboard on their most popular song, "Satisfied," which is truly a song that shows the amazing vocal talent of these brothers. With just as much energy as when they started, the night ended with another upbeat song, "Whyyawannabringmedown." From the cheers of the crowd, there was no question, that everyone was satisfied.
After a 30-minute set change, Hinder walked out to loud cheers and applause. Except for Austin Winkler, who sang while standing all night, one by one, each band member sat down on stage. Again, not the normal vibe you're used to from this band, but overall, it really worked. Their 70-minute set not only included all the fan favorites, but everyone got a sneak peak at six new songs from the forthcoming album, Welcome to the Freakshow.
They started off on an upbeat note with "Use Me" that lead into "Homecoming Queen," which really seemed to fit this acoustic format. When Austin started singing, "What Ya Gonna Do," in the stripped down setting, the lyrics really stood out.
It didn't take long before the new songs started. Once again, "Get Me Away From You" and "Is It Just Me" really fit this acoustic setting. I can't help but wonder how different these songs will sound plugged in. Either way, each and every new song played that night was well received. I also couldn't help but notice how expressive Austin was while singing these new songs. He showed a connection that I can only imagine runs pretty deep, to some degree, lyrically.
Having not one, but two guitar players in the band, Joe "Blower" Garvey and Mark King, playing acoustic, really gave a lot of these songs a whole new dimension of sound. With Mike Rodden on bass, and Cody Hanson playing on a full kit, they really rounded out the tone of the night. Honestly, more bands should play acoustic shows.
"Better Than Me" had the most crowd participation until they played their most popular hit, "Lips of an Angel." I don't think there was anyone in the venue that didn't know the words and Austin challenged everyone to be as loud as they could.
To me, it wasn't until they played "All American Nightmare," that I felt a particular song was the most opposite of its original format. As a result, it was one of my favorite versions of the night.
The crowd response to the last three new songs played, "See You in Hell" (also Austin's favorite) followed by their current single, "Save Me" and lastly "Talk To Me," was all extremely positive. As the night was coming to an end, Austin claimed the time had come to offend some people. Most of the crowd immediately cheered as they knew the song. Even though it's not played all that often, "Bad Mutha Fucka," is definitely a crowd favorite.
"Get Stoned," with its huge chorus widely known to many, was a good way to end the night. Given the outstanding musicianship by both Hinder and Aranda, in a format not widely seen in the rock world, I highly suggest all bands consider taking the time to present their music in a different light. As a fan of the bands and a fan of music in general, I feel everyone took away something different and to be honest, probably walked out of there with a greater understanding of the music in general.
www.hindermusic.com
www.arandamusic.com
www.bulletcalledllife.com