Pop Evil, Royal Bliss, The Last Vegas, and 3 Years Hollow at the Brat Stop in Kenosha, WI!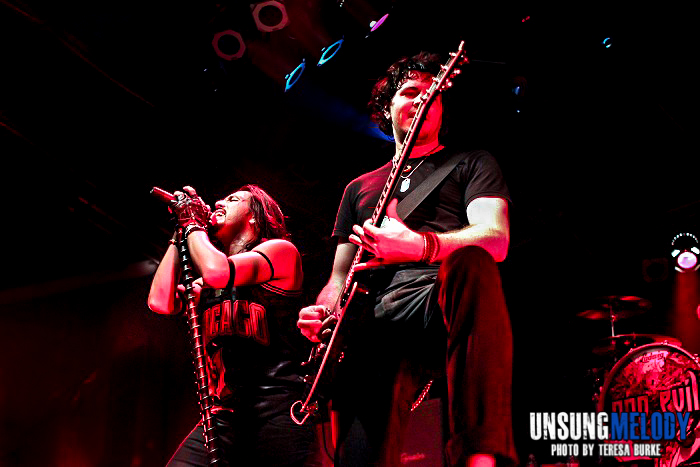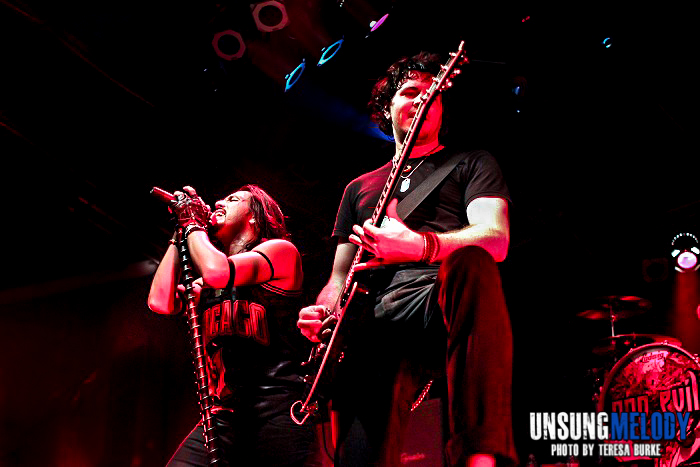 There's nothing better to do on a Saturday night than attend a rock show. Once again, I was at the Brat Stop in Kenosha, WI for the local radio station's annual XXXMas show.
The night started off with 3 Years Hollow from the Quad Cities. Anyone that attended the Chicago stop of the 2012 Rockstar Uproar Festival may remember them as the national finalist for the Ernie Ball Battle of the Bands. Their 30-minute set was mostly packed with energetic songs from their current release, Remember (2012). With heavy guitar licks, big choruses and sound musicianship, the crowd was receptive to their set.
After a fairly quick set change, The Last Vegas, from Chicago, took the stage and entertained the crowd with their brand of rock 'n roll. Lead singer Chad Cherry knows a thing or two about being a front-man. He covered every inch of the stage, getting the crowd amped for the rest of the night. Their 30-minute set consisted of six songs from their new release Bad Decisions (2012) plus a couple from their previous release, Whatever Gets You Off (2009). The night started off with Beat to Hell and Other Side. For me, Evil Eyes was the stand-out song of their set.
Check out my photo gallery of The Last Vegas here.
These new songs definitely have a prominent guitar sound. Whether it was Adam Arling on lead or Brian Wilkinson (who was filling in for Johnny Wator) on rhythm, there was no mistaking the true sound of The Last Vegas. All night, whether they were interacting with each other on stage or with the crowd, these guys were having fun. Bassist Danny Smash seemed to enjoy interacting with his fellow band mates more than anyone. As for drummer Nate Arling, you mostly saw his massive amount of hair flying all night due to his heavy hitting. The Last Vegas' set ended with their energetic Love Me Bad, that also had Chad jumping off the bass drum. Rock 'n roll!
After another set change, Royal Bliss started the night with one band member at a time taking the stage. The intro jam started off with drummer Jake Smith mostly in the dark, except for some flashing lights here and there. Once bassist Dwayne Crawford came out playing, the stage was flooded with red light. When Taylor Richards took the stage and added his guitar licks to the intro jam, the gradually increasing level of intensity was evident. Singer Neal Middleton came out and really kicked off the night with Here They Come.
Check out my photo gallery of Royal Bliss here.
Almost immediately, they continued with Monster and We Did Nothing Wrong. This 3-song set opener had so much power, it's no surprise to me they've chosen one heavy hitter from each of their last three albums to start off the night. For anyone that has seen Royal Bliss live, or if you have yet to see them, one thing is certain, they will rock your socks off! This band plays with such a passion and intensity that you can't help but get caught up in it all.
Taylor's lead guitar playing and solos, not to mention his hair flying and facial expressions, shows he's in tune with his instrument, the songs and the band. Dwayne, on the other hand, is one wild bassist. From his high jumps and kicks on stage to playing his bass in a chaotic style, including holding it up in the air or behind his head, he is a whirling ball of intensity. Although sitting down, even Jake plays with a strong presence behind his kit. Once you add in Neal's vocals, you have a very dynamic band playing and giving their all to everyone in attendance.
Halfway through their set, Neal called out to the local DJs who had an announcement of sorts. A huge fan of Royal Bliss and his girlfriend also appeared on stage. It wasn't long before he was down on one knee asking if she would marry him. Happily, she said yes and the guy could not have been more excited. Neal's smile spoke volumes over his happiness for the couple.
Royal Bliss continued their set with guest guitarist Neil Finch, who lent a hand on rhythm guitar for the last few songs, except for their cover of Sabotage by the Beastie Boys. I can't even begin to try and describe how much justice they do while playing this song. It's a nonstop musical explosion. It's just plain awesome! They ended their 45-minute set with fan favorites, Save Me and probably their biggest sing-a-long of them all, I Was Drunk.
After a brief few minutes for the Not So Silent Nightie contest, sponsored by the local radio station, a winner was announced based on crowd cheers and everyone eagerly waited for the headliner.
Right out of the gate, it was pretty clear that Pop Evil came to rock the Brat! Starting off with Epitaph from their current album War of Angels (2011), each band member played with serious intense body language. Continuing with Hero and 3 Seconds to Freedom from their previous release, Lipstick on the Mirror (2008), here was another band with a 3-song intro that gave the crowd something to be excited about.
All night, lead singer Leigh Kakaty was locked in with the crowd. With each lyric he sang, you could see and almost feel the raw emotion in his facial expressions and body language as he belted out every song.
Check out my photo gallery of Pop Evil here.
For those that have seen Pop Evil before, they are well aware that bassist Matt DiRito is a wild man on stage. For those that are new to Pop Evil's live show, his stage presence will not disappoint. Between his long locks of hair flying, his jumping around on stage, contributing backing vocals and just plain looking like a bad ass, he commands attention.
Drummer Josh Marunde, aka Chachi Riot, is an absolute beast behind his kit. It's been a while since I've seen a drummer play so aggressively and there were quite a few times I was engulfed in the power behind his playing. He also had a few tricks up his sleeve. At one point I saw him appear to wrap the stick around his neck and grab it on the other side before hitting his drums again, not missing a beat. He was definitely very entertaining to watch.
The two guitar men that bring Pop Evil's music to life stand on opposite sides of the stage. Rhythm guitarist Dave Grahs played with such a cool attitude that his demeanor on stage was mellow yet powerful. Lead guitarist Nick Fuelling held his own as well, ripping solos, smiling from ear to ear and basically making his guitar scream with life.
Prior to playing one of their biggest hits, Leigh asked for the crowd to put up their lighters and cell phones as he welcomed Neal Middleton from Royal Bliss to help sing on 100 In A 55. While Leigh sang and also played acoustic guitar during the whole song, the crowd was more than willing to also help Neal sing. After he left the stage, Pop Evil played their current single, Purple. Once again, true emotion came pouring out and was evident in Leigh's body language.
Toward end of their set, the band briefly left the stage. When Leigh came back, he was wearing a Chicago Bulls basketball jersey. Reason? He announced they were going to record their new album in Chicago next year. He promised the new songs were going to be better than anything they had done previously.
The night ended as strongly as it started with Boss' Daughter, Last Man Standing, (which included Leigh catching some air when he jumped off a riser) and Monster You Made. Leigh, once again, played acoustic guitar during the song. When everyone thought the show was over, Leigh mentioned they had one more they had been working on. All the guys stood around two mics as if they were all going to sing, but it was mostly Leigh that sang Silent Night. It was a great way to end the show during the holiday season.
Keep up with the bands below:
Pop Evil
Royal Bliss
The Last Vegas
Three Years Hollow