Clutch featuring Mondo Generator, Saviours, and Wino at Buster's in Lexington, KY!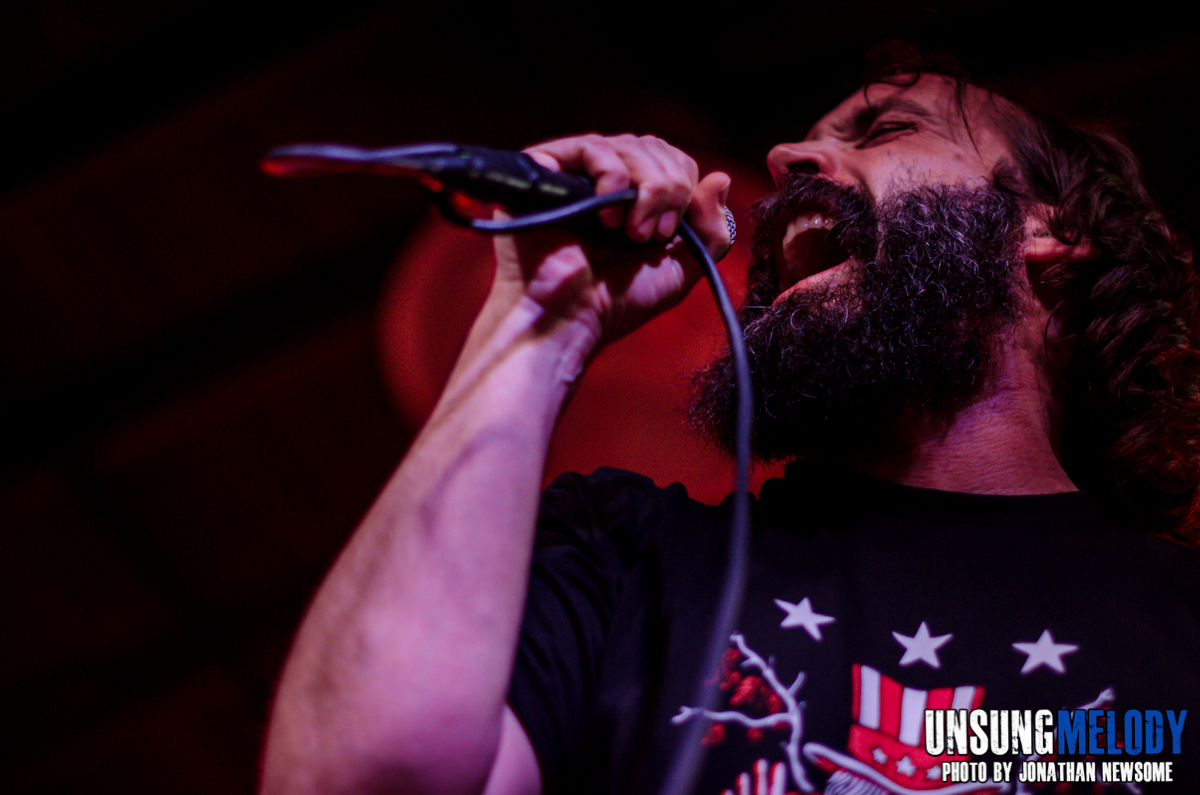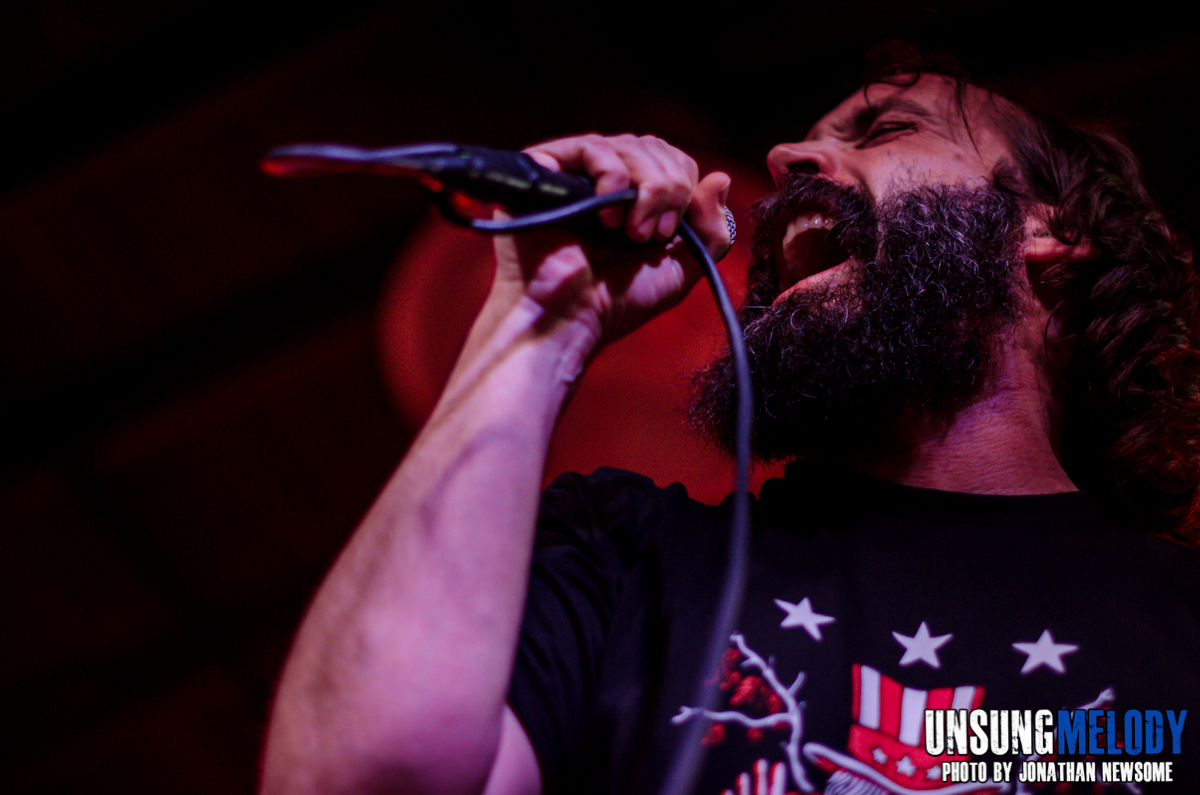 On a cold snowy Friday night, I found myself back at one of my favorite venues; Buster's! Lexington, KY's premiere venue, in my opinion. The lighting there makes my job so much easier, so kudos to Clark and the gang for that! I wandered back to Buster's for an evening with one of my favorite bands on the planet; Clutch. Having been a fan for at least 18 years, they've been a part of my life for the latter half. Wow, I'm just gonna let that sink in a bit. This was my 9th Clutch show, so I knew how great the band was live, and that is why I continue to go to their shows. They never fail to deliver a great set. I'll take you with me tonight. Sit down, buckle up and enjoy the ride.
Wino was up first. Scott Weinrich, the legendary doom-metaler provided a stripped down acoustic set, joined for a couple songs by his friend. It was an odd start to an eclectic evening. Odd as in, an unexpected surprise. It's as if you sat down in Scott's living room and shared a beer. It was an intimate, powerful performance.
Next up was California doomers Saviours. Having listened only briefly before their set, I knew they were my style. Holy crap though, what I didn't know was how friggin epic their set would be. Close your eyes.. imagine seeing an early incarnation of Thin Lizzy or even Black Sabbath, or Vanilla Fudge in a small club. Now, you are starting to understand what it was I felt. Are they Sabbath? No. They are Saviours, and you will know their names. If guitar rock, ala Fireball Ministry or Red Fang or The Sword are your thing, I just watched your favorite new band. Buster's will need a new stage after that set.
Check out my Saviours photos here.
Mondo Generator took the destroyed Buster's stage next. The name comes from a Kyuss song, which is a band that featured Mondo Generator bassist/vocalist Nick Oliveri. Their set was something that would have fit better with the early Clutch records, but not so much the last few Clutch records. Still, don't get me wrong, these guys know how to bring it. One song in particular that really engaged the crowd was one called Shawnette, which is on the album, Cocaine Rodeo. The slow, dragging start-stop verses leading into a blistering, frantic chorus are a staple of Mondo Generators' style. A style that was not lost on the Lexington, KY crowd. Buster's was about 3/4 capacity by now and feeling rowdy. Believe me when I say Nick Oliveri knew that, and was more than ready to kick a few asses. Good set from a really tight band. Oh, want another Kyuss connection for all you music knowledge freaks? How about the fact that former Kyuss vocalist John Garcia is in a band called Hermano, with none other than former Lexingtonian David Angstrom. Cool stuff, if I don't say so myself!
Check out my Mondo Generator photos here.
With the crowd chanting Clutch 15 minutes before they ever took the stage, there was no doubt who the crowd was here to see. One eager, injured fan even found it inspiring enough to use his crutch to lead the charge. Thrusting it skyward, chanting Crutch. Crutch. Crutch. I'm gonna say they watched a Christmas Story a little too much over Christmas. Fa ra ra ra ra, ra ra ra ra anyone? Okay, enough of the bad jokes. The lights have dimmed and the goodness is about to be delivered. Just like Ralphie waiting in anticipation though, I found myself wondering what song the band would open the show with. Would it be a new song? Could it be a classic? It's the blues-infused Gravel Road. Ahhhh yeah. Vocalist Neil Fallon seems energized, even more so than usual. I've always felt his on-stage antics were somewhat in the mold of an over zealous preacher, which for me, made for the perfect video in Burning Beard. The band is on their annual After Christmas run and they seem to be in top form.
I want to throw in a thought here; Neil pointed out a young man in the front row. He asked him his age, to which the young man replied 13. It was his first Clutch show, and Neil knew how important a moment this was for him. So, not only did he create a talking point in the kids life, he also asked the crowd to watch out for his safety. A great moment for the kid, and a glimpse into the personality of the band. Always humble, always rocking.
The first new song of the night was the first anyone has heard from the album. The title track, Earth Rocker. The song is undeniable Clutch, and fit into the set list as well as any other. New music always seems to be a great thing to see live. Not only are you excited about it, but the band is also. Good times.
Check out my Clutch photos here.
Next up came the ever popular The Mob Goes Wild. This song was from the album Blast Tyrant, which is widely considered one of, if not the most perfect Clutch album. (For me, I can't pick a favorite. They all are tremendous in their own way.) The crowd was feeling their oats by this point, and the decibel levels were certainly raised.
Three more new songs were squeezed into the set; Mr. Freedom, Cyborg Betty, and Crucial Velocity. Cyborg Betty was quite possibly my favorite of the new tunes, although Crucial Velocity was right on the doorstep. The new songs all seemed to feature the things that make Clutch who they are, but these songs are a bit more aggressive than most songs on the last couple records. For a long time fan like myself, that's music to my ears. Literally.
Clutch played many favorites throughout the night, bringing it on songs like Of Mice and Gods, 50,000 Unstoppable Watts, Immortal, Profits of Doom, The House That Peterbilt, Escape From the Prison Planet and of course, the nearly 20 year old A Shogun Named Marcus. I'll say this, Marcus still packs a powerful punch. The crowd was in a Pure Rock Fury. Oh wait, that was also the next song. Hmmmm, I think these guys may know what they're doing up there. Closing out the regular set was The Regulators. Having seen this one during sound check, I knew the crowd was going to go nuts. If the show ended there, it would've been a very fulfilling night.
I did say if, right? With what seemed like an eternity to the drunk fans, the band finally came back onstage for an encore. They certainly didn't waste any time kicking the crowds ass again though, busting out of the gate with Animal Farm, and following that up with Electric Worry, which was by far the loudest sing-a-long of the night. Thanking the crowd, saying their goodbyes during the song is an old trick. I knew something else was coming. I was right!! The band did a quick rendition of One-Eyed Dollar to close out the night.
In closing, all I can think is, what an energetic, upbeat setlist tonight. Clutch is ready to rock the Earth. Are you ready for Clutch?