Rancid featuring The Transplants and Interrupters at The Warfield in San Francisco, CA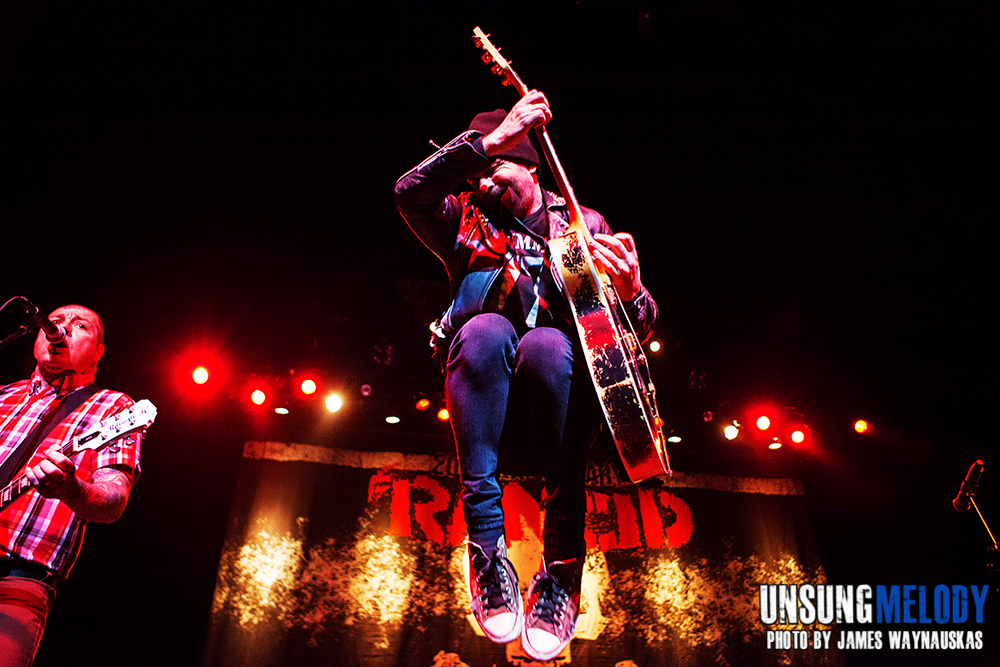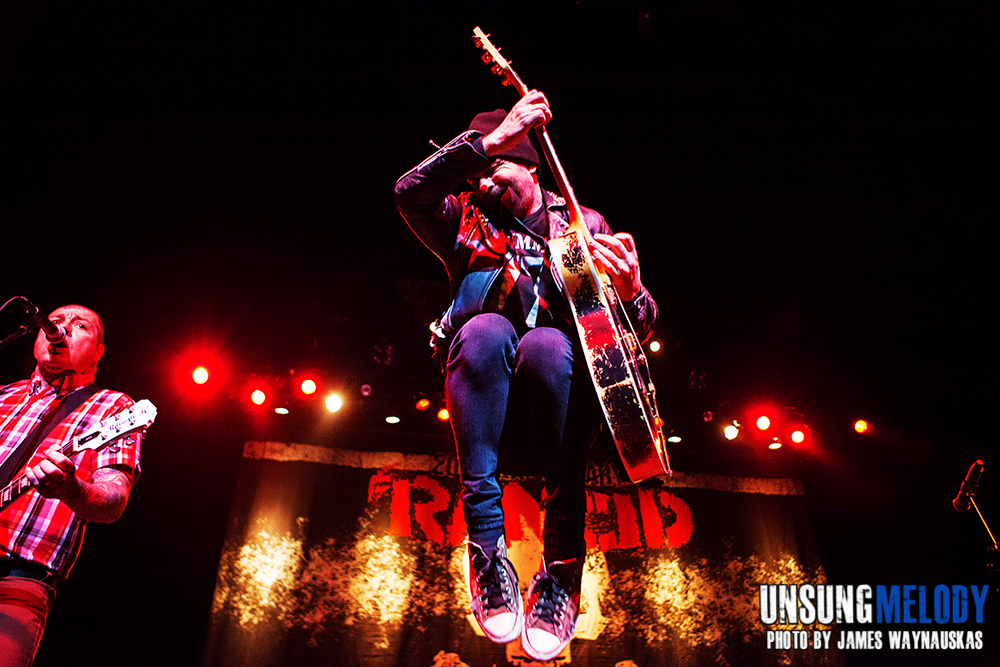 Recently I was lucky enough to go to the Rancid concert at The Warfield in San Francisco. They are one of my favorite bands and I have been a fan for 18 years. I love how melodic and catchy many of their songs are while still being rocking punk songs. While some critics and fans feel the quality of their music dropped after the album "…And Out Come the Wolves", I disagree and enjoy each of their albums for different reasons. During the show I got bit of every album and some deeper cuts while having a great time.
I would be excited to see Rancid anywhere, but going in I was especially excited to see them in San Francisco. The bands roots are in the 924 Gilman punk scene in Berkeley and many of their songs mention places in this area. I was expecting a good crowd and a fun performance. Once I arrived I noticed the crowd was a diverse mix that included people who wear their love of punk on their sleeve and more low key type individuals. It was an all ages show and there were as many teenagers in attendance as middle aged people, showing that Rancid is still gaining fans and doing well. There was a buzz through the arena of a crowd anxiously awaiting the performance while enjoying the company of other fans. The up and coming Interrupters opened the show. The band, made of male triplets on guitar, bass and drums and a female vocalist got things started by playing ska/punk songs. They received a warm response from a crowd that started a skank and mosh pit during their set.
Next up were The Transplants. The band made up of Tim Armstrong from Rancid on vocals and guitar, Travis Barker from Blink-182 on drums, former Rancid roadie Skinhead Bob on vocals and also Left Alone's Elvis Cortez as a touring guitarist, got the crowd really worked up and ready for the show. Tim Armstrong pulling double duty playing with The Transplants as well as Rancid, looked to be having a great time and the crowd was feeding off his energy and by the time they closed with one of their more popular songs "Tall Cans in the Air", the crowd was riled up and ready to go.
Rancid got off to an energetic start with three fan favorites, "Radio", Roots Radicals" and "Journey to the End of East Bay". The songs have big sing along choruses that got the crowd involvement to a high level right away. Through out the show they played songs from each of their albums and "I Wanna Riot" from the Beavis and Butthead Do America soundtrack. The band was perfectly comfortable playing to crowd of over 2000 people. Tim Armstrong seemed especially happy with his role of entertainer, regularly standing on the monitors at the front of the stage and leaping in the air in between theatrical hand gestures and waving his guitar around while singing. The crowd was very into the performance and intense while also being friendly. My wife was knocked down twice but each time people were picking her up as quick as she hit the floor. While Tim and Lars Frederiksen traded lead vocal duties most of the night, bassist and original member Matt Freeman got to show off his vocals on the song "Black & Blue" from their album "Let's Go" and the chorus of "Rejected" one of the most rocking songs of the night. The crowd sang along to every song through out the night but one of the more memorable moments of the night was when everyone besides Lars left the stage and he did a solo rendition of "The Wars End". He did the whole thing solo while having the crowd sing a significant amount of the lyrics without him. A very cool moment. They continued to play fan favorites like "St. Mary" and "Olympia, WA" before Lars took a few minutes to speak to the crowd. He told us that they always put friends before everything including the band before launching into "Fall Back Down", a song about Tim's divorce and friendship. They then left the stage but returned shortly after for an encore and started with "Timebomb" and ended the show with "Ruby Soho" their two biggest singles from "…And Out Come the Wolves". That being the album that made me a fan, I felt it was a perfect end to the evening.
Be sure and check out my Rancid photo gallery here.
I've been to a lot of shows and this one was definitely one of the most fun I've ever been too. I really enjoyed seeing a great band, playing great up tempo songs with a friendly crowd singing a long. It reminded of when I first started listening to them, why I liked them and that even though a lot of things have changed they are still Rancid, they are still as good as ever and they still rock.
Click here for more Rancid tour dates.
The Transplants: