Technicians of Distortion. Philip H. Anselmo and the Illegals Featuring Warbeast and Author & Punisher at House of Blues in Chicago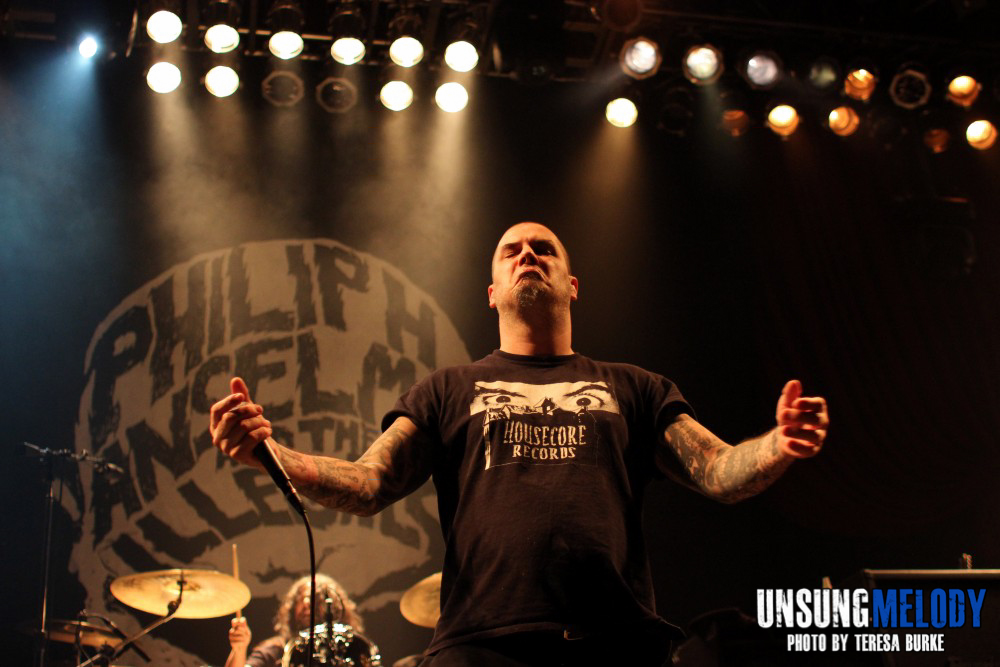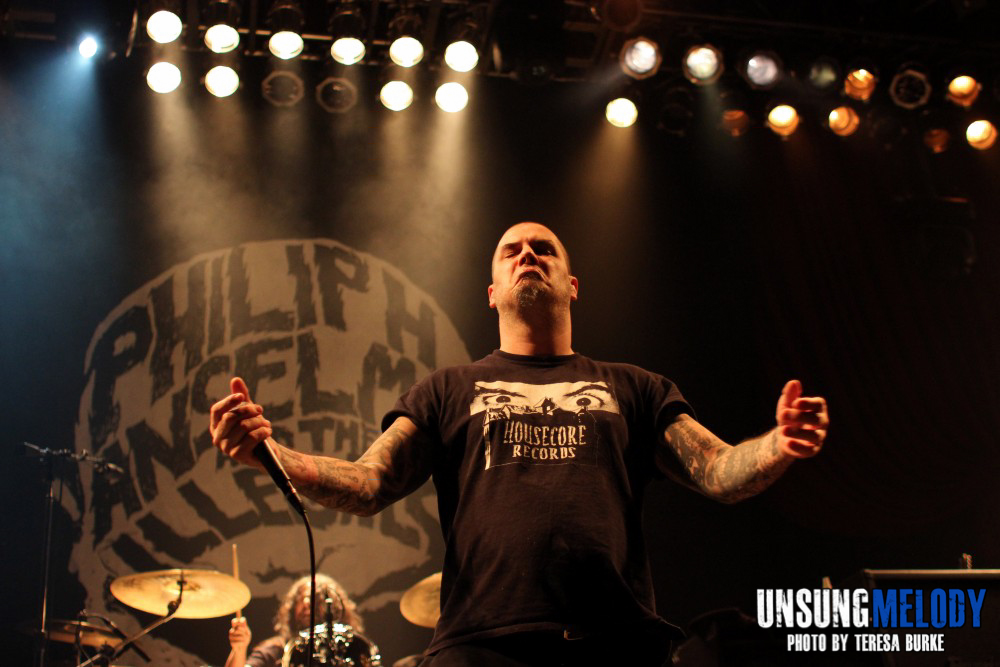 I had the chance to see Philip H. Anselmo and the Illegals play the House of Blues in Chicago on the Technicians of Distortion tour with Warbeast and Author & Punisher. They are out touring in support of their newest release Walk Through Exits Only. While the night started off with most fans somewhat puzzled at what they were hearing, the night ended with them definitely wanting more.
The San Diego based one man show, Author & Punisher, started off the night with a 35-minute set that had most fans staring with a puzzled look on their face. Even I didn't quite know what to think of what I was seeing or hearing. As I later would discover, Tristan Shone made the drone machines he was using to create what has been described as industrial doom metal. With his opening song lasting about 7-8 minutes and the ones that followed lasting just as long, it took almost the majority of his set before fans could really absorb what they were witnessing. By the third song, the best way I could describe it was as if Satan himself was his own one man show. Between the creepy, satanic sounding vocals that were emitting from his very differently shaped microphone during that particular song and the overall heavy, almost dub step like musical sounds, the more he performed, the more I was getting into it. Aside from a keyboard, he also had a hand trigger that he would slide back and forth to create drum and cymbal sounds. There were more things going on that I couldn't see, but he was like a magical wizard spinning and sliding various parts to create this insane and awesome sounding music.
Next up was the thrash metal band Warbeast from Texas who are also signed to Philip Anselmo's Housecore Records label. Lead guitarist, Scott Shelby came out, walked to the edge of the stage, stretched out his arms in a muscular pose and then began soloing while the rest of the band played. Eventually lead singer, Bruce Corbitt came out, grabbed his mic stand and attempted to start the night off without any issues. Unfortunately, no one could hear him sing. After a couple minutes, the situation had been fixed and his thrash vocals were loud and clear. Their set consisted mostly of songs from their new album Destroy. After opening with Cryogenic Thawout, then playing Nightmares in the Sky and Egotistical Bastard, the crowd was fully engaged. At one point during their set Bruce called out that not only was he filling in for them and had learned all of their songs in only a month, but that it was also his birthday. They continued with Birth of A Psycho which appears on the split EP with Philip Anselmo before ending their 45-minute set with songs from their first album, Scorched Earth Policy and the title track Krush The Enemy.
After almost a 30-minute set change, the lights eventually went down and a very interesting song was heard over the speakers. Mostly in the dark, I could see Philip side stage and he appeared to be singing and sort of dancing around. I remembered two words from the song and immediately figured it was a song he picked because his name was in it. But who knows, maybe it's a song he also likes. I do believe the song is called Down on Philip's Escalator by The Amboy Dukes. Eventually the song trailed off, the band walked on stage and everyone greeted them with thunderous cheers and applause. With arms outstretched, Philip slightly bowed to the crowd, touched his hand to his lips, stretched out his hand to the crowd then clenched it into a tight fist. After setting down his drinks he grabbed the mic and greeted everyone with, "First and foremost, God damn Chicago, thank you so much!" He went on to thank everyone for coming out and then asked who had actually heard the record. There were lots of loud cheers from the crowd. He then asked if anyone knew any of the words. There were more loud cheers from the crowd. He seemed satisfied with the answers and told the crowd, "Enjoy the show the way you see fucking fit." No matter if they wanted to start a pit or if they wanted to just stare at them, he told everyone to go for it and to enjoy themselves.
He cleared his throat and said, "I'm Philip H. Anselmo and look at the fucking Illegals." Once again, there were lots of cheers from the crowd. With his arms down low out in front of him, almost as if he were lifting something heavy, he slowly and with great force raised them to the sky and clenched his fists. They launched into Music Media is My Whore and went straight into Battalion of Zero, both from the new album Walk Through Exists Only. They continued to play the first five songs in the same order as they were tracked. These songs are loud, in your face and aggressive. For the majority of the night Philip played at the very edge of the stage standing as close as possible to the fans. Song after song, his expressions and body language were angry, fierce, and determined. Philip dedicated Betrayed to everyone that night since most people had probably, literally, felt that way at some point. He paused, burped and then told the crowd, "If you know it, sing it with the old man." His quick sly smile turned gnarly as he screamed out the lyrics. During Usurper Bastard's Rant, when guitarist Marzi Montazeri started his solo, Philip tied the microphone cord around his head so that the mic rested on the back of his neck. He kept pointing at Marzi for everyone to pay attention to his playing as he too stood there and admired his skills. Not sure how many people noticed this right away, but bassist Bennett Bartley wasn't wearing shoes. From time to time he'd put one foot on the monitor, head bang and just plain rock out. Even drummer Jose Gonzales, with the massive band logo inside of what appeared to be Philip's head, played aggressive and steady beats all night.
During the title track, Walk Through Exits Only, Philip actually stopped the song to talk to a person causing commotion in the crowd. He said, "No fighting tonight, please. No fighting tonight at all." He commented that everyone should get along. Eventually, whatever was going on was broken up and no one had to be removed by security. Philip gave kudos to the person who didn't fight and shook his hand from the stage. He then sang to the band the musical part of where he wanted to pick up the song and just like that, they nailed it and they finished as if there never had been an interruption.
Be sure and check out my Philip H. Anselmo and the Illegals photo gallery here.
Philip spoke to the crowd again and mentioned the War of the Gargantuas album (the split EP with Warbeast). He empathized with the crowd stating he knew the songs they were playing were new, but that he liked the attentive eyes. He mentioned the next song, Conflict, was about living every second of life. Following that, Philip said, "Let's see if you remember this one." By the sight of the very large mosh pit and some crowd surfers, I'd say plenty of people enjoyed their take on Pantera's Death Rattle. At one point, Philip must have noticed some younger audience members because he had everyone give it up to the parents of the 90's for raising their kids on this kind of music. Between the Superjoint Ritual song, Fuck Your Enemy, and as Philip said, another blast from the past band, Arson Anthem's Wrecked Like Clockwork, this Chicago crowd was treated to a solid well rounded tasting of Philip's previous work. Now while I did hear someone near me say, "Play at least one Pantera song." pretty much everyone in attendance was thoroughly enjoying what they were seeing and hearing. Whether fans chanted Philip's name or pumped their fists, they were pretty much 100% focused on the stage and with whatever he had to say.
Philip dedicated another new song, Bedroom Destroyer, to all the guys over 40 and to all the women that put up with them. Once the song ended, Marzi's guitar solo then lead into another new song, Bedridden. I have to say, Marzi is one awesome guitar player. Fully focused and in the moment, his guitar licks were admired by all. During a lull between songs, the crowd started a Phil chant. As the crowd would yell Phil, he would yell HIP. He and the crowd went back and forth a few times before he admitted Philip didn't really work well as a chant. All night he joked with the crowd and was pretty straight forward. I'd have to say, pretty much, there's no bullshit when it comes to Philip H. Anselmo. What you see is what you get.
They continued with the second song on the War of the Garganutas split EP, Family, Friends and Associates when the band started playing a very familiar tune. Philip asked the crowd, "Do you want me to sing it? It might suck." The crowd cheered and he sang the first verse of Led Zeppelin's Dazed and Confused. Once he was finished, Philip showed everyone a thumbs down, but personally, I think it rocked. I wish they would have played the whole song. By the time they were finished with Irrelevant Walls and Computer Screens, everyone in attendance that night had heard the entire new album. Not bad. Not bad at all. The majority of the lights were turned down low and all focus was on Marzi and his guitar solo. Philip never even left the stage, but instead just crouched down in front of the drum kit. They ended their set with a medley of Pantera's Domination and Hollow. It was awesome.
The band wasn't gone very long before they were back out. Philip commented about the Meet and Greet earlier in the day and said how much fun it was and that he wished it could have lasted longer but he had interviews he had to get back to. Apparently someone at the M&G asked for a song from Christ Inversion but Philip stated they didn't know the middle and wanted to acknowledge he at least tried to get them to play it. He then introduced the band one at a time. First was Cousin Strawberry, then Blue then Marzi. He said Marzi even had his own Marzooo war cry. Then I'm not sure how this happened, but before I knew it, Philip had his shirt up, was facing the crowd sideways and was making his stomach roll. They ended the night with Pantera's Primal Concrete Sledge and with Philip singing the Lowenbrau, yes the beer, theme song.
After an hour and 15 minute set, the fans still wanted more. Unfortunately, the show was over. However, after removing his in-ear monitors, almost immediately, Philip jumped down into the security pit and started meeting with fans and signing autographs. Slowly but surely the rest of the band started tossing picks and sticks and then also joined in meeting with fans. This tour continues on the East coast before wrapping up in New Orleans Aug 22. If you're looking for a rowdy good time, I highly suggest you catch one of these final shows.
Keep up with the bands below:
Philip H. Anselmo and the Illegals
Warbeast
Author And Punisher