Live at the Louisville Palace. 3 Doors Down and Daughtry.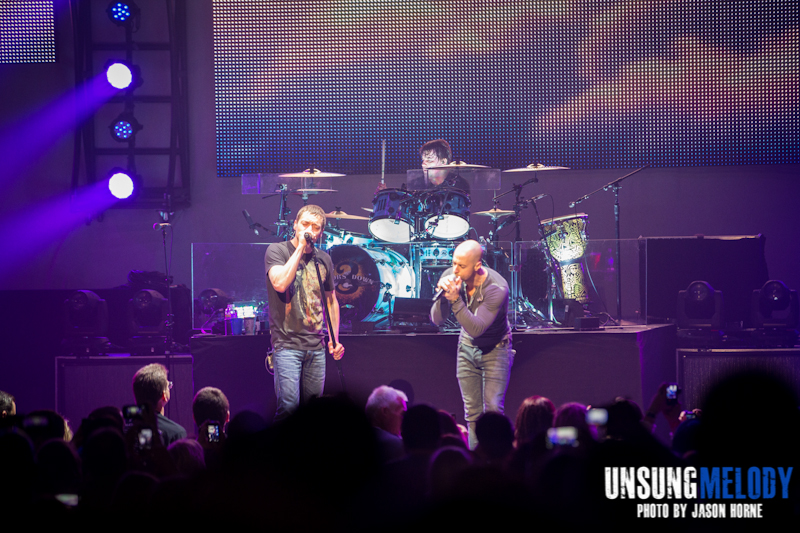 *This is Jason Horne's first article for Unsung Melody. We think he did pretty well and are excited to have him as a part of the team. – Jonathan
On a cold winter night with snow on the ground in Louisville, KY, people filed into the 85 year old Palace Theater. The Palace is an unbelievably beautiful venue. I was able to get a tour of the venue a few days prior, and I'll include a gallery of the Palace tour below the article for those interested.
Back to the music! One thing was certain, a little snow wasn't going stop a near sellout crowd that came to enjoy some good rock music. Multi-platinum recording artists, 3 Doors Down and Daughtry, were set to take the stage with every intention to rock the house.
After a quick warm-up set by Oklahoma City natives Aranda, 3 Doors Down took the stage. They definitely did not disappoint. They had people up on their feet right away with the title track from their latest studio release "Time of My Life".
Be sure and check out my 3 Doors Down photo gallery here.
They then followed that up with "It's Not My Time" and "Duck and Run", both singles which hit #1 on the Mainstream Rock charts for several weeks.
Next up were two singles, "The Road I'm On" and "Away from the Sun", from their sophomore album Away from the Sun. Before they played "Away from the Sun", Brad Arnold, the vocalist of 3 Doors Down, mentioned "this is probably my favorite song I've ever written".
Then came more hits. "Let Me Go", "Goodbyes", "Loser", and "There's a Life". "Goodbyes" and "There's a Life" are two of three brand new songs written for their Greatest Hits compilation they just released in November of 2012.
The third new song is called "One Light" which they also played, but not before a surprise appearance by Chris Daughtry for "Landing in London". Chris performed a duet with Brad and filled in the parts performed by Bob Seger on their Seventeen Days release back in 2005.
They then played one of their most successful singles in "Here Without You". That song was inspired by his now ex-wife, but is about being away from someone and missing them.
Following "Here Without You" came "Citizen/Soldier", which came along with another surprise, a drum solo in the middle of the song. This was not just any drum solo though, it was a drum duel! One that included both drummer Greg Upchurch and vocalist Brad Arnold. If you aren't aware, Brad actually played drums for the band's recording from 1996-2000.
3 Doors Down wasn't quite done yet. After a quick water break and some thanks to the crowd, I heard a very familiar guitar riff kick off the next song. It was Symphony of Destruction by Megadeth. This served as an intro to what was thought to be their last song, "Better Life", the title track to their first record from 2000. Brad said goodnight and thanks as he exited the stage. It went dark for a moment as the crowd started yelling for another song. After a few minutes, they stormed the stage and started playing their most accomplished single "Kryptonite". The lights on stage were all the color green, and up on the screen on the backdrop was some neat animation that looked like the Superman logo, but with the number 3.
They ended their encore with "When I'm Gone" and how Brad put it "the way we end it every night".
They thanked all of our men and women who serve our country every day in our armed forces here and abroad. The big screen had our American flag waving and one of the guitarists played a guitar decorated with our flag as well. It was a very patriotic way to end the set.
Next up, was Daughtry. Fronted by the American Idol season 5 fourth-place finalist, Chris Daughtry. After a rumbling drumming intro, they started it off with the title track to their third, and latest release "Break the Spell". After that, Chris had the crowd clapping in unison as he started the next song, "Feels Like Tonight" from their multi-platinum debut album Daughtry. In fact, that album has sold over 7,000,000 copies worldwide to date. In the world of downloads and piracy, that's a massive number sales.
They followed that with 4 more tracks from their current release "Outta My Head", "Crawling Back to You", "Renegade", and their current single, "Start of Something Good".
Not only was Chris clearly full of energy, he was also playing guitar with almost every song. Typically, you don't see that from an American Idol contestant. A singer, songwriter, and instrumentalist. I have to say, I was impressed by that.
As he introduced the next song, "Gone Too Soon", he explained how he debated whether to put this song in the setlist because of its heavy content. After receiving several messages from social media and letters in the mail, he realized how much of a positive impact it had on people who lost loved ones too soon. So, they decided to add it to the setlist.
They kicked up the momentum a little next with "Tennessee Line" from their second record called Leave This Town. This song had more of a country sound to it, which makes sense, since he sang the song with Vince Gill on the studio version.
Next, they played two songs back-to-back that they've had much success with on the pop and rock charts, "Over You" and "No Surprise". Because of the familiarity with the songs, the crowd got very involved in singing along. Either the show was rocking or the alcohol was flowing, either way, things really took off from this point forward.
Speaking of surprises, Brad Arnold from 3 Doors Down joined Daughtry on stage for a cover version of "In the Air Tonight" by Phil Collins. The singing along from the crowd continued on through the song as well.
One moment that really stood out fir me, was as the next song started, "Every Time You Turn Around", Chris shot t-shirts out into the crowd. Considering how much they charge for t-shirts these days, I thought that was a nice gesture.
You can check out my Daughtry photos here.
They followed that with another upbeat track off of their newest record called "We're Not Gonna Fall". Before kicking into their false-encore track "Home", drummer Robin Diaz decided to play a little drum solo, while he was being introduced.
After a short break full of cheers from a still very excited crowd, Daughtry hit the stage to the sound of thunder clapping through the speakers. Chris counted out the tempo and then started their first of two encore songs called "September". Daughtry brought the rock-filled night to a close with their first and most successful single from their first album called "It's Not Over".
If you're looking for a rocking good time, then this is a fun show to go see. It's filled with lots of hits from two very successful, multi-platinum rock bands. This co-headlining gig was very successful for them late last year, so they've extended the tour and it should be winding down and finishing up in Clearwater, FL on the 23rd of this month.
For more information check out the bands sites below:
3DoorsDown.Com
DaughtryOfficial.Com