SOLD OUT! Hot Water Music, La Dispute and The Menzingers at Metro in Chicago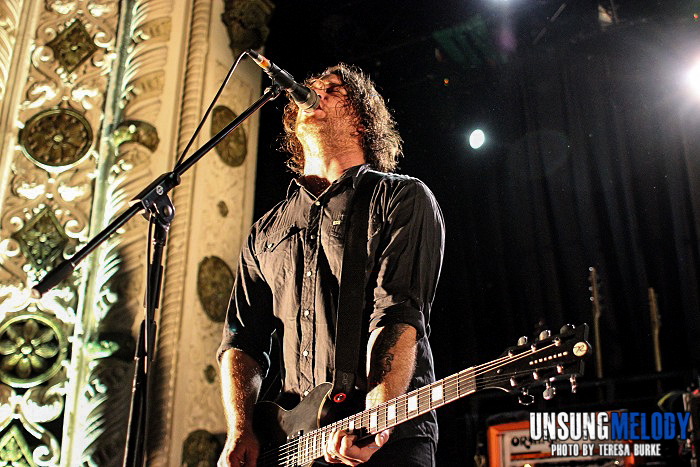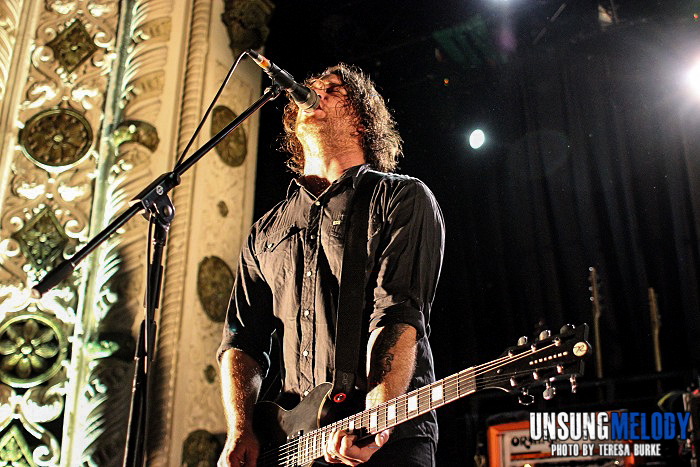 In 2012, Metro in Chicago celebrated 30 years as a music venue. Now at the beginning of 2013, they're still going strong, showcasing music of all different genres, for what I'm sure will be another 30 years. Hot Water Music happened to be a part of that 30 year history. One instance took place back in 2008 where they played two sold out nights back to back. As a result, they released a 30-song album in 2012 titled Live in Chicago. Tonight was another SOLD OUT show for them and the fans were ready.
The night started off with The Menzingers from Scranton, PA. Their 30-minute set consisted mostly of songs from their 2012 release On the Impossible Past. Right away the crowd was into their set and stayed interested all night. Song after song, fans were pumping their fists in the air, clapping their hands to the beat and singing along with a few of the choruses. There was even a time or two when a mosh pit broke out. The band seemed to feed off this energy and appeared to be having as much fun as the crowd. About halfway through their set, singer, Tom May mentioned their van had broken down in Byron, OH but they made it to the venue with 30 minutes to spare. The last two songs of the night, Gates and Irish Goodbyes really had the most crowd participation. Not a bad way to end their set.
After a fairly quick set change, La Dispute took the stage. They opened with The Most Beautiful Bitter Fruit and almost immediately a beer came flying from someone in the crowd and landed on drummer Brad Vander Lugt. He didn't miss a beat. Once the song was over, singer, Jordan Dreyer added a quick "Hi" to the crowd. Mostly playing songs from their 2011 release Wildlife, the energy from this band never let up. They were constantly moving and bouncing around. During Harder Harmonies, Jordan jumped off the stage and stood on the security rail while singing to the crowd.
As they scattered their set with newer and older songs, one thing that was evident, this crowd was very familiar with these songs. It probably helped that they were from nearby Grand Rapids, MI and had frequented Chicago venues over the years. Jordan even mentioned Metro as one of their favorite venues. As with the opening band, the crowd engaged in clapping, moshing and there was a random crowd surfer or two. Security did it's best to keep them "in the crowd" vs letting them come over the rail. After dedicating a couple songs to the guys in Hot Water Music, they played their most receptive song of the night, KingPark. Jordan's hauntingly sad vocals were met with plenty of crowd participation singing along to pretty much the entire song. The crowd being its loudest as they all yelled along with Jordan, "Can I still get into heaven if I kill myself" then continuing through the last few lines until the end of the song.
Now the time had come. Gainesville, FL natives Hot Water Music took the stage to loud cheers and launched into Remedy. Their hour long set consisted of a variety of songs from throughout their career up through newest release, Exister.
Check out my photo gallery of Hot Water Music here.
Whether it was Trusty Chords, State of Grace or Jack of All Trades, this crowd knew these songs. They sang along to these songs. They jumped, moshed, crowd surfed and thoroughly enjoyed these songs. The energy in the room was contagious. If you were not having a good time, you were clearly in the wrong place or without a pulse.
Dual vocalists/guitarists Chuck Ragan and Chris Wollard traded off between lead and backing vocals. This made for a great dynamic and at one point, I thought of them as two Rock 'n Roll bookends. Each held their own and created a unique listening experience for the audience. The intensity Chuck sang with came across almost angry like, not to mention, often times sounding like it hurt. However, Chris' raspy vocal was a nice compliment that was less aggressive, but still just as strong.
Also providing backing vocals was bassist Jason Black. He had a little more freedom to move around but even while singing, he was still swaying his bass back and forth. Jason and drummer, George Rebelo kept a heavy groove all night. Whether it was during less aggressive songs like Drag My Body or during fast-paced energy filled songs like Free Radio Gainesville and The Traps, this band definitely had it nailed down.
Check out our interview with George Rebelo from Hot Water Music here.
As the night was coming to an end, after playing Wayfarer and Manual with much crowd enthusiasm, the band left the stage. It was only a couple minutes before they were back out and thanking everyone for the support. Their 3-song encore started off with A Flight and a Crash and It's Hard to Know.  Both were both full of crowd sing-a-longs but the latter had Chuck holding his mic out over the crowd. It wasn't long before the whole stand was no longer in his hands. Once the song was over, Chris yelled, "Chicago, you've been awesome!" I love to see a band's enthusiasm for an energetic crowd.
Now, I'm sure most in attendance that night would agree that the crowd was pretty active all night. From where I was though, it wasn't until the last song of the night, Turnstile, that the crowd really broke loose into a mad frenzy. It was the perfect ending to a great night. Chuck told the crowd, "Take care of yourselves. Take care of each other." After hearing the electrifying songs played by Hot Water Music and having each note seep into our veins, I'd imagine pretty much everyone in the venue, myself included, walked out of there feeling happy and a little better off having been at the Metro that night.
Keep up with the bands below:
www.hotwatermusic.com
www.ladisputemusic.com
www.facebook.com/themenzingers