Live and loud. Blackberry Smoke with Drake White at Headliner's in Louisville, KY.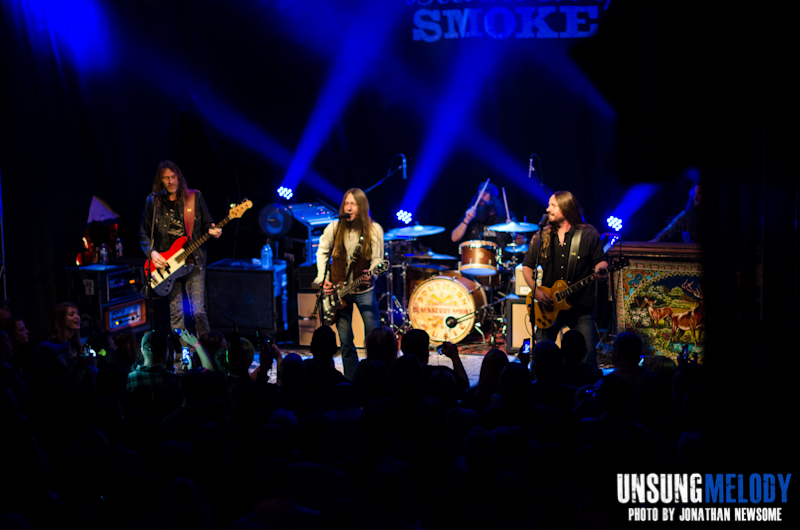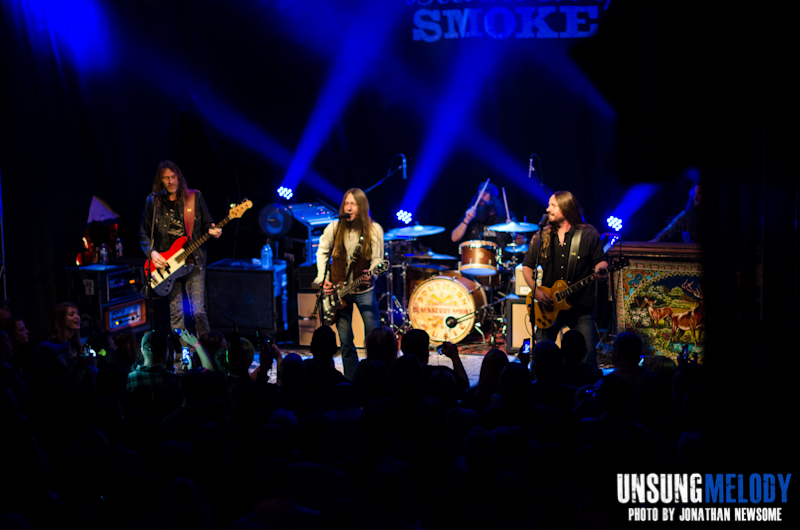 On a beautiful Monday in Kentucky, I made the journey to the Headliner's Music Hall in Louisville, KY. I rolled up to the venue meeting a few friends for a great night of music. The parking lot was swelling quickly as the doors were set to open at 7 pm. I've been to Headliner's a few times before, so I knew it was going to be a tough night as a photographer, because the venue rarely has a barricade. What I didn't expect, was just how packed and captivated the patrons would be. I really had a difficult time getting good shots this time around, as no one was wanting to give up their piece of ground. I really can't say I blame them though, the show was one for the ages.
First up was someone, I had honestly never heard of. Drake White took the stage innocently enough. He was accompanied by The Big Fire Band and when the show began, I was expecting another young band trying to claw their way to the top. Well, I got that…and then much, much more. What I witnessed, is in my opinion, quite possibly the next Country Superstar. Every word that poured from Drake's mouth, was as believable as the truth himself, Mr. Hank Williams, Sr. With songs like Born 50 Years Too Late, A Cold Beer With My Name On It, and The Simple Life; Drake has all the tools he needs to make a quick run to the top of the charts with the right push. The song The Simple Life was the highlight of the set for me. (He did a great rendition of The Animals House of Rising Son as well) During The Simple Life, Drake went off on a tangent, provoking thoughts of a Southern Preacher by declaring all the things he's a fan of. He's a fan of Willie Nelson, Our Armed Forces, Blackberry Smoke, and Stevie Ray "Frickin" Vaughn. That's a small list of what Drake's a fan of. That was for those who are keeping score. I'll say this, I'm a fan of Drake White. I had written a lot of Country off to be honest. It has gotten to be a saturated, pop-oriented snoozefest for me. But you know what, I'll be damned if it ain't alive and well. Drake is a more country, rock oriented, less-islandy Zac Brown if I have ever seen one. He has a huge personality that really shines through in his lyrics and his performance. Oh, and his dance. Yeah, that'll be something he's known for. Just a good ole boot stompin romp of a good time. The Simple Life is an absolute hit by the way, mark it down.
Check out my photo gallery of Drake White here.
After that set, I was exhausted. I never dreamed I'd be so smitten with Drake, but alas, he was a bonus on this night. We were here to jam to one of the coolest bands around, Blackberry Smoke. The band with the 2nd best set of sideburns in the state of Kentucky. Who has the best you ask? Well, that'd be Metcalfe County's own Kentucky Headhunters. I asked Charlie Starr about his sideburns when I was fortunate enough to interview him, he admitted that Fred Young of the Headhunters was totally the inspiration for his sideburns. So, there's you a little cool Kentucky fact for ya!
Anyways, I had seen Blackberry Smoke several years ago, as they opened for ZZ Top, so I knew their sound was tight. I also have watched their DVD, Live At the Georgia Theatre, several times on Palladia. So, I knew the band had really became a polished, fantastic act.
After several songs to get people moving, the show really began rocking at the time they began playing their current number 1 video single Pretty Little Lie. It was obvious that this one is going to be a fan favorite for years to come. After all that singing along, the crowd was ready to explode and Blackberry Smoke absolutely tore the roof off the place with Six Ways To Sunday.
As sometimes happens, there was a brief bout with some technical issues, but it didn't have much of an effect on the momentum of the show. Shortly after the issues, Blackberry Smoke came back with a vengeance as they tore into A Good One Coming On. By now, the beer bottles were as high as the spirits in the room. Who knew an added verse such as, "Skinnydippin' in the Chattahoochee, got my finger in yer sister's coochie" could bring on such emotion? Louisville was here to rock people, and Blackberry Smoke was more than willing and certainly able to oblige.
Up next was another new song, Sleeping Dog Lie, and it was the fuel that would keep this rocket lit. With its bluesy, slow backbeat buildup into that big ole sing-a-long chorus was just what the crowd expected. Vocalist/guitarist Charlie Starr was still having issues with equipment, but that wasn't enough to kill his spirit. He tore through the solo on his clear acrylic guitar with all the heart and soul that makes Blackberry Smoke who they are. Coming out of the solo section, the band threw the crowd a curve by mixing in a little Midnight Rider and some ZZ Top before closing out the song. Two words fit the mood by now, fever pitch. Just incredible energy all around.
Be sure and check out my Blackberry Smoke photo gallery here.
Slowing it down to showcase their songwriting abilities, the band broke out the title track to their new album, The Whippoorwill. If you haven't heard this song yet, grab a cold one, kick back in your favorite chair and let the music wash over you. This song is as beautiful as it gets and was my personal highlight of the night.
Other highlights of the show were songs like, Everybody Know's She's Mine, Who Invented the Wheel, and I Ain't Got the Blues Anymore. The latter song is really where I feel the band is most comfortable. I Ain't Got the Blues Anymore and The Whippoorwill, just seem to pour out of the band so easily. It's a thing of beauty to see.
I will say this, when the band began the rocker Up In Smoke, the song seemed to tear through the Headliners Music Hall like a tornado of adrenaline. Lifting souls, beer bottles, and bras. Seemingly elevating the entire room. There for a minute, I had to take a step back and ask myself, "Is this a country concert?" Looking back, I'm saying hell no! These Georgia Boys came to bring the rock! Holy hell they killed that song!
The band took a moment to perform a humorous rendition of Happy Birthday to their guitar tech Doc. It's always great to see true friendships on the road come out on the stage. A thoughtful gesture by Charlie, whether Doc liked it or not!
There were some more great moments within the set. The hit TV show, Sons of Anarchy, featured Ain't Much Left Of Me and it was obvious, that even though that song was not a huge role on the episode it was in, it made some fans. Even some of their t-shirts were SOA style motorcycle club designs. During the song, Charlie broke out the slide mid-song, and Blackberry Smoke threw in a little rendition of When The Levee Breaks by the mighty Led Zeppelin before closing out the song. The last two songs I was able to see, where One Horse Town and Lucky Seven. Unfortunately, due to an early morning doctors appointment, I had to leave before the band closed the set, but I did hear Leave A Scar from the parking lot. Which sucks, because I love that song!! Oh well, I will see them again.
I think it's great that Blackberry Smoke has been getting all of these wonderful support slots on these bigger tours, but now is the time for their headlining shows to really blossom. I honestly can't say enough about both bands. Catch this show if at all possible. What a night!
Keep up with Blackberry Smoke below:
BlackberrySmoke.Com
Facebook
Twitter
Be sure and check out Drake White below:
DrakeWhite.Com
Facebook
Twitter
Upcoming Blackberry Smoke tour dates:
Feb 12 The Bluebird Bloomington, IN
Feb 14 The Bluenote Columbia, MO
Feb 15 Sprint Center with Zac Brown Band Kansas City, MO
Feb 16 JQH Arena with Zac Brown Band Springfield, MO
Feb 17 CenturyLink Center with Zac Brown Band Omaha, NE
Feb 21 Tallahassee-Leon County Civic Center with Zac Brown Band Tallahassee, FL
Feb 22 1-800-ASK GARY Amphitheare with Zac Brown Band Tampa, FL
Feb 23 Cruzan Amphitheatre with Zac Brown Band West Palm Beach, FL
Feb 27 The Stage Nashville, TN
Feb 28 Jupiter on the Strip Tuscaloosa, AL
Mar 01 Rick's Cafe Starkville, MS
Mar 02 House of Blues New Orleans New Orleans, LA
Mar 06 Kid Rock's Chillin' The Most Cruise Miami, FL Sold Out
Mar 07 Kid Rock's Chillin' The Most Cruise Miami, FL Sold Out
Mar 09 Kid Rock's Chillin' The Most Cruise Miami, FL Sold Out
Mar 10 Kid Rock's Chillin' The Most Cruise Miami, FL Sold Out
Mar 14 Lucky Mule Saloon Abilene, TX
Mar 15 Wormy Dog Saloon Oklahoma City, OK
Mar 16 Floore's Country Store Helotes, TX
Mar 20 Blue Light Live Lubbock, TX
Mar 21 House of Blues Dallas Dallas, TX
Mar 22 House of Blues Houston Houston, TX
Mar 23 Higher Lifter ATV Mud Nationals Jacksonville, TX
Apr 04 House of Blues Anaheim Anaheim, CA
Apr 05 House of Blues Sunset Strip West Hollywood, CA
Apr 12 Ziggy's Winston-Salem, NC
Apr 13 Phase II Lynchburg, VA
Apr 18 Club LA Destin, FL
Apr 19 Wanee Festival Live Oak, FL
Apr 20 Star Daze Star City, AR
May 08 Red Rocks Amphitheater with Zac Brown Band Morrison, CO
May 09 Red Rocks Amphitheater with Zac Brown Band Morrison, CO
May 10 Red Rocks Amphitheater with Zac Brown Band Morrison, CO
May 18 Rome River Jam Rome, GA
Jun 14 Hunter Mountain Hunter, NY
Jun 22 Jam At The Ridge Le Roy, NY