Kyng with The Sword at The Bijou Theater in Knoxville, TN.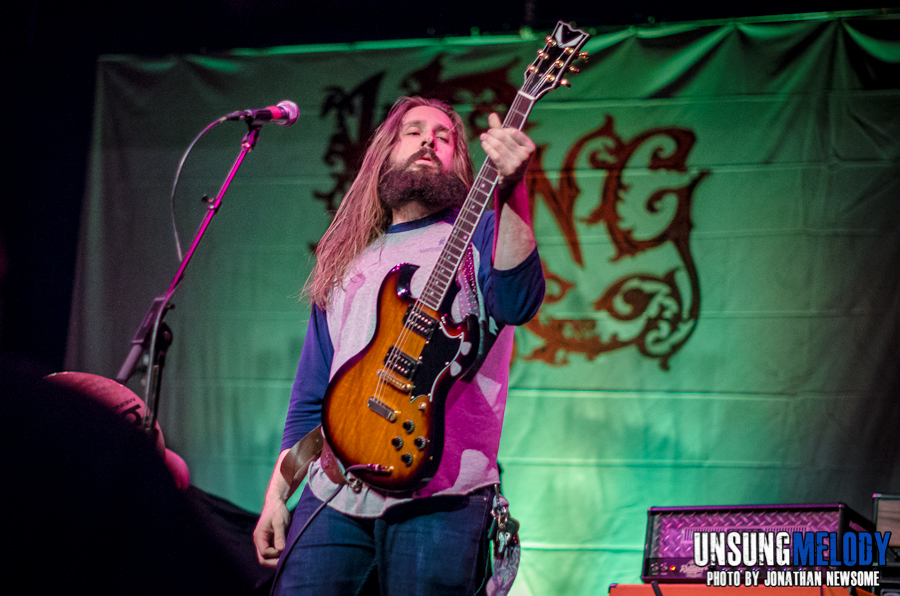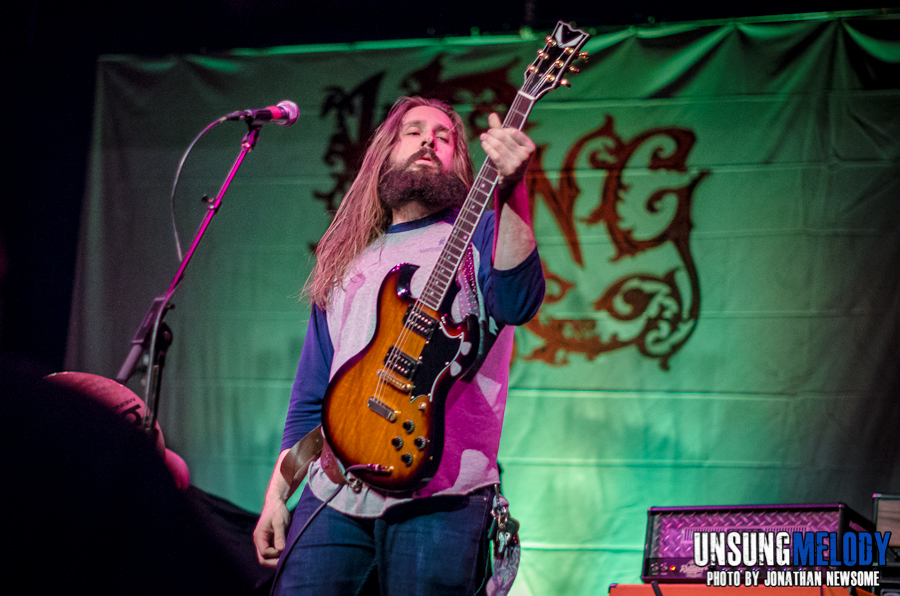 What's the furthest you've traveled to see one of your favorite bands? I just made a three hour journey each way to Knoxville, TN to see our Unsung Artist of the Year Kyng open up for the band that scored our #1 album of the year in 2012, The Sword. That's not the furthest I've ever traveled, but it's still a good distance. To say I was stoked for the show though, that wouldn't even come close to describing how I felt. The show took place at the 104 year old Bijou Theater in Knoxville. Their site gives us a great overview of its history. The Bijou Theater has hosted many well-known artists such as The Marx Brothers, Anna Pavlova, Lunt & Fontaine, Dizzy Gillespie, Dolly Parton, The Ramones, Dave Matthews Band and so many more. It has withstood wars and fires, and throughout its many name changes structure changes, it has remained Knoxville's Gem of the South.
Onto the music. After Knoxville veterans Pick Up the Snake finished, Kyng finally took the stage. They were the main reason I was there on this night. The band has been in the studio finishing up their second album, and I was looking to preview a few new songs and to get a feeling of the crowd reaction.
Wasting no time accommodating me, Kyng opened the set with a brand new tune titled Used As A Fool. Being caught up in the moment of people rushing the stage, as well as trying to photograph, I wasn't able to concentrate as well on this song as I would've liked, but there was certainly no mistaking the sound that is Kyng. In typical fashion, the song is a barn-burner and it seemed to do its job of awakening the crowd. I'll need another listen to get a good grasp on this one, but I'm certainly hooked after one listen.
Next up was the song that first introduced me to Kyng, Trails In Veins. I thought to myself that I'd use this song to my advantage. I knew the ins and outs of it, so I'd get all my photographs finished on this song and concentrate on the set. Kyng had other plans. This was when I was first drawn into watching drummer Pepe Clark. Pepe is an absolute machine. I'm not sure that I've ever seen anyone hit harder, with as much accuracy, feeling and momentum as Pepe. Listen, I've seen some of the best drummers on the planet; Shannon Larkin, Morgan Rose, Tommy Lee, Jean Paul Gaster, Danny Carey, Taylor Hawkins, John Fred Young and so on, but Pepe just might be the best I've ever witnessed live. During the song, vocalist/guitarist Eddie Veliz noticed several younger fans at the front of the stage and made sure to interact with them. Saying, "Shoutout to the future rockers of America!" It was a great moment for the young rockers, whose night was only beginning to become amazing.
I Don't Believe was up next on the setlist. I snapped a few photos from afar and finally took my seat for this one. The groove of this song is one of my favorites on the first album and I wanted to concentrate on Eddie's vocals. Sitting second row in front of a mound of speakers, just to Eddie's left, I was certainly in a great spot to hear what he had to offer. Let's just say he didn't disappoint. Being in a studio setting really makes you aware of how and why you emphasize each syllable, and for me, this was completely noticeable in Eddie's delivery. He had taken a good live vocal and reshaped it into a great live vocal. I couldn't have been happier.
The next new song in the setlist was my favorite, Burn the Serum. There is only one word needed to describe this song; Intense. From the moment the band dropped the hammer, they never let off the gas on this one. It was phenomenal and I cannot wait to hear the recorded version, which hopefully hits shelves in September. During this song is the first time I noticed just how warming the backing vocals from bassist Tony Castaneda made the chorus and accents. In a live setting, backing vocals are generally lost in the mix or are seemingly an afterthought, but this is definitely not the case for Kyng.
Pushing and Pulling began by putting Pepe on showcase and it never relented. I don't think I took my eyes off of him the entire song. The song put the band into warp speed and blasted us right into another new track. Sunday Smile is a track that will be a memorable one for many, if for nothing more than the mid-song drum solo pulled off by Pepe. I felt like I was at a Led Zeppelin show all of a sudden and Moby Dick had been unleashed. It was fantastic!
Be sure and check out my photo gallery from Kyng here.
Ending the set was the bands most popular single yet, Falling Down. I had focused on Eddie and Pepe, it was now time to zero in on Tony. Having shook his hand earlier, I was surprised how small his hands were for a bass player, so I wanted to focus on his playing and see if it was a difficult task for him. I saw no signs of a struggle. What I saw was a polished musician all over the fretboard, and he quickly washed away any doubts I had about his skills. This track was everything I expected it would be and then it happened…Pepe Clark solidified my earlier praise for him. When he got to the outro of the song, this man became a machine. It was as if Zeus were kicking those double bass drums. It was fantastic! Then, that was it. Wait! Dammit, I want more! Grrrrrrrrrrrrr!
After I was over my own selfishness, I notice the band doing what every band should do. Kyng came over to the kids in the front row, most of them 8 to probably 15 years old. Tony in particular, was handing out sticks and picks and shaking hands, making the most of what is essentially the future fans of their band. A concert is much more for fans than just a show. It's an experience and it should be treated that way. There's no need for attitudes or charging an excessive amount of money to hang out with your fans. They are, after all, the ones that keep you on the road and doing the things you love to do. So, I was really happy to see the band take the time to do the right thing.
Okay, okay, I'll quit gushing. I did still have The Sword to look forward to. The Sword was a band I was eager to see, for multiple reasons. One, I love their music. Two, I love their music. Three, I love their music! Yeah, there's plenty of reasons of why, but the music is the only one that matters. It was great seeing the band, but I'm not going to give away too much of their set. We'll have more coverage of them soon. As Chris Romano is covering Clutch and The Sword in NYC in about a week. That's why my focus was mainly on Kyng.
Be sure and check out my photo gallery from The Sword here.
All in all, it was a great night of music. I saw two of my favorite bands, and heard some new songs. Got to experience Cloak of Feathers by The Sword, which is my personal favorite from them, so I can't complain. It was well worth the nearly 7 hours spent on the road.
Keep an eye out for Kyng as they continue to prepare for their second release and also be sure and catch The Sword on tour with Clutch and Lionize. That show will be one for the ages!