Suicidal Tendencies featuring D.R.I. at The Emporium in Long Island, NY.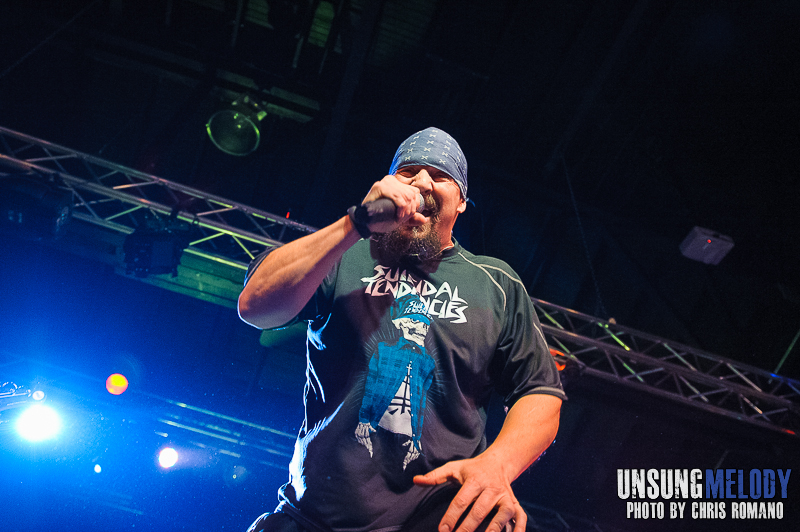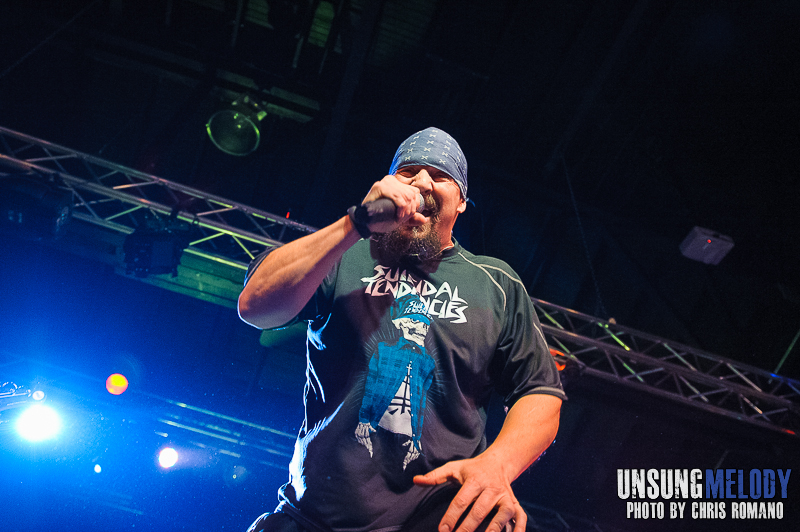 A bandana and a microphone are all Mike Muir needs to bring back the fire that has lived inside of him for over thirty years. While the rest of the band takes the stage, Muir stands in the corner, microphone gripped in hand, shaking his arms back and forth, just waiting for his cue. Once it hits, he rushes across the stage from one side to the other and back, singing along in his own punk/thrash style, with the same energy and excitement that he did when Suicidal Tendencies began over thirty years ago.
Playing at The Emporium, a relativity new venue situated in the mid-eastern end of Long Island, fans of the unique crossover thrash genre from much of the island, and even those from the far eastern edge of the Hamptons, arrived for a night of headbanging, moshing and punk with a splash of groove.
After quality opening performances from fellow thrash bands This Is Hell and Waking the Dead, punk legends D.R.I. (Dirty Rotten Imbeciles) took over the stage. While things started out a bit slow, prior to I Don't Need Society, front man Kurt Brecht thanked the crowd, while bassist Harald Oimoen taunted them. "Come on you guys in the pit, you still have a few years in you, you can do better than that!", said Oimoen, who had his wishes returned with the first bout of crowd surfers and a large circle pit, possibly even the first one to grace The Emporium. During Spike Cassidy's mini guitar solo for Abduction, the crowd, both young and old, thrashed furiously. I even caught a glimpse of some of the mid-20's muscled security guards, and noticed they were all sweaty and out of breath; A true sign of a punk band getting a crowd excited and rowdy.
Finishing up with Violent Pacification, a song so punk and straight to the point that metal titans Slayer recorded a cover of it, and ending with Five Year Plan, screams of "I win, you lose, I win, you lose, I win, I win!" were screamed along with Kurt Brecht. Bassist Oimoen equipped an old man's mask, which looked to be Waldorf of The Muppets, and taunted fans to bring their last bit of action and energy for the band. Cheers of "DRI, DRI, DRI!" echoed as the performance was met to great approval.
Be sure and check out my D.R.I. photo gallery here.
Waves of leather jackets and flip hats gathered in tight as the headliners Suicidal Tendencies arrived to the stage. Instantly, I was blown away by how the middle-aged musicians can still glide around a stage with the greatest of ease. Opening with You Can't Bring Me Down, lead guitarist Dean Pleasents and vocalist Mike Muir shook and headbanged, not like men in their 50's, but as adrenaline fiends in their 20's. Following with their first hit song, Institutionalized, there was almost no stopping them, with the crowd quickly gathering alongside the "fathers" of crossover-thrash.
A mix of hits and songs from their newest release, 13, filled the setlist that night. Smash It!, Who's Afraid?, and Slam City were the selections from 13, while War Inside My Head, Subliminal, and Possessed to Skate were a few of the hits that drove the crowd wild. Rhythm guitarist and youngest member, Nico Santora, jumped frequently as he riffed away, bringing a fresh bit of energy to stage right, and winning over much of the fellow younger members of the audience.
If there is one thing that is core to Suicidal Tendencies, it's that front man Mike Muir likes to talk. Muir likes to talk a LOT. Unfortunately, between a mix of where I was standing to watch the show, the sound system, and how he has the tendency to slur his words as he speaks quickly, there was almost nothing that I could distinguish enough to write down. This was perhaps one of the few downsides of the show, as typically I really enjoy between song banter from musicians.
One major high point of ST in its current configuration, is drummer Eric Moore. Rocking see-through glasses with Suicidal Tendencies sprawled on the "lenses", and his own flip-up hat, Moore without a doubt has a drumming style that fits perfectly for the band. Throughout the night, he maintained a steady but heavy groove, and even treated the audience to a splendid drum solo prior to the encore. While he may have sat towards the back of the stage, I could feel his contribution to the music was a forefront.
For the final selection of the night, Pledge Your Allegiance, the band transformed the show from a concert into a celebration, asking anyone who wanted to come share the stage with them to live a fantasy come true. Fans of all ages, shapes, and sizes climbed the stage and jumped on the microphones that for the majority of the night only, had Pleasants, Williams, and Santora shouting into them. Shouting, "'Cause I was born to be, ST!", along with the band will be a memory for those who packed The Emporium's stage for a lifetime.
Be sure to check out my Suicidal Tendencies photo gallery here.
One thing that really stuck with me was how after the show had ended, as myself and many others were shuffling out through the main doors of the venue, Harald Oimoen of D.R.I. was there to greet and high-five fans as they left the venue. A very simple bit of appreciation and gratitude that I almost never see. If I do see it, it's from a band member sitting at their merch booth, not at the exit of the venue.
"This isn't just a band, its a culture", is the one thing that constantly flowed through my mind as I watched a crowd, mixed of fans old and new, cheer along to a band that has cemented its claim in musical glory. Many of those clad in leather jackets and flip-up hats proudly displayed ST's logo, and sang along with Mike Muir though out the night Suicidal Tendencies are a band that still has quite a dedicated fan base, no matter how far east they may go to play, and they're quite deserving of it.