Trapt featuring 3 Pill Morning and Acidic at The Gramercy Theatre in NYC.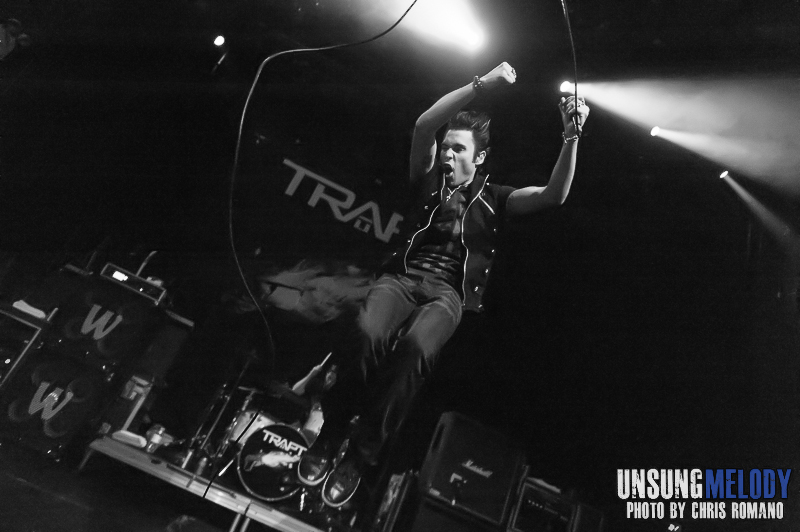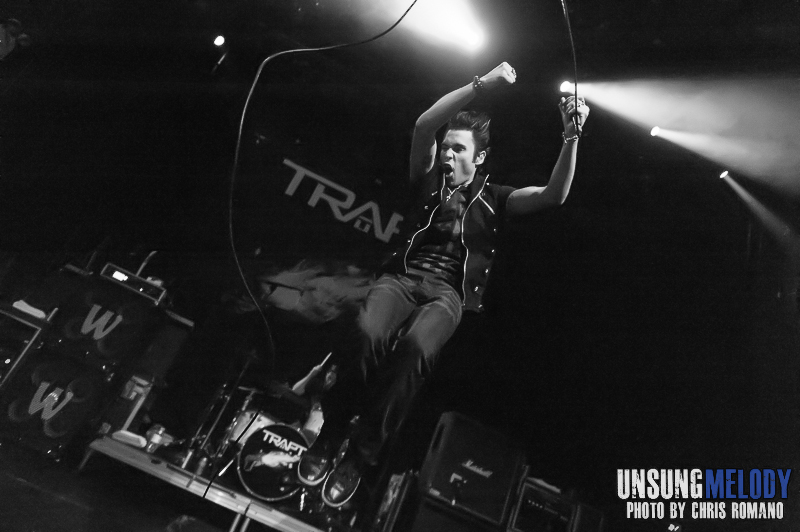 "New York City, I think each and everyone of us is just looking for someone that is as messed up as we are. And if you find that person, you are very lucky". This was just one of the messages Chris Taylor Brown provided, as the Trapt front man spent much of the night providing his opinions on love, relationships, and life, for those in attendance at The Gramercy Theatre.

Opening for the show was ACIDIC, a rock band hailing from California, who handed out free wristbands to those who arrived in time to catch their set. Front man Mike Gossard looks a bit like Green Day's Billie Joel Armstrong, and seemed to rock just as hard as the punk rock legend. For the band's 4th song of their early set, Gossard put down his guitar and grabbed a wireless microphone. Dylan Howard, drummer for Trapt, even jumped on his own kit, bringing a double drum show for ACIDIC's cover of The Beatles', "Come Together". Gossard ran off stage with a microphone, and jumped up on top of the bar in the back of The Gramercy, singing the first few of John Lennon's classic lyrics, before moving up the stairs to the seats, and eventually back down into the crowd, hugging audience members without missing a note. While not many had arrived yet to hear them, those that did seem delighted by the energy the band brought.
Check out my ACIDIC photo gallery here.
Up next to open was the incredibly well-dressed rock band from Minnesota, 3 Pill Morning. Following a very bass heavy intro, the band flew to the stage, with vocalist Jeff Stebbins climbing on top of a two foot tall crate set at the front and center of the stage, throwing his fist to the air with a thumbs up. Playing through selections from their full length debut, Black Tie Love Affair, 3PM started the night with "Revolution", a rock anthem with lyrics, "let's go! We'll start a revolution! There's no way we'll let them win!"
For their newest single, "I Want That For You", Jeff started by telling the audience, "this is the time of night where we watch the whole dance floor bounce with us!" As a pounding beat from drummer Trent Laugerman kicked in, following by a solid riff from guitarist Ryan Walch, Stebbins screamed, "Everybody jump! Jump! Jump!", which looked to really get the crowd's blood flowing.
Check out my 3 Pill Morning photo gallery here.
"This song is about all of those that didn't come to the show tonight! It's called Loser!" Jeff told the audience for their second to last song. By the time their final selection of the night, "Skin", began, much of the Gramercy Theatre was filled and enjoying 3PM hard rock style, with a sea of rock hands in the air for the Minnesota four piece.
Bursting in to "Who's Coming Home With You Tonight", Trapt arrived on the stage to a screaming and cheering New York City crowd. Front man and vocalist Chris Taylor Brown sprang to the center of the stage whimsically singing while many fans sang along. He was so excited in fact, when climbing on to a two foot tall wooden crate, he slipped, losing his balance. However, Chris quickly shrugged it off, continuing to sing as if it was all part of the show. Before going in to "Waiting", Brown quickly mentioned, "You guys got me so pumped, I lost my balance!"
Grabbing a guitar of his own, Brown and new lead guitarist Travis Miguel played together for the fan favorite, "Echo". Many of the female fans in the audience screamed along the simple but powerful words to the song, and seemed to never want the experience to end.
One thing I noticed that I had to touch on was the shirt drummer Dylan Thomas Howard wore for the band's set was none other than that of one of Unsung Melody's favorite artists, Kyng. Splendid choice of attire Mr.Howard!
Before "Black Rose", Brown gave a little speech saying, "If you're in a bad relationship, you've gotta cut that cord. I've seen too many people with out the courage to say goodbye. This song is about those types of relationships."
Trapt's latest album, Reborn, arrived a few months ago, and the songs they played live from it, "Bring It", "Love Hate Relationship", and "Living in the Eye of the Storm", all were received with great applause.
"I want to see everyone getting up for this song, this is Still Frame!" shouted Brown, with nearly the entire standing audience jumping up and down along with him. While a videographer was at the front of the stage recording the entire show, Chris noticed him pointing his camera up at the band. Chris quickly ran to the videographer, and pointed to the crowd, who was going crazy for the song. He really appreciated the fan's reaction to the song, and wanted that to be documented more than the band themselves. Following "Still Frame", Trapt thanked the crowd, and exited the stage for a few minutes.
While the still excited audience screamed out, "Encore, encore!" Chris, who was still offstage, began to speak out, "Louder! LOUDER!" pumping the crowd up even more. "Who'd you come here to see?" he asked, remaining offstage still. "Trapt!" the audience began to yell in unison. Returning to the stage, Chris told the crowd, "Because its your New York City, we're gonna give you two more songs! This song's called Stand Up!"
Check out my Trapt photo gallery here.
"We have one last question for you New York City, will you always be headstrong?" shouted Brown, with the band breaking in to their biggest single, "Headstrong". The crowd erupted for the entire song, singing along to every word of the rock opus.
Hard rock had a solid grasp on New York City this night, and with Trapt fans quickly warming up to both ACIDIC and 3 Pill Morning for their opening performances, those who arrived to rock out were not left disappointed. Chris Taylor Brown of Trapt really has fantastic live voice that I quite enjoyed, even if his mid-song speeches can be a bit overly dramatic.