The Metal Alliance Tour featuring Anthrax, Exodus, Municipal Waste, Shadows Fall, and Holy Grail at The Irving Plaza in NYC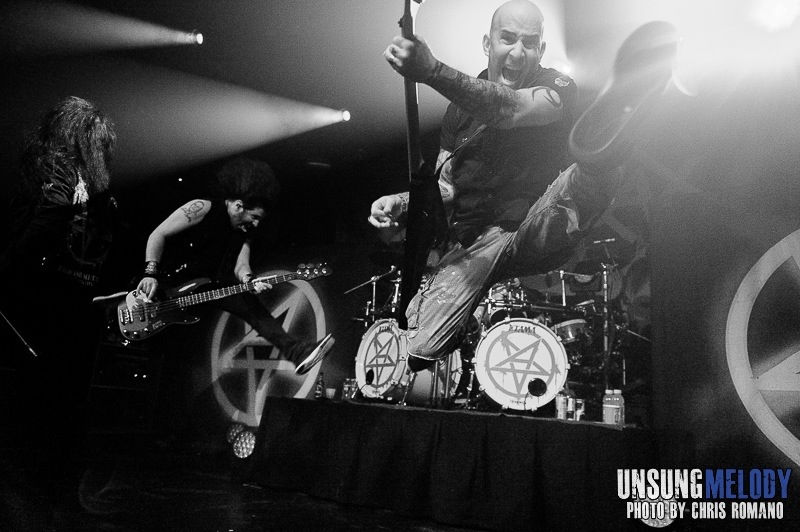 Take one part heavy, two parts metal, and all parts thrash, cook with high energy for 6 hours, and you'll have this years "Metal Alliance" tour. Finishing its last two dates in the home state of the tour's headline band, Big 4 Alumni Anthrax, the alliance has been getting fans old and new alike spinning, jumping and head banging for nearly an entire month.
Quickly selling out a Saturday night at New York City's Irving Plaza, the tour followed up by etching the following Sunday night at the same venue in to it's records before closing the books. As I was entering the venue, I could see plenty of fans wanting to enter, but being quickly turned away when they learned the show was sold out. It was surprising to me that Anthrax wouldn't be booked in a larger venue for their hometown show, but some times the smaller and more intimate venues just work better.
First up to bat for the metal alliance was pure heavy metal band, Holy Grail. The straight up no bones heavy metal band from California, may have had only a few in attendance for their opening set, but those that were there were given a great warm up. Clad in leather and spikes, vocalist James Paul Luna sang clean, loud, and heavy, a sound reminiscent of heavy metal greats Ronnie James Dio and Rob Halford. "This song is about power, metal and courage, its called Fight to Kill!", screamed James, the final song of the bands short set. Without asking, a massive circle pit formed, spinning until James' final wail.
As Holy Grail left the stage, a fun little exit tune, "Holy grail, holy grail, everybody's talkin' 'bout the holy grail!" played, which had at least me singing along, with a smile on my face and a positive memory of what the band is capable of.
Due to a mix up at the ticket office, I was unfortunately not able to photograph Holy Grail. My apologies to the band.
While sludge metal behemoths High on Fire may have been part of "the alliance" for the majority of this tour, for the last few days, they jumped over to Europe, and in their place came melodic death metal band, Shadows Fall.
Having seen Shadows Fall just a few short months ago, I knew what I was in store for. Between front man Brian Fair's massive dreadlocks spinning and flying in every possible direction, and the band's tight, melodic metal attack, sounded fresh and alive. With lead guitarist Jonathan Donais preparing to do double-duty that night, as he has been the fill-in lead guitarist for headliner Anthrax the entire Metal Alliance tour, I was worried they would be a bit out of shape, but this was not the case. As more fans piled in to Irving Plaza, they quickly jumped into the mosh that grew as Shadows Fall flew through their set.
Be sure and check out my photo gallery from Shadows Fall here.
During new song, "Divide and Conquer", rhythm guitarist Matt Bachard had his microphone brought up to the same levels as Brian's, as they flawlessly shared powerful lead vocal lines. For their final song, a heavy metal cover of Bob Marley's "War", Brian called out for an "old school circle pit", which had plenty of fans spinning until they were dizzy. "Thanks for coming out, and showing that metal is alive!", Brian screamed, pleased with a cheering crowd.
"We are 47 crowd surfs away from a record here at Irving Plaza. Let's put the security to work New York!" taunted Tony Foresta, front man and vocalist of Municipal Waste. While the punk/thrash crossover band took the stage, bodies flew over barrier at extraordinary rates, giving the security on barrier duty quite the work out.
Opening with "Unleash the Bastards", the short but furious blend of punk rock and metal worked great to keep everyone banging their heads. For, "You're Cut Off", guitarist Ryan Waste exclaimed, "We have a bunch of songs about drinking and partying, and this one is about when a bartender pisses you off!" The great reception continued for their entire set, with Tony, Ryan, and bassist Phil Hall, all having great stage banter with each other with themselves and the crowd. Finishing up with "Born to Party", Tony thanked the crowd, Anthrax, and "Our drinking buddies from the west, Exodus!"
Be sure and check out my photo gallery from Municipal Waste here.
To say I was excited for the next band on the bill, Exodus, would be an understatement. While I've seen guitarist Gary Holt a few times live (he has been filling in for Jeff Hanneman with thrash titans Slayer), it was my first experience seeing the band who is heavily considered to be part of "the OTHER Big 4".
Once they hit the stage, Holt and fellow guitarist Lee Altus brought a shred fest to be reckoned with. Opening with the over 7 minute long, "The Ballad of Leonard and Charles" and following with one of my favorites, "A Lesson in Violence", the intensity pouring from the band to the crowd and back was through the roof.
Rob Dukes, Exodus' current lead vocalist, is a big guy, with a voice that is just as big. As he stormed around the stage, banging his head to every snare hit from drummer Tom Hunting, and playing one-handed air guitar with Holt and Atlus during their wicked solos. "While Exodus may be a bay area band, I grew up right here in New York," Dukes mentioned, as they ripped through "War Is My Shepherd" and "Fabulous Disaster".
Be sure and check out my photo gallery from Exodus here.
Just when I thought things couldn't get any more crazy, during "Blacklist", Dukes grabbed a guitar pick, and gave Holt a cup of beer, which he drank down in its entirety using his right hand, while Dukes riffed away the rhythm line for Holt, as Atlus blitzed through a the lead line with a wicked guitar solo. A true showing of talent, and teamwork if I do say so myself.
"Bonded By Blood" was the time for those in the mosh to shine. During it, Dukes called for those in the pit to split down the middle, because it was time for a wall of death. "If you're on the left side, you're gonna kill those guys on the right, and if you're on the right, you're gonna slaughter the ones on the left, and after that, you're all gonna get in a circle and become invincible!" The entire building shook as each side slammed in to one another at Dukes' command.
Tony Foresta from Municipal Waste jumped on stage during "The Toxic Waltz". "Do the Toxic Waltz!", Rob, Tony, and the crowd sang together in perfect, brutal, harmony.
Ending with "Strike of the Beast", and finally, "Good Riddance", the entire band thanked everyone for coming out and hoped they would be back for the next night. Exodus may have only played 9 songs, but it was 9 songs that left nearly everyone in the mosh sweaty and craving water, or at least a few beers. The moshers only had about 40 minutes to gather themselves before the stage was set for headliners, and hometown heroes Anthrax to hit the stage.
Twenty-six years ago, the album Among the Living came out. When that album came out, I was only 14 months old! Since I could barely walk when Anthrax first touring the world in support of the album, all I can do is go back to old bootleg videos to see what things were like back then.
Let me tell you, for a group of guys in their late 40s and early 50s, Anthrax still has the stage presence that they did when they were in their mid 20s.
Flying out to the stage came bassist Frank Bello, drummer Charlie Benante, vocalist Joey Belladonna, Shadows Fall lead guitarist (and now donning an Anthrax button up shirt) Jonathan Donais, of course, the legendary Scott Ian. Immediately the band bursted into the opening and title track, "Among the Living".
With green, red, and blue lights shifting all over, they dove right in to one of their staple songs, and one that I've seen at every Anthrax show I've ever been to, "Caught in a Mosh". If there was a single crowd member not bouncing or spinning during Frank Bello's wicked bass lines, I couldn't see them from where I was standing.
After the Judge Dredd based staple, "I Am The Law", and one of my Anthrax favorites, "Efilnikufesin (N.F.L.)", Joey asked everyone, "Does anybody have any skeletons in their closet?" with "A Skeleton in the Closet" being the last song from Among the Living they would play for a short bit.
Once they chugged through "March of the S.O.D.", the band briefly left the stage only to return with "In the End" from their latest album, Worship Music. Dedicating the song to the late, great, Ronnie James Dio, Joey requested that everyone get their metal horns to the sky. Nearly every hand available was raised with a pinky and a pointer to the sky.
Be sure and check out my photo gallery from Anthrax here.
Scott Ian took the time to talk to the crowd, mentioning that it was their 5th New York City show they've played since Worship Music came out, with incredible support for each and every show. "We just released a new album called Anthems, and it has a bunch of great songs that we we didn't write," Scott explained, "and right now, we're going to play one of those songs! This is a really easy song to sing along to, you should know the lyrics. Can you sing along New York? CAN YOU?" With loud cheers, Anthrax broke in to a cover of the AC/DC classic, "T.N.T."
For me, this was one of the biggest highlights of the night. Joey Belladonna really sounded phenomenal singing the classic tune, channeling his inner Bon Scott, which brought the crowd interaction to new levels. It was very clear even if someone in the room didn't know a single lyric to an Anthrax song, they at least could identify the three main letters for this one. Ending with a little teaser of another famous AC/DC tune, "Back in Black", the crowd cheered loudly for what was quite a memorable experience.
Pounding through the frantic "Madhouse," and returning to Among the Living tunes with the great circle pit song, "Indians". When Scott started to introduce the next song, the lesser played "One World", Scott's voice pitched a little higher than it should have, getting laughter from the crowd. A little frazzled, Scott returned with, "Hey now, I'm screaming my balls off up here!" with Joey quickly adding, "Give it up for Ian!"
"A.D.I./Horror of It All", "Got the Time", and zombie apocalypse theme song, "Fight 'Em 'Til You Can't" were next in line. A short stage break brought the band back for their encore beginning with the final Among the Living track to be played, "Imitation of Life".
After Scott Ian and Frank Bello shared back and forth vocals on a shortened bit of "I'm the Man", and a quick drum solo from Charlie Benante, Anthrax entered in to their final song of the night, their cover of Trust's "Antisocial".
Before the band grouped together on stage for a bow, Scott Ian jumped on the mic one last time to proudly proclaim, "Thank you New York City! Your home and our home! We're gonna make a new record after this tour, so until next year, ALWAYS WORSHIP MUSIC!"
For people to still want to hear the Among the Living songs performed live, it clearly shows that not only has the album stood the test of time, but the band has as well. Anthrax still has that fire in their step, and rightfully deserves their badge as one of "The Big 4 of thrash metal". The four bands that proceeded them were quite a sight for a headbanger's eyes as well, making "The Metal Alliance" tour this year a great success.