Initial Thoughts. A review of the self-titled release from SIMO.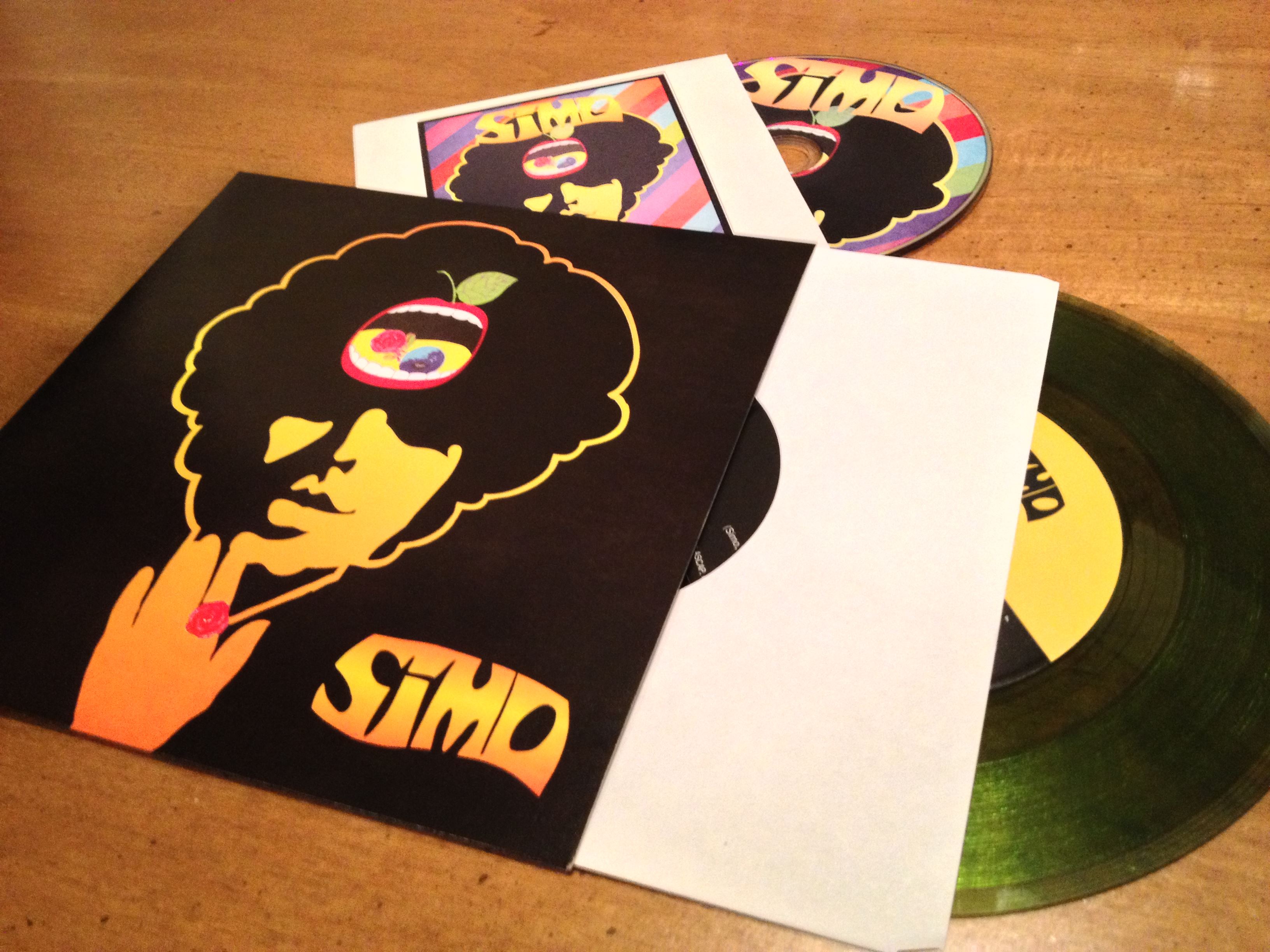 Recently, I've had the pleasure of being introduced to several bands that have a classic, amazing retro sound. Some have come by my own research, others have been suggested to me by friends. One that I want to discuss today is one of the latter bands. Suzanne Sledge from 68-75 highly recommended that I check out a band called SIMO. She said, if you liked the style of my band, you're going to love SIMO. Guess what, she was right! After a few exchanges via email, I received a package in the mail that not only had a cd, but a bright green 45 vinyl single. Well, there's your first indication that this band is not afraid to embrace their sound! As intrigued as I've ever been by a bands presentation, I was eager to review their record. Well, technically, their cd…lol That's what brings us to this point. As always, I'll hit the highlights, its up to you to discover the rest of the album. This is Initial Thoughts. The album cd is a self-titled release. Let's do this!

First up is one of the songs included on the aforementioned 45 single, AOH. After a brief intro, my mind immediately is transported to 1966. No, I wasn't born then, but Jimi Hendrix did release his first shot at song writing, Stone Free. Which is where the sound of the drums, bass and guitar took my mind. That's all it took. I was completely entranced! With a rhythm section very akin to Noel Redding and Mitch Mitchell, SIMO's sound is held down by Frank Swart on bass and Adam Abrashoff on drums. While vocalist/guitarist JD Simo takes the reins and leads the band into an absolutely beautiful musical journey. A fantastic way to start off the album!
On the flip side, (man it's great to say that and it have actual meaning) is the single Shake It. Well, it being a 60's style guitar oriented song with a title called Shake It, it's pretty obvious what it's gonna do. It's gonna make you shake it! On this particular song, bassist Frank Swart is the highlight for me. His driving bassline carries the tune and keeps my attention, ala The Funk Brothers.
Check out the single Shake It below:

Next up is one of my favorite songs on the album, Fool For You. Originally written by Curtis Mayfield and performed by The Impressions, this interpretation is simply astonishing. With its big open chorus, so very catchy guitar work and a terrific song structure, this song has everything going for it.
I absolutely have to talk about What's On Your Mind. This bluesy slow rolling tune is the root of all things rock and roll. The blues are often lost on most musicians today, and it's an absolute shame. There's something about a minimalistic approach to music that conveys such emotion. To truly understand what it is that makes you like any band, you must understand where they come from. This song tells you the story of where SIMO is from, where it's going and why it's in existence. The guitar work speaks volumes, and I for one am loving the ride. This song is the highlight of the album for me.
Check out the performance of What's On Your Mind below:

That Same Thing is yet another great song. Back to the bluesy roots, this song has blistering guitar work. JD Simo, in my opinion is in his lane when he's doing this style of music. Bringing it down to a crawl, letting the vocals shine, then just pummeling you with an audible onslaught of guitars is absolutely his bread and butter. This song is also a highlight on the record for me.
Listen, there are going to be many comparisons you can throw at SIMO. You can hear so many influences, yet there is no denying it's a SIMO record. You could say Clementia's Lament is reminiscent of Led Zeppelin with Jack White playing guitar. You could say the cover of Howlin Wolf's Evil is a fuzzed out psychedelic masterpiece. You could go on and on. The point is, if you enjoy a killer retro vibe and want to have an unabashed good time, go see SIMO at a show. If you want to capture a lost essence and relive what it must have been like to discover a band with such great musicianship, buy this album. Like we say here at Unsung Melody; Support the artists, or lose the art.
★★★★★★★★☆☆ 8 out of 10 stars!
Keep up with SIMO below:
SimoTheBand.Com
SunDazed.Com
Facebook
Youtube
Feel the power of the band in this live video performing It's Alright: