Initial Thoughts. A review of Bad Luck Glory by Leaving Haven.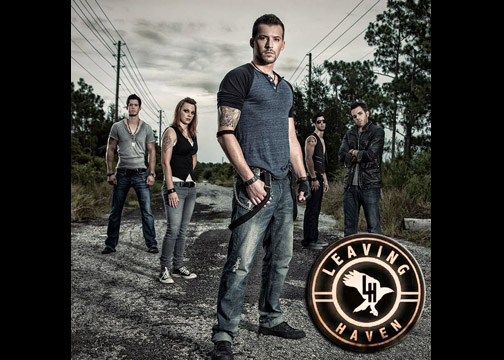 Orlando, Florida is a town not usually associated with rock and roll. The home of Mickey Mouse is more about tourists than it is musical substance in general. Having said that, as a tourist, I visited the House of Blues there and it was a beautiful venue and the show I saw was tremendous. What's that? Who did I see? I saw bluegrass newgrass artists Nickel Creek. The band unplugged every instrument, walked to the front of the stage with no microphones, and filled the room with their voices. That my friends, was amazing. Anyways, back to the task at hand. Recently, I was contacted about an up and coming band making noise from the Orlando area. Leaving Haven has been either been on tour with or have shared the stage recently with other Unsung Artists DoryDrive, Viasava, and Daybreak Embrace. I was obviously intrigued by the band, as those Unsung Artists have all been well received by our readers. Which brings us to the point of why we're here. It's time to get our review on. As usual, I'll hit what I feel are the highlights. It's up to you to discover the rest of the album. Initial Thoughts is the series. The band is Leaving Haven. The album is Bad Luck Glory. Let's do this!
Kicking off the album is the track Viper. This track, after a short intro, begins with a guitar riff built for radio. With quick changes, palm mutes, and thick, crunchy riffs; Viper will catch the attention of fans of many popular bands today. Bands like Breaking Benjamin, Three Days Grace, Red, and Shinedown are bands that will come to mind as obvious influences. Vocalist Trevor Hastings delivers a very adept performance and gives you a good indication of what he has to offer vocally.
Four High is the next song I'd like to mention. Emotions run high in this song, and the somber tones leading into the great melody of the chorus really work well in this song. The band RA really comes to mind on this one. It's a killer song that provides us with some lyrical depth, which is mostly missing from radio today.
Can't Commit is up next. I'm going to say this right now, if a label gets a hold of this song, it will be a hit. My hope is the band can do it on their own, but there needs to be a push, that is for certain. The pop sense in this melody is undeniable, and the song is, for me, the most well written song from an Unsung Artist, possibly yet. This song could and very well should open many doors for this band. If there are managers out there reading this, snag this band.
How do you follow up such a massive song as Can't Commit? You bring a barn burner to the mix, that's how! Always Something will be a song that moves the crowd. With quite possibly the heaviest riff on the album, leading into a huge sing-a-long chorus; Always Something takes a proven formula to move the masses. This will do that just fine, thank you very much.
With most songs at or under 4 mins, the band definitely has written an album that is chock full of songs ready to deliver to radio. Leaving Haven's sound is really defined, and if you like one song, chances are, you're going to like them all. If I could say one small thing about the album, it would be that I do have a couple issues sound-wise, but overall it's a solid recording. For me, the sound of the snare is a bit off on a few songs, but I'm simply nitpicking. This band has a bright future and hopefully, we can help be a part of it. Like we always say; Support the artists, or lose the art.
★★★★★★★★☆☆ 8 out of 10 stars.
Keep up with Leaving Haven below:
LeavingHaven.Com
Facebook
Twitter
Check out Leaving Haven on Reverbnation below: