Initial Thoughts. A review of Neurogenesis from the Monks of Mellonwah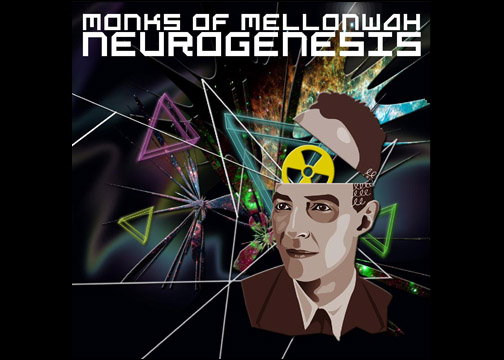 The Monks of Mellonwah are a four-piece band hailing from Sydney, Australia. They released their second EP Neurogenesis in May 2012. Their first EP Stars are Out was released in 2010. These monks may be coming to a town near you! They plan to start touring the US in February 2013.
Before we get too far into the review, let's set one thing straight: this band may be a bit misnamed. Remember the Benedictine Monks of Santo Domingo de Silos? Their Gregorian chanting CD, recorded at their monastery in Spain, hit #3 on the Billboard 200 music chart in the 1990s. It sold 3 million copies in the United States and 6 million copies worldwide. Well this music isn't that, or anything resembling what those 90s monks defined as appropriate "monk" music. Don't let the term fool you; the Monks of Mellonwah offer much cooler alternative rock sounding music, no chanting included.
The Monks of Mellowah are Vikram Kaushik (vocals), Joe de la Hoyde (backing vocals/guitar), John de la Hoyde (bass) and Josh Baissari (drums). They claim their influences as Led Zeppelin, Muse, Pink Floyd and the Red Hot Chili Peppers.
If the goal is to mirror their influences, they accomplish it well. The song Neverending Spirit sounds as though it could live on a Red Hot Chili Peppers album. Kaushik appears to channel Anthony Kiedis, sounding a bit like him vocally at times. Baissari is incredible and impeccable on drums, carrying much of the weight in all their songs. His skills are most evident in the title track Neurogenesis, which will surely have you air drumming as I did.
Give these aussies a listen, and check them out if they happen to be playing near you. The Monks of Mellonwah may not have sold 6 million copies of a chanting album, but they did win the award for Best Indie Rock Band at the Artists In Music Awards in Los Angeles and they were nominated for three awards at the LA Music Awards 2012. If they keep producing such quality work, they may see more accolades when they release their full album, expected in 2013.
Keep up with the Monks of Mellonwah below:
Facebook
Twitter

Watch the Neverending Spirit music video: