Initial Thoughts. A review of Down IV Part One: The Purple EP.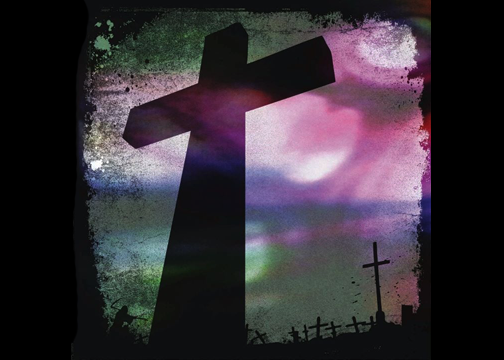 Today, I'm tackling the new Down EP. It's titled Down IV Part One: The Purple EP. Down has created a four part series to be released over the next year. Having heard the first single, Witchtripper, I was eager to take everyone with me on the journey that I call Initial Thoughts. I've been a long time fan of all the members of the band, and I'm honored to try my hand at this review. As a matter of fact, Clutch and Corrosion of Conformity (which is Pepper Keenan's previous band) was my first true rock show. So, yeah, I'm stoked. By now, you guys know the drill when it comes to Initial Thoughts. I'll hit the highlights, you do the rest. As always, support the artists. Buy it, don't download it.
First up is the track Levitation. The track begins with a slow fade in, building momentum as it goes. The riff is nasty, the tone is undeniable. The NOLA Sludge, has arrived. Pepper Keenan and Kirk Windstein play so well off of each other, their sound is as big a part of Down as the one and only Phil Anselmo is. Supergroups often never seem to work, but for Down, they sound as strong as ever. With a quick stop, Phil shouts, '1, 2, 3 Go!" Let me tell you something, when Phil Anselmo shouts at you, you will listen. The track settles back into a nice groove while the chorus delivers a nice trading of guitar licks and melodies. Tying it all together is that eerie-like voice Phil Anselmo made famous, as he grumbles "Levitation." It's a classic sound, and a killer album starter. Let's hope the rest of the album continues to fan the flame that this one started.
Next up is the single Witchtripper. This one wastes no time in kicking your ass. Straight out of the gate, you know this song means business. If you had any doubts about the sound of Down with the departure of bassist Rex Brown, let this song put those concerns to rest. The tone of the bass from Pat Brudners is absolutely massive on this track. As if those swampy guitars weren't thick and heavy enough, you add in that bassline and this track absolutely tips the scales. Down delivers an absolute gem on this EP with Witchtripper.
Open Coffins sounds like it belongs on the first Down record, NOLA. It has that feel to it, which is a good thing, since we all love that album! The song is great and I really think most will enjoy it, but the thing I want to point out is the breakdown. If I may, OMG! This is the highlight of the album for me so far. I think I twisted my ankle just imagining the pit this song will create. I'd have to agree with Phil on this one, 'That's what I'm talking about." Not much more you can add to the ending of that breakdown. As much as I love Witchtripper, I think I have a new favorite track. Open Coffins embodies everything that makes Down who they are. It's almost a showcase of everyone involved, and they all shine equally. It's a great track!
Since there are only six songs on this EP, I don't want to give it all away. So, I'll pick one more song to review. The last track I want to talk about is Misfortune Teller. From its feedback beginning, you just have the feeling that this song is going to be loud, aggressive, and exactly what you wanted to end this EP with. Well, the band didn't disappoint. The sludge is thick, the groove is fine, the drums are loud, and this is vintage Anselmo. What more can any fan ask?
When you end an album leaving people wanting more, you did your job. Down did their job, and did it well. I'm not only wanting more music, I'm salivating at the thought. Thankfully, knowing that there are 3 more EP's set to be released over the course of the next year, I can simply smile with eager anticipation.
★★★★★★★☆☆☆ 7 out of 10 Stars
Keep up with Down below:
Down-NOLA.Com
Facebook
Twitter