Black Stone Cherry – Magic Mountain (Album Review)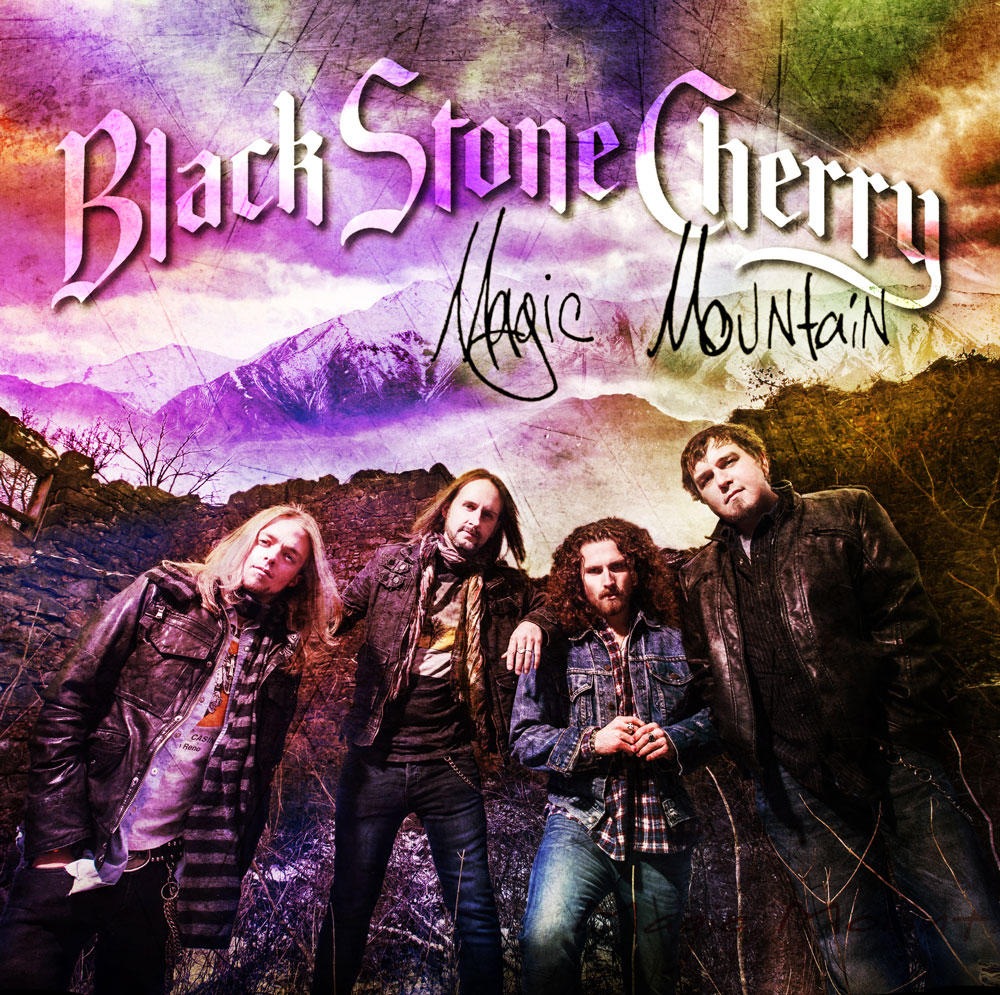 Music is an evolutionary process and often times a long, winding road to get you where you want to be. A band will often sound completely different from one album to the next. Still, there is always that core element, that is sometimes hard to put your finger on, that keeps you coming back for more and more. Black Stone Cherry are no different. There is something about them, that just keeps people coming back. For me, it's their southern sound that resonates through every album. Their self-titled debut was one that saw a really diverse set of songs that were raw, energetic, refreshing and noteworthy, especially the now classic Lonely Train. I still find myself scratching my head asking, "Why on earth did Tired Of The Rain, Crosstown Woman or Drive not make the cut as a single?" You want to find a sound that's unique and instantly recognizable to set you apart from the pack. Welp, there they were.
Their second album was more polished, as Roadrunner Records saw the potential of the band and chose one of the best producers out there in Bob Marlette. Bob has worked with everyone from Black Sabbath and Seether to Tracy Chapman and Laura Branigan. Folklore & Superstition was successful and it did have quite a few gems on it (Blind Man, Long Sleeves and Reverend Wrinkle and the Ghost of Floyd Collins come to mind), there were a few songs that seemed somewhat forced and the creative path was shrunken to appease the suits at the label. While it wasn't a huge departure from the southern tinged debut, you could feel there were more hands molding the band and their music than there should have been.
On the next album, Between The Devil & The Deep Blue Sea, the label felt there was even more radio potential in the band, so they brought in mega-producer Howard Benson and some outside writers (Which I strongly abhor). Howard is THE name in radio rock. His slick production (His team actually) is constantly on the airwaves and granted, Black Stone Cherry did garner some great numbers, but for me the label chose songs that were "made for the radio" (outside writers) and overlooked the best songs on the album. Such a Shame and We Won't Let Go SHOULD HAVE been massive hits, but nope, they were overlooked or omitted. Instead they chose two songs that were considerably close in style and sound (outside writers) in It's In My Blood and Like I Roll as the last two singles. Of course the most glaring omission as a single was the song Stay. Which of course, Florida Georgia Line spun into a number one song on the country charts. For my personal tastes, Howard took away Black Stone Cherry's secret weapon. Drummer John Fred Young had became known as an aggressive, instantly recognizable force behind the kit. His fills and snare work were some of the best in the business. From my perspective, Howard washed away that sound. Did I like the album? Of course I did. Did I hear a million ways it could've should've been better? You bet your ass I did. Of course, I have the luxury of hindsight in all of this, but I trust my ears and my gut, as they have served me well over the years. So what did the band and label learn from all of this? Well, that's the point of us being here. I'm going to share my thoughts on the journey of the band and their newest destination, Magic Mountain. Which arrives everywhere on May 6th via Roadrunner Records.
For this album, the band chose producer Joe Barresi to produce Magic Mountain. He has worked with some of the bands personal favorite artists like Tool, Nine Inch Nails, Soundgarden, Chevelle and Queens of the Stone Age. Hoping to return to the roots that made them who they are, Black Stone Cherry sat out to create that raw sound once again and in my opinion, couldn't have chosen a better man for the job than Joe Baressi.
From the first note of the album, there is a completely different feel than the previous two albums. Holding On To Letting Go kicks off the album with a nasty, muddy riff that immediately tells me, we're in for a ride. Gone is the polish, back is the grit. Wait, what's that? Ohhhh, that? That's just John Fred Young being the beast we all know he is! (Looks upward and thanks God) After settling into the old familiar bluesy groove in the verse, the band steps on the gas and delivers a massive chorus. Followed by a great bridge and, GASP!, huge solos. If this is what more creative control sounds like, someone chop off Roadrunner's hands please.
Peace Pipe is a very intriguing song. It's heavy at it's core, but it harkens back to the Peace Is Free style chorus. If you've seen the band live, then you'll know that the band likes to drop out and make that song a huge sing-a-long, my bet is Peace Pipe is the successor to Peace is Free. The structure of the song is so fun and free. The reins are off and this is fantastic. This is living, breathing, organic rock and roll. The soloing on this track, for me, is the best since the first album. Chris Robertson, you sir have an old soul and Jimi Hendrix would love you dearly.
Speaking of Jimi Hendrix, if you don't get that vibe from the opening riff of Bad Luck & Hard Love, well we just can't be friends anymore. Wah pedals, dirty tones, a hammond organ, driving drums, and minimalistic verses that in passing mention so many great blues legends, uhhhhh, yes please. Hold on while I catch my breath. Shew! I'm in love again! Rock and Roll is seemingly rising up once again, let's hope these guys can be the lead engineer on that train.
Lead Single Me & Mary Jane comes your way next. While I'm not an advocate for any sort of drug use, with so many states legalizing marijuana, you can see the appeal for a song such as this one. Guitarist Ben Wells and his talkbox, the huge simplistic riffs, the minimal distractions from the driving backbeats of bassist John Lawhon and John Fred Young in the verses and a chorus that will keep you singing along make this song a no-brainer of a choice for radio play. I for one would love to see how well, say Miley Cyrus or Nikki Nickey Nicki Minagahwhocareshowyouspellit, how well they could play an instrument and solo like these guys. Yeah, I really don't want to see that. Forget I said that.
Black Stone Cherry – Me & Mary Jane:

Runaway appears to be a very personal song and one that encompasses emotions that we've all felt at some point. The emotions here are real and that is what makes it such a tremendous song. A mid-tempo (If I'm even allowed to say that about this band) song, filled with emotion is nothing new or groundbreaking, but this one is different. As the song moves along, it's as if I'm transported to a starry night, lying in a field, staring into the Heavens contemplating life. It's a tough one to put into words for me, but I immediately connected with this song and it's became a personal favorite so far. I too hope you can make the connection. If I could change or add one more thing to this song, it would be an extended section where the band of gang vocals sing alongside whoa, whoaawhoas created by the guitars. I think that could be an extremely powerful moment to be a part of in a live setting. For me, I hope this is not an overlooked gem like others on previous albums. Excuse me while this one goes on repeat for a bit.
Okay, enough of that emotional stuff! Let's get back to the ROCK! The title track is up next, Magic Mountain. Starting off with organs that harken back to the legendary Deep Purple, the band throws off the gloves and comes at you like a fully caffeinated spider monkey. High energy, sing-a-long chorus, clapping…wait, was that clapping? Well, need I go any further? Okay. Okay, I will. I'll even make a declaration for you. This song is the most involved, expansive, creative, badass song from Black Stone Cherry yet. Bold claim huh? I'll let the music do the talking.
The dirty tones from songs like the aforementioned Such a Shame return for Never Surrender. After such a wild ride that was Magic Mountain, it may be hard for you to settle into this one. Don't worry though, you will. The verses have that familiar bomp bomp bass line found in Lonely Train and the drumwork is once again stellar. Vocally, Chris Robertson is pushing himself further than he ever has before in the chorus. The song is super aggressive and goes by rather quickly at only 3:29.
Black Stone Cherry – Never Surrender:

Blow My Mind is the first track that I remember hearing the slide on this album. A swampy sound that could have easily fit on the Folklore & Superstition album. Blow My Mind opens up into a chorus that really doesn't matter because the music is so damn good, that's where your focus will should be. Still, you'll be playing this one at very high volumes, for a very long time.
Sometimes returns to the emotional side of things. This acoustic track is also a very personal track. The booming kick drum and soft overlying solos create an atmosphere and tone that I can't seem to recall Black Stone Cherry doing before. Imagine a Black Stone Cherry ballad, with Alice In Chains classic Whale and Wasps playing over the top. It's absolutely beautiful. The lyrics, for me are extremely relatable and show a growth within Chris. Not only as an individual, but spiritually as well. This is a moment on the album that will create pause, if only for the stark contrast in which the sound is set. Take that moment that grabbed your attention and fully immerse yourself in this one. It's beautiful and in all honesty, a top three song in the band's career thus far. The chorus shows just how much growth there is and it goes as follows:
Sometimes
I cut myself on a fine line
Between laughter and pain
'cause it all feels the same to me
Sometimes
I wish I could just rewind
'cause through all the tears
I still want you were here
Black Stone Cherry – Sometimes:

How on earth do you transition from that? Well, I'll tell you how, you put on your boots and you once again kick ass. Fiesta Del Fuego begins with Mr. John Lawhon and his evil, lurking bassline before the band loads up and punches you square in the face. It's a sordid tale of a crazy good time and the need for a subsequent wake up call. Hehe. I'm betting you will hear this song as a single at some point. Just be on the lookout for the uppercut, it's a doozy.
Black Stone Cherry – Festa Del Fuego:

Dance Girl is the song that I feel has the most "commercial appeal" on the album. The slow, grooving, thick guitars set the tone as Chris Robertson sings through a heavily distorted mic, possibly a harmonica mic from the sound of it. The music in the verses doesn't deviate much from the music in the choruses, but believe me when I say this, they don't need to. The dancy backbeat keeps the perfect pace as the melodies pierce your brain and won't let go. For me though, it's the song as a whole that speaks to me. From the psychedelic tones in the bridge, to the dueling solos, this song is great. To quote an old friend, who had a saying that I love, "That's next level shit right there." I couldn't agree more. If this isn't a single, Roadrunner just needs to quit. Just close up shop and sell Starbucks.
Next up is a song that I don't really want to write about. Mainly because it will most likely polarize a few fans. With the success that Florida Georgia Line has had with Stay, you kind of had to feel there would be a song on this album that would be aimed at those fans. While I can't say Hollywood In Kentucky is a bad song, I can't say in good conscience that I love it either. It's extremely catchy, fun and would do great on Country radio, but that's not why I, or probably most of you, listen to Black Stone Cherry. A bit cliché in the lyrics, albeit absolutely true, (I know, I live in Kentucky as well) the song just seems out of place. If this were a bonus track, I don't think anyone would have any qualms about it. If it turns out to be a single, it may mean success, but it may also mean losing a lot of the core fanbase that they've worked so hard to build up over the years. That's the last thing I want to see happen. A lot of fans will describe this song as "selling out" if it hits the airwaves with their name attached. Knowing the guys, I KNOW that couldn't be further than the truth, but I also have a unique perspective. They do end the song on an awesome instrumental section that I'm dubbing "Thrash Grass", so you gotta hear that, right? Ha!
Black Stone Cherry – Hollywood in Kentucky:

Remember Me is the last track on the album and the first thing you'll notice is that Ben Wells has this eerie, watery effect on his guitar that starts early and is sprinkled in throughout the track. While musically the song itself is a driving tune, the lyrics and story are very somber. Chris's lyrical growth is evident and the depth and melodies crafted here are terrific. It's a tremendous song and a great song to end the album on.
Plan on rolling down your windows and feeling the breeze all summer long with this entire album. Overall, the album shows growth and a bit more freedom. Those are bonuses in my opinion. So the looming question becomes simple, did they return to their roots? Yes they did. There are elements (John Fred Young's drumming to be most specific) that are back and as good as ever, and the songs are much more aggressive on a consistent basis. Overall this album is a full-on tornado of music, leaving only devastation in it's wake. The main thing that I'm happy about is the fact that it's not another Howard Benson production.
Unsung Melody Score – 9 out of 10
Preview or purchase Magic Mountain below: