SOLD OUT! Alter Bridge, Monster Truck and Man the Mighty at House of Blues in Chicago, IL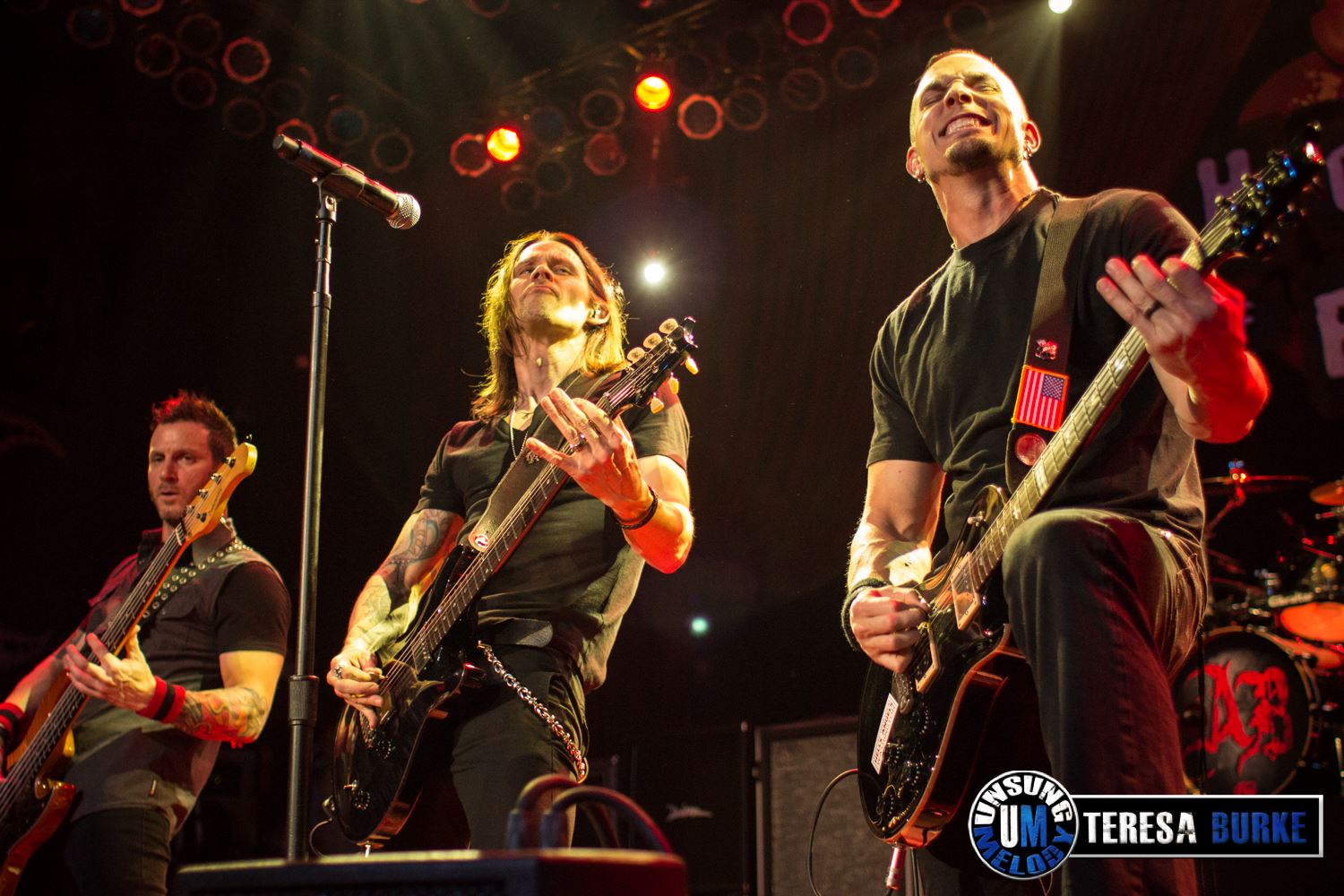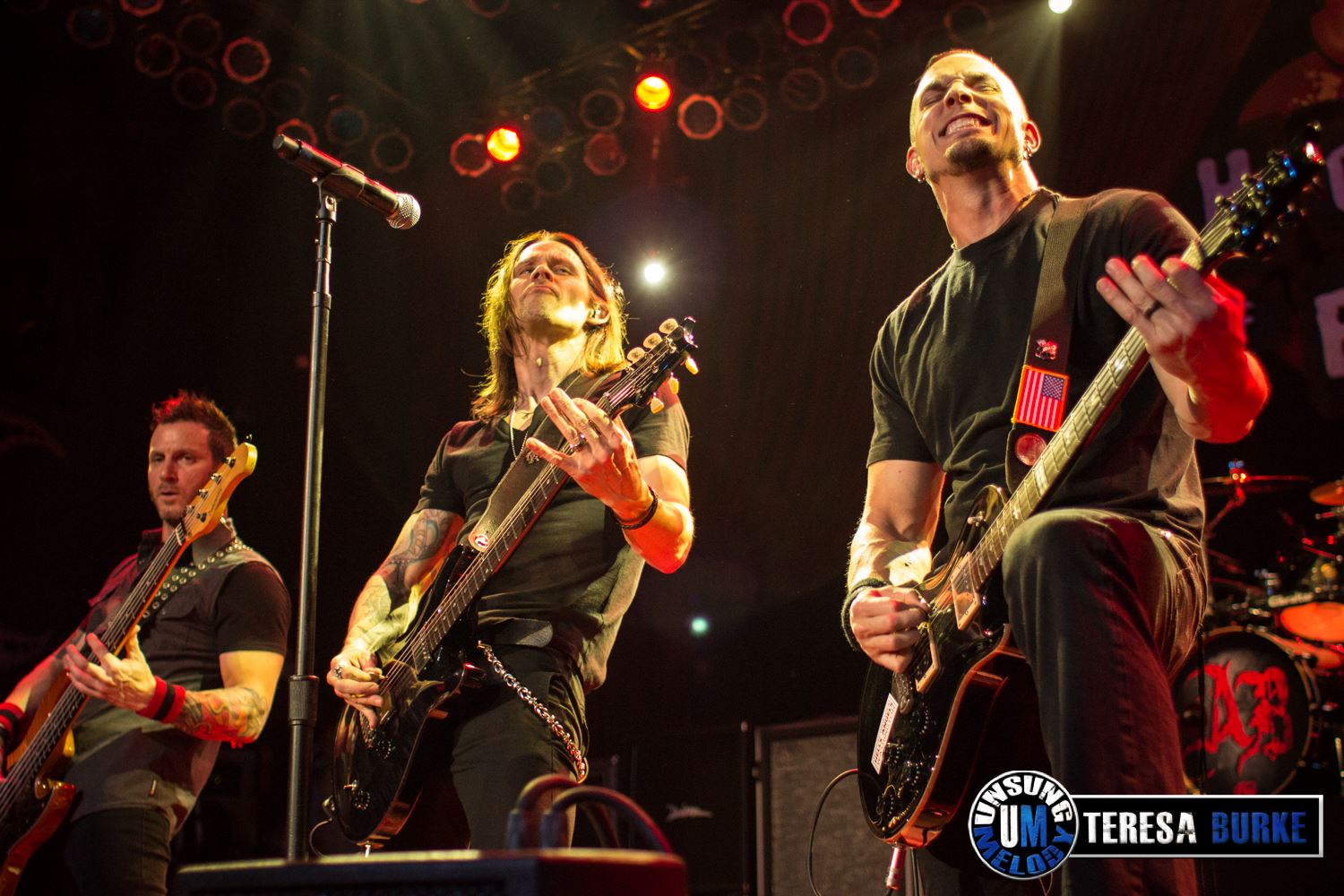 *Be sure and check out my photo galleries within review.
When Alter Bridge announced a Chicago date, they immediately offered two at the House of Blues to choose from. Safe to say, there were a lot of people that planned to attend and planned to attend both shows. As a result, both nights in Chicago were sold out. If you were like me and briefly had a brain fade until the day of the first of two shows, Alter Bridge have been around for 10 years now. They released their first album, One Day Remains, in 2004, and continued to release three more albums, not to mention they've toured overseas a few times. Ten years. Where does the time go? As a result, they had plenty of songs to choose from as they played a fairly even mix during Night 1 from all of their releases including five songs from their latest album, Fortress.
No strangers to sharing the stage with Mark Tremonti, Man the Mighty opened the show. Their 30-minute set was straight forward and to the point. Pretty early on guitarist Tim Tournier, who also provided backing vocals, stated they didn't have a lot of time so they were going to pack in as many songs as they could. If we didn't like it, well tough you know what. Their set started off with the title track to their last release I Am Icarus. While Tim got the ball rolling, singer and guitarist Derek Smith sang with a determination to win over the crowd. Ghosts, one of my personal favorites, had a chunky sound that made you want to move your head along to the beat. They also played a yet to be released song, Dead Man Walking. Let me tell you, this song has balls. If this is any indication of other music they plan to release, I will be one happy camper. This lead into another personal fave, Beneath the Skin. Drummer Matt Harmoning was a little hard to see with a middle cymbal pretty even with his face, but if he were to crouch down or as the cymbal would flip up, it revealed quite a few intense facial expressions. Bassist Tyler Nelson looked as if he was having the most fun on stage. Whether he was rocking out or chewing on his pick (I couldn't help but wonder if they made flavored picks) while his fingers did the talking, there was a few times he ventured over to Tim's side of the stage. While I have seen MTM a few times now, I never get tired of their fancy guitar trick. This time it came during the second to last song, Tear Me Down, where they both played the others instrument by switching hands for the parts on the neck.
Man the Mighty:
After a brief set change,
Monster Truck
, who are from
Hamilton, Ontario, Canada
, took the stage and played a 35-minute set. If you're wondering what kind of name
Monster Truck
is for a band, well, I'll tell you. Having seen them once before and especially after seeing them again, their name fits perfectly. They come in and just roll right over you with their songs, their vibe and their attitude. They have an unmistakable sound that makes you feel like you've been transported back to the 70's but with
Jon Harvey's
sweet, sweet vocals leading the charge, you find yourself lost in their music and you hope it never ends.
Playing songs mostly from their 2013 release, Furiosity, they also snuck in a couple from The Brown EP released in 2011. The night started off with Old Train, a song with a driving guitar riff followed by pounding drums and a heavy bass line. Jon's vocals in this song also slightly reminded me of Neil Fallon from Clutch. Guitarist Jeremy Widerman, who also sang backing vocals, was all over the place. Some of his moves appeared to be influenced partly by Angus Young from AC/DC, mixed with a little madman not to mention he looked like he was getting in a work out. Needless to say, he was entertaining to watch. Next was Righteous Smoke, the first of two songs from The Brown EP. This was followed by The Lion that started off with a heavy groove that lead into some amazing vocals. This song also really showcased Brandon Bliss who played keys all night long as well as provided backing vocals. Drummer Steve Kiely played with an intensity and passion all night that really helped to round out the sound of the band, even more so when he also sang backing vocals. Yes, folks, they all sing. I can't even tell you how amazing a band sounds when all members contribute vocals. It's just on a whole other level.
They continued with The Giant and just as the name states, this is a monster of a song live. Call It A Spade had a slight hint of ZZ Top running around within this song, but overall, it just made you want to move to the beat. They slowed it down a bit with For the Sun, with its steady groove that made you want to close your eyes and sway back and forth.  At one point Jeremy spoke to everyone noting the great crowd, great venue and that Alter Bridge were next! Clearly the night couldn't get any better. By the time Seven Seas Blues, the second song from The Brown EP, rolled around, I noticed the time and realized their set was coming to an end. It flew by much faster than I would have liked. The crowd also seemed really into them. It was fun to watch the expressions on the people around me as they were discovering a band they had never heard before. Closing out their set with Sweet Mountain River was a perfect way to end the night. With everyone in the band singing on this song and the deep groove of the bass, this song is just ridiculous live. Bottom line, if you're not familiar with Monster Truck, get to your nearest retailer, online store or what have you and check them out!
Monster Truck:
With a little longer set change than before, the crowd patiently waited. Eventually the lights went down, the intro music started, the cheers from the crowd were loud and the band took the stage. Clearly the crowd were there to see
Alter Bridge
but based on the crowd reactions and call outs all night, there were many there to see one
Mark Tremonti
. Hailed as a guitar god to some, watching people watch
Mark
in awe was pretty interesting to see. In fact, hearing grown men yell out,
"I LOVE YOU MARK!"
was also quite entertaining. But I'm getting off track…Once the lights came up, there was no mistaking it.
Alter Bridge
came to rock our faces off. The night started out with the first single from
Fortress
,
Addicted to Pain
, with
Myles
standing at center mic. With a massive sounding intro and thunderous drum beat…Good Lord this song SMOKES live. Next they launched into two songs from
Blackbird
.
White Knuckles
, with its full on dual guitar attack from
Myles
and
Mark
plus a little crowd participation afterwards brought on by
Myles
as he raised and lowered his arms to determine the crowd cheer level. By the end of
Come To Life
,
Brian
,
Myles
and
Mark
stood in a row, center stage, rocking out, showing everyone in the venue just how much they love their job.
Those first three songs lead into even more face melting. Farther Than the Sun, another new song from Fortress, is such a heavy song. The music in the chorus of this song reminds me of a giant stomping as he walks. Between Brian Marshall's bass playing and Scott Phillips' drumming, the sound is just massive. There's also some wicked sounding guitar work in this one. It was cool to watch Myles play the up tempo intro of another new song, Cry of Achilles, but man, once this song kicks in it's like a punch to the gut. The band was full on rocking out. I also have to add, there is a SICK, SICK bass line that starts around the 3:45 mark of the song. After watching Brian's actions compared to the sounds he was playing that night, I dubbed him the Quiet Monster. He's more reserved of the four band members, however, I observed his focused concentration all night as playing to the best of his ability. Of course, a smile escaped every once in a while as he interacted with fans, but he was for sure the most serious member on stage.
With two songs from AB III, Brand New Start and Ghosts of Days Gone By, the crowd were enjoying every second of their set. After Ties That Bind, Myles told the crowd they started doing something new with this latest album and he introduced Mark. I held my breath for a second hoping. Sure enough, Mark stepped up to the mic and sang lead vocals on Waters Rising, while Myles handled backing vocals. Being familiar with Mark's solo project, I was hoping they would play this song live and it was awesome. I'm not sure if Mark felt more comfortable after releasing his own solo album where he sang lead vocals, but for the next Alter Bridge album, Mark should definitely take another stab at it. I should also mention, all night, Mark was constantly smiling and interacting with fans not to mention making his trademark facial expressions while performing.
Once again, with their triple stance center stage, during the heavy part of Isolation, Brian, Myles and Mark were full on rocking out when another funny thought that night popped into my head. Now while some people can't walk and chew gum, Myles Kennedy can rock out, chew gum and smile all at the same time. Now if you were at the show or if you've been paying attention to any part of this tour, up to this point in the night, it was clear that Alter Bridge are now pretty much a two-guitar band. Of the 17 songs they played, there were only two where Myles did not play guitar. For those that remember back to the early days of AB, Myles didn't really play much guitar live. Over the years, he's been playing more and more and I for one and very happy to see him on guitar full time. As a result of all this guitar greatness on stage, there was a constant switching out of guitars between Myles and Mark along with Myles switching back and forth between center and stage right mic. It was also really cool to see Myles and Mark trade off guitar parts within that same song. Another thing I noticed, as long as they were not singing, when either Myles or Mark were soloing, the other would step to the back of the stage, giving the other the spotlight.
Broken Wings was the first song where Myles didn't play guitar. He also let the crowd sing the chorus. Actually, off and on all night there was a lot of crowd singing even when he wasn't urging them to and they were loud and clear. Unfortunately, even though Before Tomorrow Comes was on the set list, they never played it. Bummer too since it's one of my faves. The next two songs had the crowd going crazy with excitement. Find The Real had a segment where Myles made his guitar appear to sing that was simply amazing. I love how he totally gets into his playing when he's not singing. Whether he's arching his back, closing his eyes or plain rocking out, you can tell he feels what he's playing. Also some of his finger movements off and on that night reminded me of a spider walking up and down the neck of his guitar. Another funny thing to note, very early on in the night, there was a drum stick kind of near the edge of the stage. I had fans asking me for it, but I wasn't about to grab it. Well, it wasn't until sometime during Metalingus that I saw Myles pick it up and throw it into the crowd. This was also the second song where Myles did not play guitar.
For Blackbird, the stage was dark except for a spot light on Myles. He played the Beatles Blackbird intro, which was beautiful, before Mark came out and started the rest of the song. It came as no surprise, but as soon as Mark hit those first notes, the crowd erupted in cheers. While the lyrics are about a friend of Myles' that is no longer with us, it is a hauntingly beautiful song and is absolutely epic live. Afterwards Myles told the crowd Alter Bridge had been around for 10 years and their best memories were there at the House of Blues. He then dedicated Open Your Eyes to Chicago which also included more crowd participation as they sang along. The band briefly left the stage and it didn't take long before the crowd started chanting "Alter Bridge! Alter Bridge!" over and over. The night ended with a song I was kind of surprised to hear, but let me tell you, Fortress is another great new song to hear live. With Mark playing that weird sounding guitar part while Myles calmly sang the verses, once again, Brian and Scott brought this song to a whole other level with their playing. Deep, heavy and pounding. The entire song is full of amazing guitar work as well. I should also mention, Scott's playing all night could be described as massive. Sitting high up for all to see, he is definitely the king of his drum throne. One the song was over, and as they have been known to do in the past, Myles and Mark traded off notes in a mini guitar dual. They went back and forth a couple times before they played the last song of the night, Rise Today. After throwing out picks and sticks they all stood center stage and took a bow before leaving.
Their decision to play the songs they did that night was a great call. Not only did it give everyone a taste of their entire catalog, it was one rockin' night. HOLY SMOKES! Talk about blowing the roof off the place. In general, the talent and skill housed in the bodies of the four members of Alter Bridge is simply amazing. A lot of these shows have been sold out, so if you have not seem them on this tour cycle, do yourself a favor and don't miss the boat on this one.
Alter Bridge:
Keep up with the bands below:
Alter Bridge Official Website
Monster Truck Official Website
Man the Mighty Facebook