Avenged Sevenfold – Hail to the King (Album Review)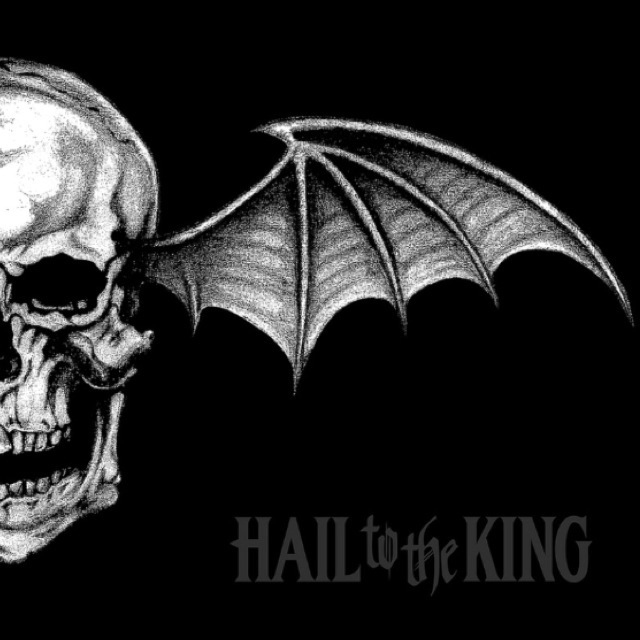 I drew the review of one of the most anticipated albums of the year. Normally, that's an honor. Unfortunately in this case, I think I'm going to piss off a lot of people. I'm here to discuss the new Avenged Sevenfold record, Hail to the King. Here goes nothing.
Kicking off the album is Shepherd of Fire. You get an immediate old-school feel when the guitars start, reminiscent of Dave Ellefson and Dave Mustaine from the Countdown to Extinction era of Megadeth. It's a song that (this will be a recurring theme by the way) has little originality. Around 3:35 in, if you were to add a little more rasp in M. Shadows vocals, you'd swear it was Dave Mustaine. I'm just not impressed here.
Next up is the current number one single and title track, Hail to the King. For me, other than the Angus Young-esque Thunderstruck style second guitar and driving drums laid down by Arin Ilejay, the song never steps on the gas. It's straight chugga-chugga power chords and is a departure from the fury that the band has been known to release before. Again, not that impressed here.
Doing Time is more of an A7X song than most on the album, but I can't help but hear an influence of Jesse James Dupree from Jackyl in M. Shadows delivery. I half expect him to come out on stage with a chainsaw. There's just nothing new here.
Next up is Sad But True from Metallica This Means War. This is just so obvious. I can't believe it. I'm really disappointed here.
Requiem is another track that could fit into the black album from Metallica. I'm just so discouraged by this point, I'm not sure if I can finish this review. If this band were not already established with a throng of rabid fans, no one would give them a second look after this album.
Nothing Else Matters Crimson Day is the next track. It's an A7X ballad! That's exciting right?! Not really.
Psychtron from Megadeth Heretic is up next. Another track that has a speedy second guitar and driving drums, but the core is slow and mundane. I'm so disappointed in this record, it's unbelievable.
Okay, so Coming Home truly is an A7X track. They can somewhat be proud of this one. It's still not very aggressive vocally, but at least it's original. A AA battery flashlight in the darkness.
Planets. You took out the batteries and broke the bulb in the flashlight. Sigh. Next.
November Rain Acid Rain closes out the album. I cannot wait to see the video of this one. I'll bet Axl Rose M. Shadows swims with dolphins and Slash Synyster Gates rises out of the water to play a solo! Hopefully there's an oil tanker and helicopter as well. I just hope they retire that blue blazer in the wedding.
Listen, no matter what I write here, kids are going to buy this album. I've been honest in my assessment and I hope that the kids who read this take the time to listen to the bands and albums I referenced. There is an obvious relation to each reference and it's truly disappointing that one of the biggest rock/metal bands on the planet released something so unoriginal and in all honesty, mellow. I just can't agree with this album.
Unsung Melody Score: 3 out of 10
Keep up with Avenged Sevenfold below:
Official Site
Facebook
Twitter
Avenged Sevenfold – Hail to the King:

Preview, or if you're still inclined, purchase Hail to the King Below: