August Burns Red – Rescue & Restore (Album Review)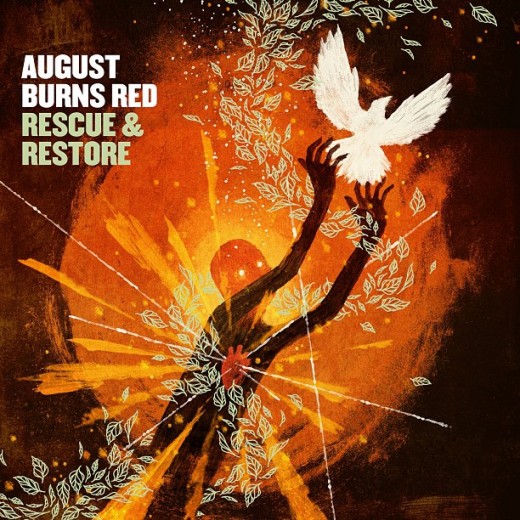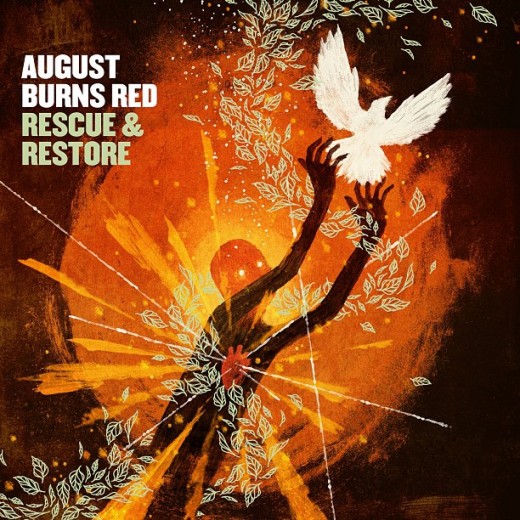 In my eyes, August Burns Red have always been one of the stronger metalcore bands out there. They've always been one step ahead of the curve, and never really fell into the trap of becoming boring and stale over time. The band has two elements that make them stand out to me, or are their trademarks, if you will. The first is their riffing abilities. Instead of drowning in the over-saturated sea of boring metalcore acts who stick to formulas and predictable breakdowns, ABR has always sailed on it, cutting through the waves with their borderline-constant soloing. The drumming is the second, and it goes hand in hand with the riffing. Both are so abnormally technical for this type of music, which couldn't make me happier.
Were they able to retain their unique technicality and identity on this new release?
Yes and no, though the yes far outweighs the no. Rescue & Restore is easily the band's most progressive offering to date. While I wouldn't call any of their past releases boring by any means, they injected a handful of the songs on this release with a healthy dose of prog, which breathes a different kind of life into the already flourishing metal landscape the band have crafted. Towards the middle of "Treatment", the song breaks into a beautiful acoustic buildup. It begins with acoustic guitar, gradually adds violins, and comes back just as strong. The song ends with a simple, yet extremely catchy and effective solo. "Creative Capacity" is by far the most progressive song on the cd, and also quite possibly my favorite. I have mixed feelings about it, but just like the album in general, the positives more than make up for the small negatives. It begins with some sort of Asian guitar instrument, leading into the crushing first half. Then it brings back those delicious violins, which commence the second half. The song does contain one awkward part, though. There is a very small section that has xylophones in it, and this was completely out of place to me. It sounded as if it was included for the hell of it, as it just sounds like a brief transition from one part to the next. But, the ending makes you forget all about that part, with its soaring horns, giving the song a slight mariachi feel. These are just a few examples of the numerous progressive ventures the band embarks on.
Songs like "Provision" and "Fault Line" are the ABR that you know and love, containing their signature technicality, infused with crushing breakdowns. "Animals" mixes it up a bit with solos throughout the song that give it a huge Egyptian feel. "Sincerity" incorporates layers of guitar, which are an absolute joy to explore. "Echoes" has an infectiously catchy and sing-a-long section towards the end of the song, which incited me to do just that upon listening for the first time, which is INCREDIBLY difficult to do with me.
The only other negatives come in the form of brief talking parts in a few of the tracks. I normally don't have an issue with things like this, when they are done right. Here, they seem forced, as if Jake Luhrs didn't take as much time and care in delivering them. In "Spirit Breaker", there is absolutely no emotion in his voice, almost like he's bored and just trying to get from point A to point B. "Beauty In Tragedy" contains the other talking part, though this one has a slightly different problem. It's like Jake realized the first one was incredibly bland and tried to remedy it, but comes on way too strong. It's much too over-dramatic and just sounds a bit silly to me. But, right after, the song returns with a blastbeat and one of the best riffs on the album. The rest of the song is incredibly strong, ending with a satisfying keyboard outro.
Overall, this is a welcome addition to ABR's library of solid releases. There are a few awkward and highly unnecessary parts, but those parts are more than made up for with how tight everything is. This is technically the band's sixth full-length release, and they are at the top of their game. They perfected their technical metalcore sound with Leveler, and decided to experiment with Rescue & Restore. With the exception of the silly few things mentioned above, the experimentation and progressive exploration sounds natural for the band. I'm eager to see if they settle in on their next release, or take it a step further and experiment even more.
Unsung Melody Score: 8/10
As is tradition with ABR, they posted a video of themselves [click image below] going to a store to buy their cd, displaying that it's incredibly easy to do, and MUCH more satisfying and rewarding than stealing the album. Follow their lead and buy this album. The band more than deserves it. I will be picking it up today, and you should too. At a price of between $8 and $10, you can't really go wrong. Don't fucking steal it.