TOADIES Bring Dia De Los TOADIES Festival Home to Ft. Worth – September 13th & 14th 2013.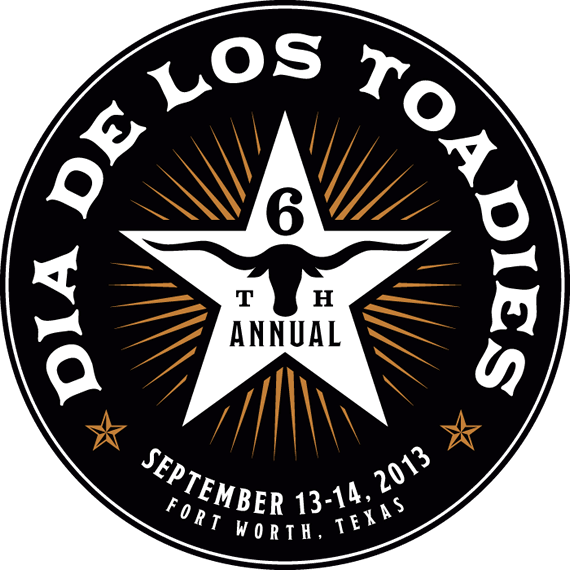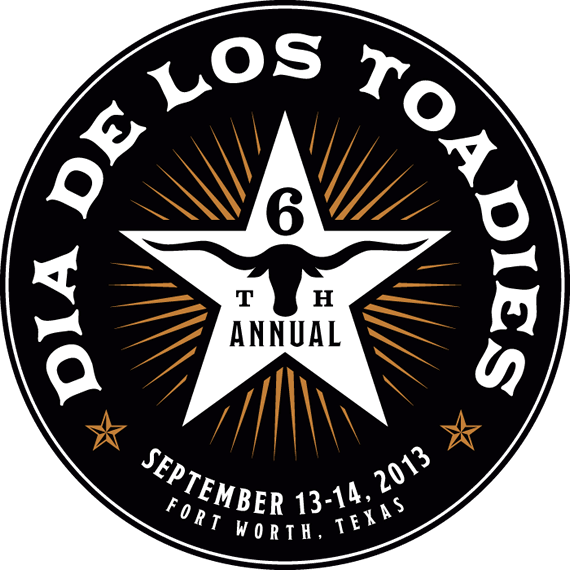 After five years of hosting their annual end-of-summer throw down at various locations throughout the state, the Toadies are taking the sixth Dia De Los Toadies to their hometown of Fort Worth.
This year's festival, set to feature a dozen bands performing across two stages, will take place on Saturday, September 14, at Panther Island Pavilion, just minutes from downtown Fort Worth. Per tradition, the band will also host an intimate "fireside/almost acoustic" showcase on Friday, September 13, the evening before their day-long bash.
Since Dia De Los Toadies 2008 debut, in conjunction with the band's return-to-the-spotlight No Deliverance LP, the festival has evolved into one of the most hotly anticipated events on Texas' yearly music calendar — a carefully curated and reliably rocking affair that's seen memorable performances from such celebrated acts as Ben Kweller, Black Angels, Black Joe Lewis and the Honeybears, Bowling for Soup, Centro-matic, Heartless Bastards, Helmet, Mariachi El Bronx, Riverboat Gamblers, The Secret Machines and The Sword, plus dozens of up-and-coming, underground acts from the Toadies home turf of Texas.
"It's been great moving the Dia festival around Texas, but at a certain point, we realized that we need to share it with our hometown, Fort Worth, where the band is still based. We played Billy Bob's last year and it reminded us what a hometown crowd is like, so moving the festival made perfect sense," says Toadies guitarist, Clark Vogeler.
Bringing this year's celebration to Fort Worth for the first time affords the band the opportunity to further show its pride for the Texas music scene – a sentiment near and dear to the band's drive since performing its first-ever hometown show at The Axis in 1989. It was at that venue and others like it across North Texas where the Toadies cut their teeth and refined their craft before their 1994 Rubberneck debut earned the band national radio play and an immediate place in Texas rock lore thanks to such adored singles as "Tyler," "Away" and iconic "Possum Kingdom." That seminal full-length was followed by the band's 2001, critically acclaimed Hell Below/Stars Above LP – a years-in-the-making release that saw the band pushing both the boundaries of its Texas swing inspiration and, in part due to label frustrations, the buttons of its members. In 2002, the Toadies called things quits. Four years later, though, the band returned — more revered than ever — for a successful string of reunion dates that so rekindled the Toadies creative fire that the band has since released three more lauded full-lengths (No Deliverance, Feeler and their latest album, 2012's Play.Rock.Music.) for Dallas-based independent label Kirtland Records, outpacing the output of their first run as a band, and in an even shorter timeframe.
These days, there's no end in sight for either the band or their venerable fest, which has been hailed by the Austin Chronicle as "Willie's picnic for a new generation" and by the Dallas Observer as "a mutual head-nod from artist to artist, from one rock generation to another." These days, Dia's become a tradition all its own.
And, in 2013, that tradition comes home.
Tickets go on sale 10:00 am Friday 2/15.
Tickets are $30 for Sat & $60 for the 2 day pass that gets you into the Friday night "Toadies Campfire/Almost Acoustic" Performance.
Tickets on sale at diadelostoadies.com and Prekindle.com