Styx, REO Speedwagon and Ted Nugent Announce Midwest Rock 'N Roll Express 2013 Tour.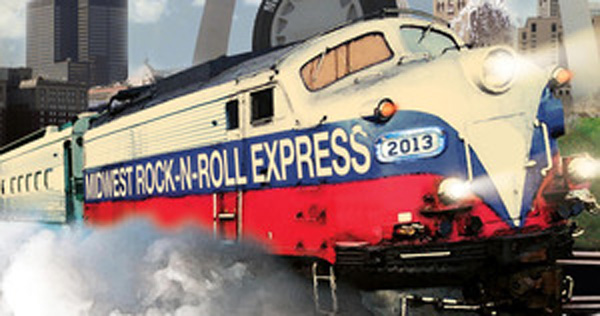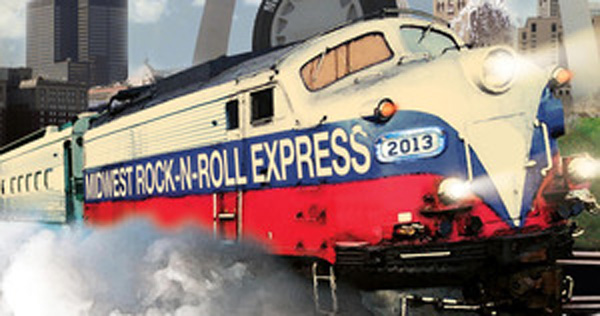 Last year's debut of "The Midwest Rock 'n Roll Express" tour, recognized by Rolling Stone as one of the "Ten Hottest Summer Package Tours of 2012," was such a huge success that rock's finest from the Midwest —Styx, REO Speedwagon and Ted Nugent— are teaming up again for another round of shows starting April 18 in Grand Forks, ND at Ralph Engelstad Arena. The trek concludes May 19 in Burgettstown, PA at First Niagara Pavilion.
Styx and REO Speedwagon will be offering direct-to-fan access to the best seats in the house via their own exclusive fan club pre-sales. Visit StyxWorld.com to join the Styx Lounge for access to exclusive content, ticket pre-sales and VIP packages, and visit facebook.com/reospeedwagon for information on REO Speedwagon's ticket pre-sales.
To say that everyone on the tour is excited to get back out there would be an understatement, in their own words:
"Due to the overwhelming success of last year's tour, we are going to once again wind up the juggernaut of mega-tainment. Styx, REO and the Motor City Madman: there aren't enough expletives in my vocabulary to explain how great this is…but I'll try. This is going to be *$@&#@*&@# awesome!" – James "JY" Young, Styx (guitars, vocals)
"Yo, wake up everybody! Winter is over, the snow is melting, the sun is coming out–it's time for the second annual REO, Styx, Nugent springtime extravaganza. We had so much fun in 2012, we all decided to fire this 'Midwest Rock 'n Roll Express' thing up and do it again. Time to strap on our six strings, pack up the trucks and tour buses, get together with our best rock buddies and go out to have some big fun. See y'all soon." – Kevin Cronin, REO Speedwagon (vocals, guitars, keyboards)
"Blazing vocal melodies and guitars, soaring arrangements steeped in Progressive Rock roots, heart touching ballads you know in your bones, and that's just my DAMN YANKEES brother TED NUGENT I'm talking about! Wait until STYX and REO take the stage! You might need to take the next day off after riding this glorious train!" — Tommy Shaw, Styx (vocals, guitars)
"When you live the ultimate American guitar player's dream, with the ultimate grinding band, performing the most intense fun songs in the world to the most enthusiastic audiences alive, every tour and every concert is an indescribable celebration. Styx and REO deserve me. Here we come again baby, like dogs in heat!" –Ted Nugent
"The Midwest Rock 'n Roll Express" tour racked in rave reviews during its debut run, including:
"Tuesday's lineup of Ted Nugent, REO Speedwagon and Styx brought album-oriented rock to a rabid, near sold-out audience that ate up every lick, groove and wail like it was manna from heaven." — Candace Horgan, Denver Post
"The 'Midwest Rock 'N Roll Express' tour proved to be aptly named and by the time the last guitar pick had been thrown and the final encore had faded away, it's likely that more than a few in the audience were pulling out their smartphones to look for their chance to stow away as passengers to catch the next stop." — Matt Wardlaw, Ultimateclassicrock.com
"One would be hard pressed to find a tour line-up that can boast more combined top 40 hits and platinum recordings than that of Ted Nugent, REO Speedwagon and STYX…on this night, (the fans are) going to get their money's worth." –Craig Ross, Guitarinternational.com
Check out "The Midwest Rock 'n Roll Express" at any of the following stops. Ted Nugent hits the stage at 7:00pm at every stop unless noted otherwise.
DATE CITY VENUE CLOSER
Thu 4/18 Grand Forks, ND Ralph Engelstad Arena Styx
Fri 4/19 Minneapolis, MN Target Center REO Speedwagon
Sat 4/20 Moline, IL iWireless Center Styx
Sun 4/21 Toledo, OH Huntington Center Ted/Styx/REO
Tue 4/23 Springfield, MA MassMutual Center Styx
Wed 4/24 Glens Falls, NY Glens Falls Civic Center REO Speedwagon
Fri 4/26 East Rutherford, NJ IZOD Center Styx
Sat 4/27 Raleigh, NC Walnut Creek Amphitheatre Styx
Sun 4/28 Roanoke, VA Roanoke Civic Center REO Speedwagon
Wed 5/1 Estero, FL Germain Arena REO Speedwagon
Fri 5/3 St. Augustine, FL St. Augustine Amphitheatre Styx
Sat 5/4 TBA TBA TBA
Sun 5/5 Atlanta, GA Verizon Wireless Amphitheatre Styx
Tue 5/7 TBA TBA TBA
Wed 5/8 Tulsa, OK BOK Center REO Speedwagon
Fri 5/10 Kansas City, KS Starlight Theatre Styx
Sat 5/11 Lincoln, NE Pinewood Bowl Theater REO Speedwagon
Tue 5/14 Grand Rapids, MI Van Andel Arena Ted/REO/Styx
Wed 5/15 Evansville, IN Ford Center REO Speedwagon
Fri 5/17 Green Bay, WI Resch Center REO Speedwagon
Sat 5/18 St. Louis, MO Verizon Wireless Amphitheatre REO Speedwagon
Sun 5/19 Burgettstown, PA First Niagara Pavilion Styx
More dates to be announced.