Stealing The Stars. An interview with James Scott of State Your Cause.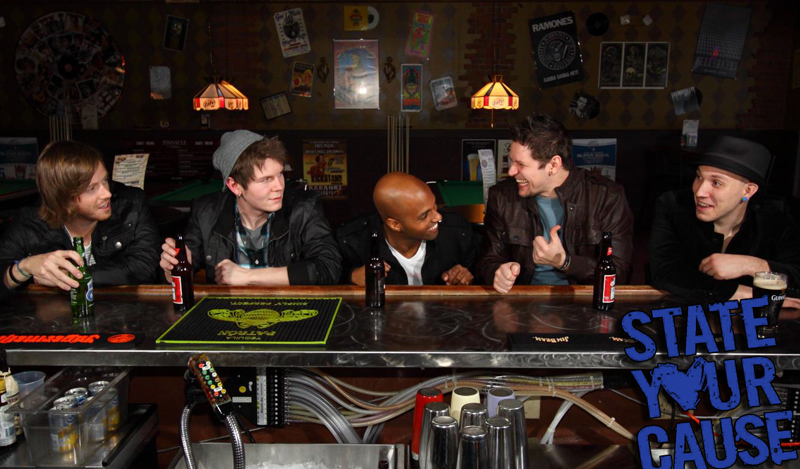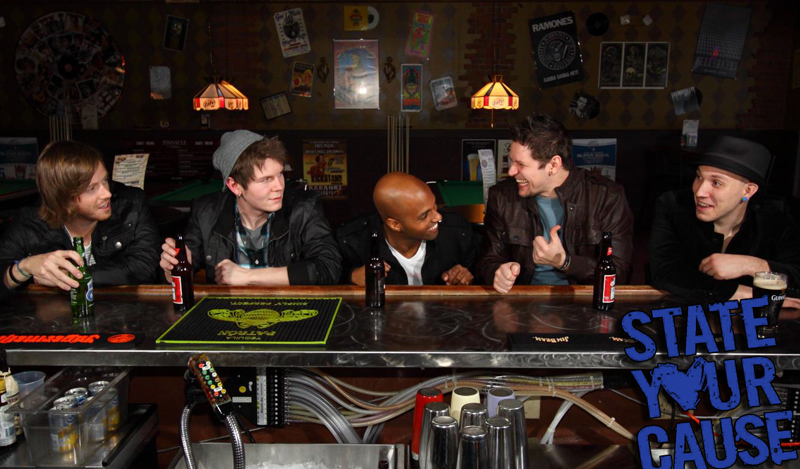 Sometimes you catch a lucky break, other times someone truly believes in you and does their best to help you achieve whatever it is you are striving for. In the case of State Your Cause, it was both. After an opening gig with Framing Hanley, State Your Cause caught the eye, and/or ear of frontman Kenneth Nixon. A friendship ensued, and the rest, as they say, is history. State Your Cause is a band that has paid their dues, and is ready to take the next step. They've been on tour with Evans Blue, and their careers seem to be taking off in the right direction. Their new album is titled Steal The Stars, and the first single is the title track from the record.
Today I'm welcoming James Scott to the Unsung Melody family. James is the vocalist of the band State Your Cause. First off James, thanks for me taking the time to speak with us today.
For most, this is an introduction to your band, and we're happy to be a part of that. You've been garnering a lot of attention lately, and just released your debut album, Steal The Stars. It has to be a good feeling to start seeing all of your hard work pay off.
I think, that more than anything, it is definitely rewarding, but seeing people in the industry starting to take notice, and get behind you. I think that is the welcoming party to those who already have the in. I think that's the most rewarding part of it. Because all of these people, yourself included, kind of don't really pay attention until something is ready, per say. I think that's the most rewarding thing about it, is we've finally gotten to the point where I feel like we can handle being in these situations, and not fail. I think that's the most exciting part about it, is yeah we've put all the hard work in, but the recognition of those who have already been there. I guess that's the most rewarding thing for us.
I mentioned Steal The Stars, that's the first single off the record. How's it being received by radio so far?
As far as I know, just from what I get, it plays well and tests well. So, that's a good thing. I think from the fans standpoint, they get what I'm trying to get across, from the passionate standpoint. So, from a listener standpoint, it's a song about chasing dreams. How hard, and the sacrifices you have to make to do this. So, I think that point gets across, and props to Brett Hestla down in Florida for helping me get that out when he was producing the song.
If I had to choose a favorite off the album, I think I would go with Digital Complexion. Which songs are more fun for you to perform live?
I think you hit the nail on the head with the Digital Complexion song. It's a song that when I introduce it, it's a song kind of about facebook, but it's more of a tongue-in-cheek hit on the fact that we are becoming a really creepy digital society. It's one of those things where it's like, go outside. That type of deal. Me growing up, I didn't spend all my time on a computer. We need to have real relationships with people, not just over the internet. The reason that song is one of the ones that we like to perform live, is the fact that we are so passionate about these themes that we've come up with as a band. Another one that we don't play all the time, is Faith. It's more of an attack on the Westboro Church, and how they have treated society, and the things that they've done. When you get into those songs, like Steal The Stars and Digital Complexion, Faith; Usually those songs, the more passionate we are about the themes, I think it comes across live a little bit more aggressively. So, those are our favorites for sure.
I recently saw you guys in Dayton, OH with Evans Blue. You are currently out there on the road with them. That was a bit of a hometown show for you guys, and despite some sound issues, was quite impressive. How's the tour been going so far?
A lot better than that night! (laughter) It's been going really good. We've been really well received and a lot of thanks go to Evans Blue and their team. They've really come to us with open arms and really taken us on. They've been there for anything we've needed, even feeding us. Doing everything they can within their limits to take care of us. I feel that they've gone out of their way to introduce us to people. Like venue owners, and certain people that they are connected with. Making those introductions, and really just being the big brother, as it were to us. They take care of us, and foster our growth on the road.
Nixon from Framing Hanley has really helped you guys along. How did that whole situation come about?
It's funny how this goes, because we were following Nixon's model before he even knew who we were. We went down, and we recorded with the same producer that they recorded with. We made a good impression on Brett Hestla, which is who I'm speaking of. He's another good guy. He passed along our music, and we played some shows with Framing Hanley. Nixon actually came up to us, like probably the fourth time we played with them, he came out on stage, it was actually at McGuffy's in Dayton about two years ago, but he came onstage in front of my family and friends, and just saying the greatest things about us that I had ever heard anybody say on the national level. He was saying about our band, that he hoped the fans were paying attention to State Your Cause, because this is one of those bands that you'll be able to say that one day, I remember when. You'll be able to say, I remember when. Dude, I was just taken aback. It almost made me tear up and everything. Somebody of his stature saying that about my band, and all the work that we had put into it at that point. When he did that, I hit him up on facebook. I think we had talked to each other at a couple different shows, but it was always like, I didn't want to bug him because of the whole national band level thing. You don't really want to bug those guys. If they reach out to you, that's cool. I hit him up and said thanks and he asked me about our management situation, and all this stuff. The conversation went on and on. He's like, 'Would you be okay with me managing you guys?" I have a few contacts and I feel like your music deserves to be heard. Ever since then, it's just been, up, and up, and up. He's really stuck out his neck for us.
There was quite a touching moment when I saw you guys in Dayton. You brought your son Kingston out on stage. It was a stark reminder for fans, that this life doesn't come without sacrifice.
It's one of the things, that you go back and forth about. The band guy thing and having a child at home. A lot of people compare it to the military, which isn't anywhere close to an accurate thing. Those guys are putting their lives on the line. I think the main difference, for me, at this end, it's not something as stark as okay, you are going on the road and doing a job. It's more along the lines of, yes I'm doing it for him, but there is also a selfish me factor in this whole thing. I want to be able to look my son in the face, and say you know what, I sacrificed time with you, because I wanted to be able to look you in the face when you are older and tell you that taking risks is okay. I think that's kind of the standpoint where I'm with it. Yeah, there's a major sacrifice. I've got a girl, the son's mother, who I don't get to see a whole lot either. All the guys in the band have their girlfriends and everything. It was just cool to have that moment recognized because it was such a special moment for me. To be able to come up there, and get some pictures snapped of me and my son when I was on stage, so I'm glad you were touched. It wasn't the intention though, it was just one of those moments that I always wanted to have. You know, bringing my baby boy onstage.
I was glad to be a part of it. Alright, I always end on a random question. I like to see what kind of answers I can get. So, here goes yours; You are granted one superpower. Want would it be and why?
Oh my goodness. One superpower. I would want the ability to print money in any currency that I needed, so I can get myself where I need to go. (laughter)
That would be one magnificent power right there. (laughter)
Yeah, definitely. It's very selfish, however on the flip side…I don't know. That sounds really selfish, but it's true. That's what I would do. (laughter) It's my superpower man! Nobody elses.
That's right. It's mine. I claim it. No one else. You could be the Counterfeiter. That could be your superhero name. (laughter)
I'm such a jerk. (laughter)
James, the site and myself wish you and the band nothing but the best. Hopefully we can catch another show again soon.
State Your Cause members:
James Scott-Vocals
John Scott-Guitar
Deepan Rajah-Guitar
Matt Young-Drums
Chase DeBartolomeis-Bass
Keep up with State Your Cause below:
StateYourCauseBand.Com
Facebook
Twitter
Purchase your copy of Steal The Stars by State Your Cause from Amazon below: