Initial Thoughts. A review of Calling On Angels by DoryDrive.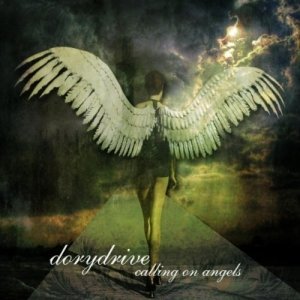 DoryDrive is a band from Nashville, TN that features Mathieu Nevitt and I'm excited to work with the band. I was once a talent buyer for a club when Mathieu was previously in a band called Echovalve. With Hinder on the rise at that time, I needed a dynamic opener when I hosted them at the A1A Concert Hall. The band I was currently managing at the time immediately said we should bring Echovalve up from Atlanta. So we did, and they were definitely right. I was approached about doing a review of their album, so I jumped at the chance.

The album is called Calling On Angels. It's a collection of songs that vary in styles and sound. The band is not as heavy as most that we've had on the site, but by no means is that saying the band doesn't have an edge to them. Mathieu's vocal style is a very melodic, ever-changing dynamic with a ton of range. Which means that no matter how heavy the music, you are going to get something that is singable, professional, and impressive. Guitarists Tom LaBrosse and Henry Koller both bring a nice clean tone to this record. Nothing too muddy or too fuzzy, so to speak. The band delivers more of an alternative pop rock sound that is undeniable when you hear it.
The current single Tattooed leads off the album. It's a sing-a-long of sorts. It's a bit too poppy for my tastes, but I can certainly see the appeal for many. The album title comes from the lyrics, so you know the band is proud of this one, as they should be.
Dance Baby Dance (Our Romance) is a track that I didn't figure I would enjoy, simply from the name. I'm certainly no dancer, lol. Much to my surprise, this song is one of my favorites on the album. It showcases the bands unique writing style, Mathieu's range, and has the uptempo feel of a room-rocker. This song should easily be a crowd favorite.
Lite Me Up is a tune that I think is more the style of our readers, and should be a single from the band, at least in my opinion. It has an aggressive guitar, a tremendous melody, and the song proves the band is not afraid of a solo. This song reminds me, stylistically, of Rev Theory and is one of the heavier tunes on the record.
Fallin' and Never Easy are tied for probably the 2nd most singable tracks on the record. The choruses have some big ol' power chords, a nice bass groove, and melodies that just won't quit. These songs are radio ready, and with the right push, could put the band on the map. They're both well written tunes that deserve a chance, so be sure and give them a listen.
All the Same could be considered a ballad, or at least a slower song with passionate lyrics. With its harmonizing intro and acoustic guitar verse and pre-chorus, there is a wonderful build-up of energy that does a great job of asking a lovely lady if she feels the same about him. This song feels very personal, and one that I would imagine was tough to write. As a vocalist, you open yourself up like no one else in a band. You must make yourself vulnerable to be believable. I think this song does exactly that. It shows just how emotional, loving, and insecure we all can be at times. For that reason, lyrically, this is one my favorites.
It's time we talk about the elephant in the room; The massive cover of Michael Jackson's Dirty Diana. While the stylings of MJ are a difficult task for anyone to tackle, Mathieu does it without hesitation and pulls it off with grace. He tackles this song head on, and with the revamped, reworked, much heavier guitar work laying down solid ground underneath, this song should get the attention of anyone. I will say this, while I understand the attraction for most fans to hear a song they are familiar with, I hope our readers don't listen to only this song, and not give this band the attention they deserve. That my friends, would be a shame.
I'll close this review on the song Paramour. This song is absolutely my favorite DoryDrive track. This song is so infectious, it almost hurts. From the first time I heard this song, I simply can not get it out of my head. Drummer Joey Zak lays down a nice solid beat, while bassist Nick Mendini absolutely kills it with his thumping groove. But the stars of this song are undeniably Mathieu, Tom, and Henry. This song has hit written all over it, and someone had better be looking at DoryDrive, or they are going to be upset they missed the next big thing.
With power chords galore, awesome solos, beautiful melodies, a dynamic rhythm section, and a fantastic front man, there is a lot to love about DoryDrive. With this being a debut album from a band around two years old, I wait patiently to see what the future holds. It seems to me, it could be one helluva ride.
★★★★★★★☆☆☆ 7 out of 10 stars.
Pick up your copy of Calling On Angels from DoryDrive from Amazon below:

Keep up with DoryDrive below:
DoryDrive.Com
Facebook