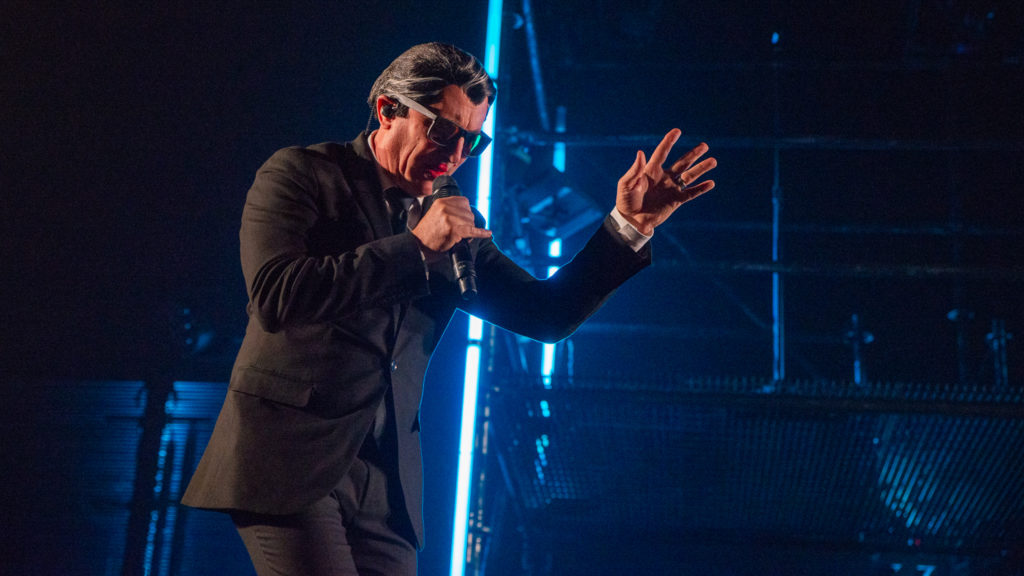 During the pandemic, livestreams became a way of life for many bands, and a way to help provide income while touring was at a complete standstill. Now that we're currently on the opposite end of the pandemic, many bands are still using livestreams to reach the fans that couldn't make it to a show, and the fans who can't miss a show. So, it comes as no surprise that Maynard James Keenan and company (singer and multi-instrumentalist Carina Round, multi-instrumentalist Mat Mitchell, keyboardist Juliette Commagere, drummer-extraordinaire Gunnar Olsen and Greg Edwards on bass) reach out in such a fashion.
The unique nature of a livestream based show gives artists an opportunity to include story and comedy elements that manage to hit differently than if it was done at a venue in front of an audience. Instead of a screen on the side playing the video/skit, it can be cleverly edited to blend together with the stream. Here, the band may be performing in a studio, but they give off the energy and impression that there is a live audience with them.
Parole Violator opens up with Maynard revisiting his role of "Billy D", drunkenly chattering before his "arrest" and kicking off a set with "Tiny Monsters. Interspersed between some songs are additional skits of Billy D in his cell before kicking off the next song. Putting the album Conditions of My Parole into a much more live interpreted setting has its fair share of challenges, and Puscifer handle this more than admirably. The broad, atmospheric soundscapes are excellently created and performed throughout the set. Stand-outs certainly include "Monsoons" and "Tumbleweed".
Part two of this unique livestream double-feature is V is for Versatile. Performing their debut album, V is for Vagina, Maynard dresses in his current Puscifer stage outfit, Agent Dick Merkin, and discusses cloning, aliens, and celebrities before the performance. Throughout the set, a few costume changes happen. Each track is almost pitch-perfect, at least, as a live performance can be. Meticulously played, each song is precise and fantastic, even in a live setting.
Between the various skits between song, both features truly showcase the immense talent lying within the confines of Puscifer. Yes, many fans came here because of Maynard, but those who are willing to come for the music will certainly get an earful of some a truly incredible sonic experience.
Maynard's sense of humor certainly comes out front and center here, but Puscifer is his baby. The not-so-subtle jabs are truly funny, and certainly timely. Music and comedy so rarely comes together, but here, it's a fantastic way to explore the mind, and sound, of Maynard James Keenan and his cohorts.