This is mine! Stone Sour, Papa Roach and Otherwise at Eagles Ballroom in Milwaukee, WI.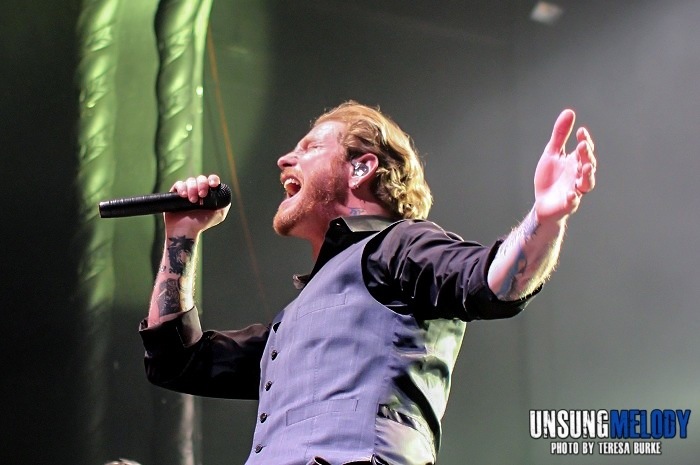 Stone Sour headlined the Eagles Ballroom in Milwaukee, WI supporting their 2012 release of House of Gold and Bones Part 1. Openers Papa Roach and Otherwise were also touring to support their 2012 releases. Milwaukee was the fourth stop on the tour so I fully expected high energy sets from all the bands and I have to say, no one was disappointed.
Due to circumstances out of my control, I missed the first half of the set from Otherwise. I had seen this band a couple times before, so I already knew what they were capable of bringing to the rock table. As I entered the venue, this Las Vegas based band already had the crowd in their hands. For anyone that thought they noticed a resemblance between band members, you'd be correct if you guessed Adrian (vocals) and Ryan Patrick (guitar) were brothers. The first full song I heard was I Don't Apologize (1000 Pictures), followed by Full Circle. Between guitar solos and massive drum beats, the band played with such great energy and stage presence. At one point, Adrian talked about how they had previously played the basement and to not give up on your dreams as they were now playing the main stage.
For the last song of the night, Soldiers, Adrian and bassist, Vassilios were standing on amps on either side of drummer, Corky Gainsford. This made for a great visual with the other band members standing in front of them. It wasn't long after the song started that Vassilios jumped off the amp and Adrian was down in the security pit singing to the crowd. Eventually both guitar players and bassist stood in a semi circle in front of Corky, instruments held high, as if they were playing just for him. Before their set ended, Adrian commented that they were going to hang out and meet everyone along with taking a ghost tour. Yes, the venue is supposedly haunted.
After a fairly quick set change, the lights went down and Papa Roach's back drop of the new album cover, The Connection, was illuminated in red light. The intro music started and as the band took the stage, the crowd erupted in cheers. Eventually the lights became brighter and the band exploded into their first single, Still Swingin'. At one point all band members were jumping up and down in sync but there was definitely nonstop movement the entire song.
Check out my photo gallery of Papa Roach here.
With a combination of old and new songs, they launched into Blood Brothers, followed by new song Give Me Back My Life. I thought it was interesting that they had two back to back songs with the word angel in it. However, newer song, Where Did the Angels Go, was dedicated by Jacoby to all the heavy metal fans. Indeed there is a very heavy vibe in this song. I also found it ironic that the stage was mostly filled with red light. Off and on all night, there were non-stop rays of light moving and flashing around. Whether the stage and crowd were engulfed in red, blue or orange lights, it made for a great added visual.
Papa Roach has been doing this for a long time and one thing is for sure, they know how to make a crowd move. I've seen them quite a few times over the years, but the energy of this band blows me away every time. Between jumping around, head banging, and overall rockin' out, Papa Roach brings such an exciting level to their performance. Their hour and 15 minute set consisted of a variety of songs from releases dating all the way back to 2000. Fans in attendance that night were familiar with every single song. You could hear them singing loudly along with Jacoby during songs like Forever, Burn, To Be Loved and Getting Away With Murder.
Jacoby worked the far right and far left side of the stage along with everywhere in the middle and all night encouraged clapping, jumping and full on getting crazy! There was no denying the crowd was into it especially by the number of crowd surfers and mosh pits that opened up. Jerry Horton (guitar) and Tobin Esperance (bass) had no shortage of their own energy on stage. Whether jumping around or head banging, they both looked like they were having an amazing time on stage. Even drummer, Tony Palermo, noticeably appeared very much locked into the energy being produced on stage.
About halfway through their set, Jacoby was clearly pumped over crowd reaction and what I would assume would be the joy of performing again. He mentioned that he was glad 2012 was over with and wished everyone Happy New Year! I would assume he was referring to overcoming the vocal issues he had last year which caused them to drop off the Uproar tour. After plenty of crowd participation during Hollywood Whore, Jacoby shared that he recently realized that February would mark the 20th year for Papa Roach! WOW! They continued with Lifeline, which had Jacoby singing in the security pit, followed by Dead Cell. One particular fan near me could not stop talking about how surprised she was they were playing that song. The look on her face was priceless. Jacoby made sure the song was full of the chant, "1, 2, DEAD CELL!"
The night ended with the most popular Papa Roach song, "Cut my life into pieces, this is my Last Resort." Band members and fans alike went CRAZY! Nothing like going out with a bang! After the song ended, all band members stood center stage. Jacoby ended the night with their trade mark line, "We are Papa Roach…" and the crowd took it from there chanting "Papa Roach" over and over a few times. The band stood together arm in arm to say good night.
With another fairly quick set change, the lights went down and Gone Sovereign started. However, everyone was left in the dark for just over a minute while the song continued. It wasn't until Corey finally yelled, "Is anybody here still left alive?" and the music dropped, that the lights on stage lit up and were in sync with the pounding drums followed by Corey screaming, "This is mine!" Talk about a powerful intro! As the first song wound down, Corey put his microphone in his pocket, engaged the crowd in clapping, and immediately there was a seamless launch into Absolute Zero.
Check out my photo gallery of Stone Sour here.
The one thing I noticed right way was that Corey was wearing nice pants, a button down shirt and a vest. In fact, all the guys were dressed nicely. However, this was a far cry from Corey's trademark jump suit the last time I saw Slipknot live. The one thing you couldn't mistake, was his hunched over stance while singing. There was no doubt this was the man behind the mask. To be honest, the one thing I found most interesting was that I could see his face. Unlike with Slipknot, where it's hidden behind a mask, with Stone Sour, you were able to see it all. The emotion he puts into his singing, the faces he makes or his smiles and smirks. His interaction with the crowd was on a whole other level because his expressions were now a two way street. It was also cool to hear him sing the angry vocals most are used to and then change it up and sing less aggressively.
The stage set up was similar to Papa Roach as Stone Sour's back drop was also their album cover. However, the lighting set up was slightly different. Not only were there non-stop rays of light moving and flashing around, there was an added row of lights that would often form random X's. Add to that the various changing color columns across the back of the stage and the random spiral light designs on the back drop and you had plenty going on to keep your attention.
Before the fourth song of the night, Hell & Consequences, Corey told the crowd that the show was shaping up to be the best one of the tour. Not bad Milwaukee, not bad at all. Corey dedicated, Digital (Did You Tell), to those that unplug and live their lives. This was met with many cheers. Before the next song, he asked who had seen the band before and who had not and then welcomed everyone. He went on to say the next song would unite everyone as one family and they launched into Made of Scars.
Off and on during the night, while Corey worked the crowd from right to left and everywhere in between, Jim Root and Josh Rand were busy trading off guitar solos. The night also had its fair share of crowd surfers and mosh pits open up. At this point in the night though, things got a little serious. Corey spoke to the crowd saying he had been asked to tell everyone to take one step back. One would assume some people at the front were being crushed against the rail. Without hesitation, I saw the crowd move back. I have never seen a crowd move so quickly. Corey commented that he had a lot of respect for what they just did.
After playing a couple more new songs, (in total, 6 out of 11 songs from House of Gold and Bones Part 1), one of which was my personal fave, RU486, Corey told the Milwaukee crowd they were the loudest on the tour so far. He also introduced new bass player Johny Chow then commented on how even a stroke couldn't stop Roy Mayorga. This was met with lots of cheers. Corey dedicated Say You'll Haunt Me to both of them. After the song ended, everyone left the stage and once again, it was dark.
The crowd started clapping for them to come back out but instead of the whole band, it was just Corey and an electric guitar. He actually played guitar for the next few songs starting with basically the first verse and chorus for Alice in Chains' Nutshell. You could clearly hear the crowd sing along and almost immediately he went into Bother. Again, the crowd was right there singing along with Corey. In fact, after the first line of the chorus, he let the crowd sing alone for a couple of lines before joining them to finish out the rest of the chorus. "You're fucking amazing out there!" he shouted. He started the next verse and the crowd was still just as loud, singing along. Once again, Corey sang, "So you fed me…" and then let the crowd sing the second half of the verse, "…shit to digest" and boy did the crowd sing it!
About halfway through the song, Corey was so caught up in the crowd participation that he stopped and clapped for everyone. For about 45 seconds he stopped singing and eventually the crowd began to chant "COREY! COREY!" over and over. His reaction was truly amazing to see and could best be described as total appreciation. He commented, "That right there is why I will always be proud to come from the Mid-fucking-west." He continued singing and as he neared the end of the song, the crowd belted out one of the final lines of the chorus, "But once I hold on." Once again Corey stopped singing and playing and clapped for everyone. For a couple seconds, his head was down and he held his hands clasped together above his head. He genuinely seemed touched and at a loss for words over the interaction from the crowd. While he paused for another 45 seconds, the crowd cheered and clapped and eventually he finished the song.
At the start of Through Glass, Roy was back on his kit and Corey started off the crowd clapping. Eventually the entire band came back out and once again, you could hear the crowd loud and clear. Corey ended the song with a huge fist pump to the sky! I can only imagine how awesome it is to hear fans singing lyrics you wrote back to you. Corey then mentioned they were about to play two new songs that had never been played in the Midwest before. Much like the start of the show where they played the first two songs on the new album, they were now going to play the last two songs back to back. The Travelers, Pt. 2 and another favorite song of mine, Last of the Real. The transition between songs was trippy with dark lighting and various sounds coming from the stage. The band launched into the song as Corey told every to jump.
The night came to a close and Corey thanked the Milwaukee crowd for setting the tone exceedingly high. He told everyone House of Gold and Bones Part 2 would be out April 9 and they would for sure be back. Their hour and 15 minute set ended with Corey asking the crowd if they wanted one more song. "Do you want it?" They did, they surely did. Everyone went crazy as they started 30/30-150.
The band said their good-bye's, threw picks and sticks into the crowd and were gone. I'm not sure how many people picked up on it, but I found it extremely funny that the song playing over the PA was They're Coming to Take Me Away, Ha-Haaa! After it was all said and done, if anyone walked out of there unhappy, I'd tell them they were crazy! Each band gave 110% and I'm sure the majority of people there wouldn't think twice about doing it all over again if they had the chance.
Keep up with the bands below:
www.stonesour.com
www.paparoach.com
www.weareotherwise.com