Rock & Roll as It Should Be. Gemini Syndrome at the Thompson House in Newport, KY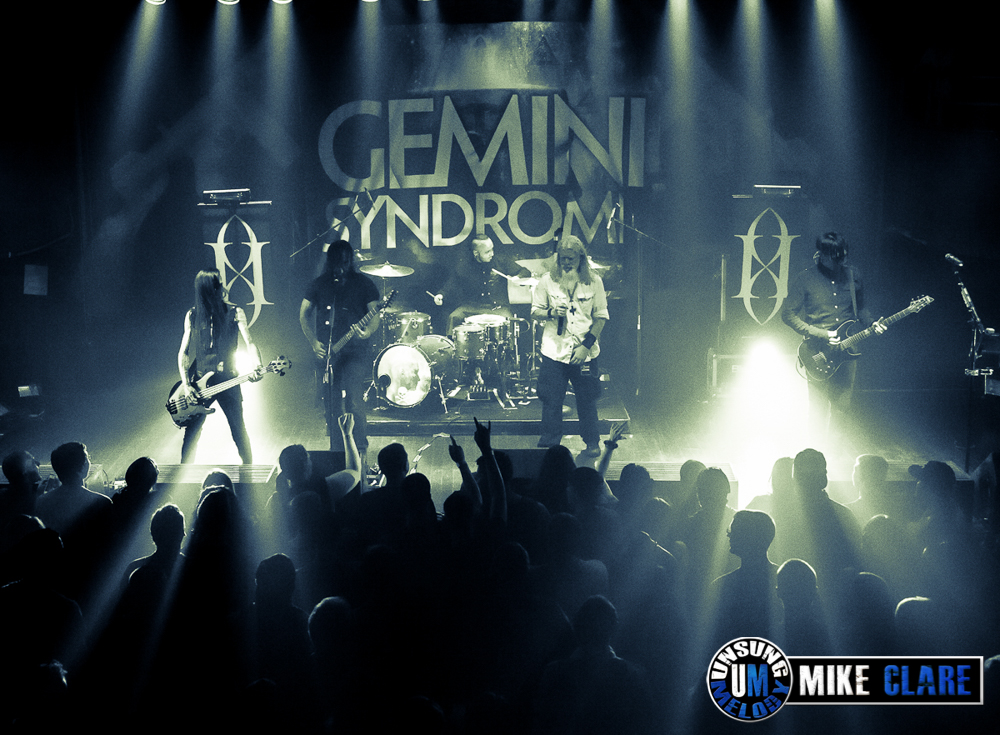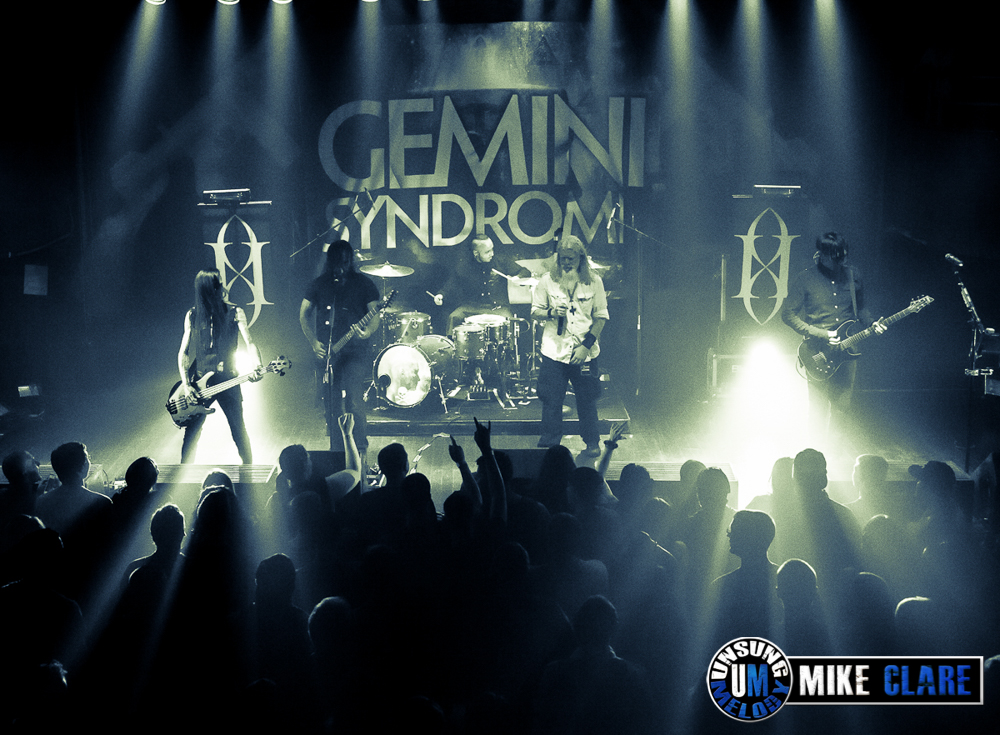 Sitting on the front porch of the famed Thompson House, looking over downtown Cincinnati and thinking about tonight's show, I can't help but recall my initial reaction to Gemini Syndrome. It was December of last year. I got a call from the founder of Unsung Melody asking if I'd interview and photo a band that was passing through town. Gemini Syndrome was being honored with the highly-coveted UM Debut Album of The Year award, so he sent me a link to their single release, "Stardust." My thought (before clicking the link or doing any research) was, "Stardust. Gemini Syndrome. I thought we were focusing on Rock and not some Ooey-Gooey Gimmicky Future Pop s**t." Then I clicked the link.
BLAM! Right out of the gate! (As of this writing, I'm still trying to figure out how to get the first 15 seconds of the song as my ringtone!) D A M N!!!!!!! I was INSTANTLY hooked! And as I've talked to several fans at each subsequent GS show, they all say the same thing, "It's love at first sound." This is Rock-n-Roll as it should be. It's unpretentious, but it's in your face. It's personal, but it's for everyone. It's real teamwork coming together in a sonic forum to envelop every known emotion. Rich Juzwick's cutting and driving lead guitar riffs pick apart your senses and reassembles them in a cohesive flow that leaves the listener frozen in awe. But stand in front of their PA system and Mike Salerno's chest- imploding rhythms feel as much like a percussion instrument as a guitar. His thunderous support and backing vocals add greater depth to an already limitless talent pool. A word of warning: don't be misled by Alessandro AP Paveri's diminutive stature. His unique bass styling provides the foundation on which The Synner Conversion continues to build and grow. And that is one very tall order. It's often easy to gloss-over or altogether forget about the drummer, unless that drummer happens to be Brian Steele Medina. Before he even takes the stage and perches on his drum stool, you know you're in for the rhythmic ride of a lifetime. His drum kit is one of the more unique sets you'll see on tour and it's appropriate because Medina is one of the more unique drummers you'll see on tour. Always smiling. insane beats. The consummate time-keeper. A Drummer's drummer. And then.. there's Aaron Nordstrom, "The Messenger" of Gemini Syndrome. Heavy Metal is a never-ending sea of black. Black shirts. Black pants. Black hair. Black eyes. Black black black black black. [Enter Nordstrom] Holy Shit! Aaron is a soft, but uniquely white, beacon of light in a long & dark Metal tunnel. An epitomic ray of sunshine. Then, he starts to sing. Powerful, melodic, thought-provoking lyrics from one of the Music Industry's most promising front-men. I had the good fortune to meet with Aaron for a brief interview in December (which you can read here) and was instantly drawn to a guy that wastes no time making you feel like an old friend. And on-stage he's no different. Every performance is personal. Every time he sings, it's meant just for you.
Gemini Syndrome at the Thompson House:

This time around, I took a few minutes to throw some random questions at Rich. Here's how it went down:
Our first review & interview with you guys took place about a year and a half ago. February, as a matter of fact. You were still trying to come up with a name for what, eventually, became "Lux" and you were scheduled for your first batch of festivals. Does it seem like it was just yesterday or has it been the fastest 10 years of your life?
Going through it can feel like forever…like a kid waiting for Christmas or summer break from school. Looking back in retrospect though, it does feel like it all happened yesterday. It's all very surreal, like a weird time tug-o-war.
You're certainly putting in the miles. Your longest break at home between tours so far has been, what, 2 weeks? What's first on the list (besides sleep) when you get home from a tour?
When I get home I want to see as many new movies as possible. It helps my brain detox from road life. I also start working on new songs and developmental ideas.
Ok.. let's go back a bit.. Monday, June 7, 2010. The Legendary Roxy Theater in LA. You're billed with All Hail the Yeti and you're getting ready to take the stage for the (or one of the) first time(s) as Gemini Syndrome. What's going through your head?
Give the best show I can give. Make sure every movement on stage reinforces the notes my fingers are playing. Capture the crowds senses and make them feel compelled to join us…like newly inducted cult members.
Now, fast-forward to earlier this week. You're billed with Lajon Witherspoon and the guys from Sevendust. How has your pre-game changed?
Honestly my pre-game hasn't really changed. I still have the same thoughts and intentions. The only difference is how I deliver this intention. I've definitely refined and enhanced my physical performance on stage.
Most important lesson you (collectively) have learned since 2010?
Try not to get frustrated. Hard work is important but unfortunately isn't everything because you still need luck and chance on your side. Stay focused and work through complications.
Are you getting the chance to network with other bands and industry types at the fests you've been playing?
That's the great thing about festivals: putting so many hard working and creative people in one spot to meet and share ideas. I'm always talking shop with friends and meeting new bands and industry people.
Rich, I know this is the "hometown crowd" for you, and I've seen your family glowing with pride as they watch you guys perform. That has to feel pretty incredible.
Definitely! I left Cincinnati in 2006 with a dream, to prove that I could beat the odds and be apart of something special. Whenever I come home it all hits me at once and I marvel for a split second about how far I've come.
Last couple questions.. As we've mentioned, you guys have logged a lot of miles as of late. Favorite venue so far? Why?
I don't have a favorite venue but I do have a favorite type of venue. I like playing at the old theaters that have tons of history and feel haunted. The first places that comes to mind are Atlas Theatre in Cheyenne, WY, Rapids Theatre in Niagara Falls, NY, and of course Thompson House in Newport, KY.
Well, I love history and all but, when are you guys gonna play somewhere that doesn't creep me the f**k out!?
The kid in me would love to play Bogarts since I've seen so many shows there. I actually saw Sevendust there on one of their first tours. I believe Gemini Syndrome will be back in the Tri-State area in late October but I'm not sure which venue yet. I'm 99% sure the show won't be at Thompson House so don't worry about being creeped out again!
The guys are currently touring with Metal icons Sevendust and are midway through a grueling Summer schedule that includes a series of one-off sets and festivals. When I caught up with them in Newport, they were finishing up a stint that had them performing 7 days in a row. No matter what line of work you're in, 7 days in a row can be insanely taxing, physically and mentally. Yet, the guys from GS set-up, cranked out a gigantic show to an enthusiastic crowd and, got ready to do it all over again. That's what makes them special. When you pair incredible talent with an unparalleled work ethic, you're going to experience tremendous success. Right now, there isn't a band that's more deserving. Track their tour here and be sure to catch one of their shows!