Dorothy, Classless Act and Joyous Wolf – Summit Music Hall – Denver, CO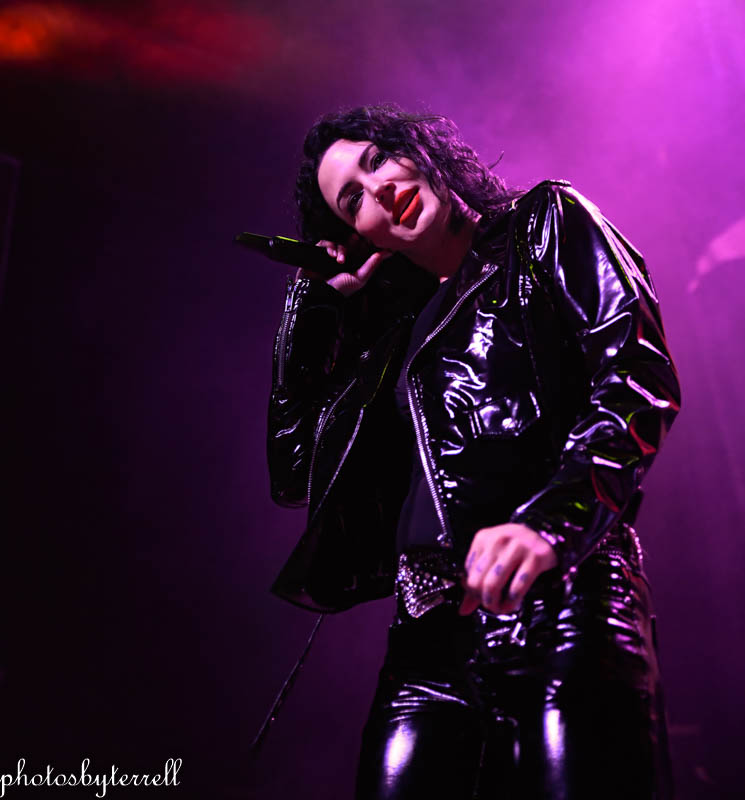 Dorothy brings her Gifts From the Holy Ghost Tour to Denver, Colorado's Summit Music Hall Sunday, May 8th, 2022.
This past Sunday night I had the pleasure of covering Dorothy and for the 4th time enjoyed a great night of music. Starting the evening off was, Classless Act and a high energy night of music began. They started their set with the song, "This is for you" from their upcoming debut album, Welcome to the Show to be released on June 24th 2022. Vocalist Derek Day wasted no time in getting the crowd moving as he moved about the stage with his mic stand. These guys reminded me of bands from the late 70's and early 80's hair bands. Throughout their set which was music from their upcoming album, the movement on stage by the band and interacting with the crowd never stopped. Their popularity has been growing quickly since the debut of their single, "Give It To Me" last summer and that hasn't gone unnoticed. It was announced in February of this year that Classless Act will open  The Stadium Tour this summer with Motley Crue, Def Leppard, Poison, and Joan Jett & The Blackhearts. Classless Act finished their set to a very loud roar from the crowd. Lead singer, Derek, grabbed his mic stand and headed for their merch table with the rest of the band following behind. This is a band to see live, you won't be disappointed.
Classless Act are:
Derek Day – Vocals
Dane Pieper – Guitar
Griffin Tucker – Guitar
Franco Gravante – Bass
Chuck McKissock – Drums
Set List:
This is for You
Give it to Me
All That We Are
Time to Bleed
Haunting Love
Storm Before The Calm
Civil War @Cover
Classless Act
After a short break, Joyous Wolf made their way to the stage, and continued to add to the energy of the night, starting off their set with, "Quiet Heart" from their debut album, Place in Time. Vocalist Nick Reese started moving right away across the stage as he sang and interacted with the band members and the crowd. Moving through their set, Joyous Wolf kept the energy high and Nick Reese was moving back and forth on stage, occasionally  doing splits and spins. As their set wound down, the energy level did not as the band took their bows to a roar from their fans. A great set of music from Joyous Wolf.  
Joyous Wolf are:
Nick Reese – vocals
Blake Allard – guitar
Greg Braccio – bass
Robert Sodaro – drums
Set List:
Quiet Heart
Get Myself Right
In the Shadow
Storm
Fearless
Karma
Place in Time
Juniper
Mother Rebel
The stage was now set for Dorothy. The band members took the stage without Dorothy and started their set with, "Down to the Bottom", a single released in 2017. Within a few moments, Dorothy made her way to the stage. Dressed in black vinyl head to toe, wide jeweled belt, jewels around her black boots and wearing sunglasses, her fans welcome her with a loud roar. Taking the mic, Dorothy wowed with her vocals. She sang and moved about the stage with a sensuality that mesmerized the crowd. Moving through songs like, "Whats Coming to Me", a single released in 2021 and "Raise Hell" from the 2016 album, Rockisdead, Dorothy moved about the stage. At times she would drop down to the floor on her knees and bending backwards she would slowly make her back to her feet. The band then went into an instrumental jam, by now, the energy level in the Summit Music Hall was off the charts. Dorothy moved through their set and finished with "Dark Nights" again from their 2016 album, Rockisdead. As I have said in the past after seeing Dorothy three times previous to this night, this is a show not to miss but, this night topped them all!
Dorothy are:
Dorothy Martin – vocals
Jason Ganberg – drums
Devon Pangle – guitar
Eli Wulfmeie r- guitar, backing vocals
Eliot Lorango – bass, backing vocals
Set List:
Down to the Bottom
Gun in My Hand
Ain't Our Time to Die
What's Coming to Me
Sweet Dreams (Are Made of This) @Cover
Rest In Peace
Instrumental jam
Beautiful Life
Medicine Man
Raise Hell
Drum Solo
Flawless
Freedom
Editor's Note: Review originally stated Time to Bleed as Classless Act's debut album, and not Welcome to the Show. This has been corrected within the review.