Carnival Of Madness 2013: Adrenaline. Shinedown, Papa Roach, Skillet, In This Moment and We As Human In Cincinnati, OH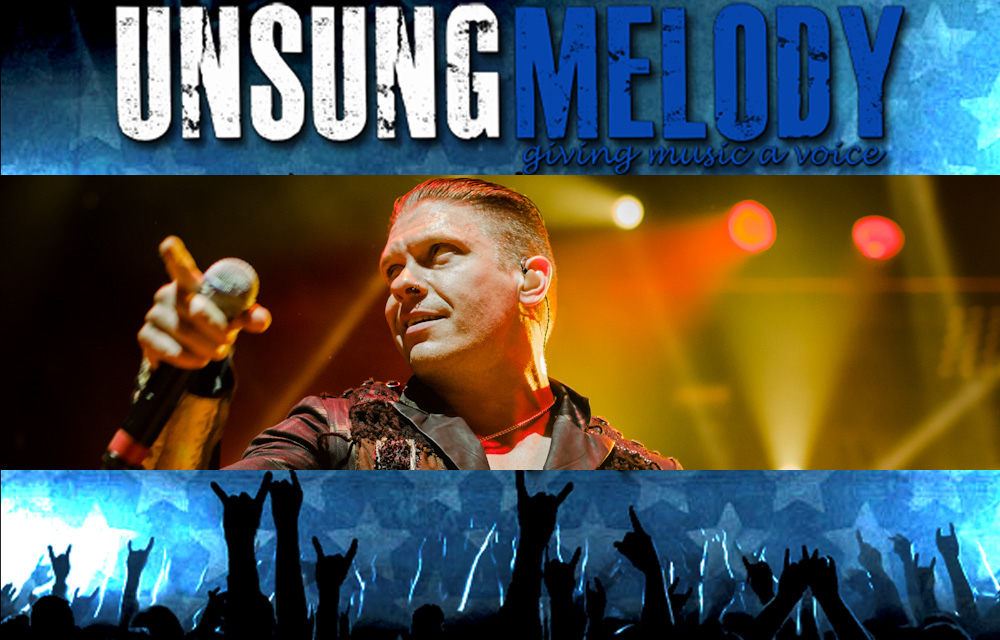 Mother Nature once again cooperated and I was able to spend a fantastic evening beside the Ohio River. The 2013 edition of Carnival Of Madness blazed it's path through the PNC Pavilion, which is the smaller of two venues at the Riverbend Entertainment Complex in Cincinnati.
As we made our way in, there were actual carnival performers entertaining the guests as they lined up to enter the venue. One performer in particular, had a huge wire shell of a cube and was juggling it, for lack of a better word, and ultimately spun it on it's corner, while balancing it on his chin. It was something that I certainly had not seen before, and the crowd was certainly captivated.
Once inside, We As Human took the stage. The band is new to most, as they just recently released their self-titled debut album. If you'd like to get to know the band a little better, I interviewed frontman Justin Cordle here. Feel free to check that out. The band was full of energy and tore through their abbreviated set like they were on fire. Their sound is a mix of modern rock and metal with a melodic sense about it. The Carnival of Madness fans were very receptive to the band and they certainly made a lot of new fans. My favorites were the current single Strike Back and the adrenaline filled Wake Up The Zombie.
Next up were California metallers In This Moment. Fronted by the beautiful and talented Maria Brink, their set was like watching the worlds of art, fashion, sex and music colliding. Their stage show was the artistic highlight of the night for me and Maria Brink, flanked by her two masked deviant sex kittens, was simply mesmerizing. With heavy hitters Blood, Adrenalize and Whore bringing the crowd to their feet, the madness was now in full effect. If you'd like more information on In This Moment, we spoke with guitarist Chris Howorth here.
Next onstage were veteran Christian rockers Skillet. From the moment violinist Jonathan Chu and chelloist Tate Olsen came onstage and hit the first notes of Whispers In The Dark, to the last note of Rebirth, Skillet demanded commanded your attention. Bassist John Cooper, sans bass for most of the show, proved that he can be just as powerful of a frontman as there is. Jumping around, seemingly freaking out to his own music, John Cooper stole the show. While wife Korey Cooper did a few fantastic slides on the stage, Seth Morrison brought out the Reds jersey to solidify his fanhood and drummer Jen Ledger provided fantastic drumming, John Cooper lost the bass and his mind. Highlights for me were Whispers In The Dark, Last Night, Monster, Awake and Alive, Not Ready To Die, Sick Of It and Rebirth. What a blast!
One thing is absolutely certain, you're not given a spot on Carnival Of Madness, you earn it. Having said that, our next band was Papa Roach. In my opinion, love them or hate them, the band has evolved better than most any band out there. Energetic frontman Jacoby Shaddix is one of the premiere entertainers you'll ever see. His stage presence is absolutely enormous. Plowing their way through hit song after hit song, Papa Roach did a fantastic job spanning their entire careers. After Jacoby's vocal setbacks last year, as well as his recent troubles forcing the band to cancel several South American dates, I feared that we may see the band on their last legs. For most of this night, Jacoby's voice was strong and the band seemed to be having just as much fun as the crowd. Once, Jacoby even spilled over into the front row, much to the delight of the legions of fans on the rail. As if taking a cue from his presence, the crowd surfers finally made their first appearance of the night as well. Highlights for me were Burn, Forever, Leader Of The Broken Hearts, Scars, To Be Loved, Getting Away With Murder and of course the monstrous Last Resort. We caught up with bassist and main songwriter Tobin Esperance for a nice interview, you can check that out here if you'd like. One more thing, I do want to commend Jacoby for continuing on though. There were times towards the end of the set where he struggled a bit vocally. Nothing too severe thankfully, but I want to take a moment to wish him all the best in his continued recovery.
It was now time for the headliners of the night. It was time for Shinedown to take the stage. As the curtain dropped it was an absolute full-on sensory onslaught. With the Carnival of Madness performers joining the band onstage, they were twirling fire batons, the band was hitting on all cylinders and large fireballs were engulfing the stage, Shinedown made certain that they had your attention. Blasting their way through I'm Not Alright, the band knew they had the crowd on the ground and it was time to go for the kill. As they came out swinging with Enemies, the energy, the temperature, the lights, the noise all hit their peak as the band continued their relentless attack. Much has been made about Brent Smith's weight loss and how his performances have became much more spirited, I'm hear to tell you, Brent Smith is an entirely different human being as compared to two years ago. I'm not just talking energy and confidence here. Brent's voice is as strong stronger than it's ever been. Zach Myers is truly comfortable now as the man on guitar and the solid rhythm section of bassist Eric Bass and drummer Barry Kerch round out what might be the most talented rock band on the planet. Songs like Crow and the Butterfly and I'll Follow You showcased just how far Brent and the entire band have come as songwriters and more importantly, entertainers. The circular video board behind Barry Kerch was continually abuzz with something visually stimulating and the band made great use of the spacious stage.
Mid-set, the boys brought down the energy to do a bit of an acoustic interlude where Brent took a moment to speak to the crowd. He spoke on the fact that this show was sold-out and served as a true indication that rock and roll is certainly not dead. Coming out of that was a beautiful version of If You Only Knew. Which honestly, was probably the loudest sing-a-long of the night. Well, up until that point at least.
When the first notes of 45 were struck, there was something magical in the air. As instructed, the crowd was holding up their lighters and cellphones, but there was something else. For many, this song was the first song they ever heard from the band and it still carries as big of an impact today as it did the first time they heard it. Sure the crowd was singing along, but not at the top of their lungs. They were clinging to every word as if they were their own. Many fans were singing with their eyes closed. It was in all honesty, a magical moment. Following that up is a difficult thing, but The Sound of Madness certainly did it for me. Then came another huge sing-a-long in Second chance. This one had seemingly every fan in the pavilion standing on their feet and relishing the chance to sing backing vocals for their favorite band. Eventually, that led into the massively successful cover of the timeless Lynyrd Skynyrd classic Simple Man. A cover rarely tops the original, so I'll say this, Shinedown's version is equally as impressive and DEFINITELY a crowd favorite. This was by far the loudest response of the night and truly deserved. The band ended the night on the powerful message behind the song Bully and certainly went out with a bang. Both literally and figuratively, as the huge pyrotechnics lit the place up like the Fourth of July. As Brent Smith always says, "It's never goodbye, it's just until next time."
For more information, including tour dates and tickets, check out CarnivalOfMadness.Com.