Volbeat – "Outlaw Gentlemen & Shady Ladies" (Album Review)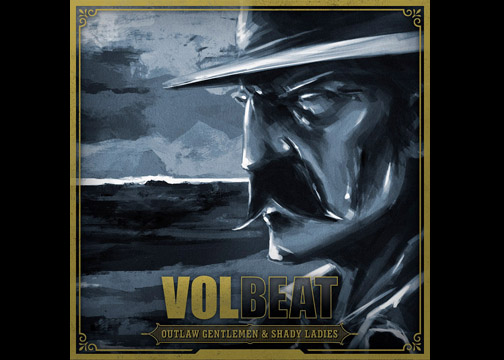 Denmark may be famous for a lot of things, but my favorite export is Volbeat. Armed with great songs, an unbelievable sense of melody, a unique voice and a former Anthrax guitarist (Rob Caggiano), the band from Copenhagen is about to release unleash their fifth album, titled Outlaw Gentlemen & Shady Ladies, on April 9th. I'm here to share my thoughts on the album.
Kicking off the album is Let's Shake Some Dust. The song could easily be the opening credits theme for a spaghetti western, ala "The Good, The Bad and The Ugly." It's an acoustic tune with some Spanish-style guitar work, complete with harmonica, and it really sets the scene for the journey the band is about to take you on. Grab your hat and spurs, this is going to be a great ride!
We meet our first Shady Lady on the track Pearl Hart. She was a Canadian-born outlaw who gained notoriety as a female stagecoach robber. It's the tale of how she needed the money to help her sick mother and the journey she embarked upon. It begins with the chorus being belted out by vocalist Michael Poulson, but the harmonic guitar work is the first thing you'll really latch onto. The track is outstanding and one of my personal favorites.
The album gallops along, spinning the tale of The Nameless One. The song seems loosely based upon the work of James Clarence Mangan. The band are no strangers when it comes to touching upon the afterlife. Look no further than their last release, Beyond Hell/Above Heaven. The song itself is super catchy and will be one that certainly pleases any Volbeat fan. The acoustic guitars underlying the chorus and that addicting lead guitar laid down by Rob Caggiano will definitely make this a fan favorite.
Dead but Rising is the next stop on our trek. This is by far one of the heaviest Volbeat songs yet. The guitars are thick, fast and deadly. If you are as surprised as I am, you'll have a hard time believing it's Volbeat until you hear Michael's vocals. Then it's absolutely undeniable. This song will be amazing live. I can already see the circle pits starting up for this one. For most Volbeat fans, this song will completely solidify adding Rob Caggiano to the band.
Teresa Burke recently caught Volbeat in Chicago. Check out her review and photos here.
Cape of Our Hero is the first single from Outlaw Gentlemen & Shady Ladies. You've undoubtedly seen the video if you are reading this. If not, I'll be sure and include it below. When you think of Volbeat, this song is exactly what comes to mind. A driving song with Michael's signature tone, accompanied by a huge singable chorus with great guitar work. Those are the reasons that this was the first single.
Check out the video for Cape of Our Hero below:

Room 24 is yet another really heavy song, and I'm REALLY happy about that. This one features the legendary vocalist King Diamond. The song has an eerie, evil feel to it, which…it has King Diamond, it SHOULD sound eerie and evil! I'm usually not that big of a fan of a guest vocalists, but this song is a perfect blend of voices. This one is a personal favorite and hopefully you'll feel the same way.
The Hangman's Bodycount is the second single released from Outlaw Gentlemen & Shady Ladies. They didn't call it the "Wild West" for nothing, and this song gives us some insight into the outlaw justice of the day, the hangman. After an acoustic intro that harkens back a bit to the opening track of the album, the song comes at you with guns blazing. The song, for me, has a sound reminiscent of early Metallica. Think about all the great riffs on Kill 'Em All. That's what comes to mind when I hear this song. With it's ferocious guitars setting the tone, the song delivers an agglomeration of styles, melded into one awesome ass-kicking.
My Body is honestly, mind-blowing. The song was originally written and released by indie rockers Young the Giant, but after hearing Volbeat's version, you'll swear it was written by them. Tackling a song that has had a lot of recent success is a big gamble for most, but not for Volbeat, not with this song. They absolutely nail this song and in my opinion, they show Young the Giant how it should have been done.
Lola Montez is the next Shady Lady we encounter. The song details just how beautiful she was and how she used those looks and free spirit to captivate many, including King Ludwig I of Bavaria, who later made her Countess of Landsfeld. As for the song, it has hit written all over it. Much like Pearl Hart, the song begins with the chorus and then proceeds to tell the tale. The melodies instantly dig in and you will be hooked by the end of the first verse.
We encounter Black Bart next. Born Charles Earl Bowles, he was known as a notoriously nice stagecoach robber. Always courteous, he never fired a shot. He also had a fear of horses, so all of his robberies were on foot. "Black Bart" was also known to even leave poetry at his crime scenes. A true Outlaw Gentleman. Luckily for us, the song has all the intensity of his robberies, and not his poetry. The song is a blistering tribute, and at times, it seems as if the band has channeled Lemmy and Motörhead to ride shotgun. Once again, a terrific song.
Now we talk about the most unique song on the album, and honestly, my favorite Volbeat song…possibly ever. Lonesome Rider features a duet with Sarah Blackwood from the band Walk off the Earth. I don't even know where to begin in describing this song. Initially kicking off with some more Spanish influenced guitars, the song drops into a country western swing straight from the early Johnny Cash days. Call it rockabilly. Call it what you want. I call it badass. Sarah adds such a contrasting dynamic, that you would honestly think it would never work. Trust me, it works. By the time you survive the massive chorus, the song hits you with a huge sing-a-long of "ohhhh's". Damnit, it's not even fair. Volbeat has annihilated every album that has been or will be released this year.
The Sinner Is You is up next. If this isn't a single, I'll be extremely disappointed. The guitars are so catchy, this song could be a freakin' hit as an instrumental! This album is so good it hurts! I can't believe how many hooks are in each song.
Doc Holliday is possibly the most famous Outlaw Gentlema immortalized on the album. Doc was a man of many talents. He was a dentist, a gambler, a gunfighter, and a badass. The track begins with a banjo. Yes, you read that right, a banjo. After a short intro, the banjo continues underneath the heavy guitars and thunderous drums. As the sound takes off, the heaviness ensues. The hooks are there, the guitar work is tremendous and the tale is intriguing. If this heavy element is what Rob Caggiano has brought to Volbeat, he just made a great band…legendary.
Our Loved Ones is the final track on the album. Beginning with an acoustic guitar and harmonica, the song quickly settles into a slow heavy groove with a subdued vocal delivery. It's a somber contrast to the rest of the album, but it more than fits and it definitely rocks. As close to a ballad as I suppose Volbeat will ever venture, the song shows another side of the band that is instantly recognizable.
This album is honestly brilliant, and the more I dig into it, the more I'm falling in love with it. Volbeat has created their own niche and have now perfected it with this album. Defining who you are, specifically your sound and what makes you instantly recognizable, is the hardest the thing to do in music. Volbeat know exactly who they are and after this album, I feel there will be many more who will know who they are. I am incredibly excited for the band and I can't wait to see just how far this record can carry them.
Unsung Melody Score – 10/10
Keep up with Volbeat below:
Volbeat.Dk
Facebook
Twitter
Purchase your copy from iTunes: