The Veer Union Release Official Lyric Video for "Last Regret" Off of Upcoming 'Decade: History of Our Evolution' Box Set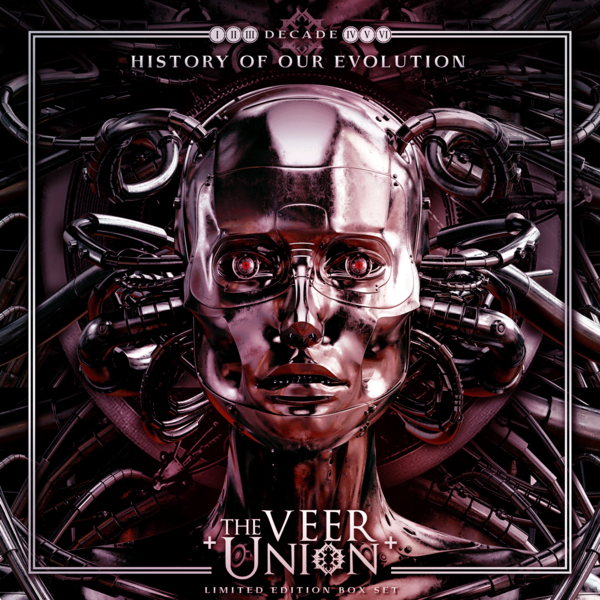 Vancouver, BC based Rock / Metal band The Veer Union has released the Official Lyric Video for "Last Regret" off of their forthcoming box set, Decade: History of Our Evolution.
"I think we can all relate to at least one time in our lives where we wish we could have just made a better decision than the one we made in the past; in retrospect, as an artist, those mistakes that we make are also the same things that inspire us to make music from the depths of our hearts" – Crispin Earl
Click HERE to Pre-Order 'Decade: History of Our Evolution'
The Veer Union also have pre-order bundles available including: signed Box Set, T-shirt, hand-written lyrics sheet, private acoustic performance, VIP Meet and Greet, Free Show Entrance on their Epic Revolution Tour (see below), and Free Download of The Best of the Veer Union 2008-2016 (including new acoustic recordings of their hit singles "Seasons," "Bitter End," and many more. As well, there will include reproduced, newly mixed and digitally remastered rock versions of "Seasons"
and "Darker Side Of Me."
The Veer Union Epic Evolution Tour Dates:
12/08 @ Mercersburg Mansion House – Mercersburg, PA
12/09 @ Monraes – Penneville, NY
12/30 @ Evening Star – Niagara Falls, NY
12/31 @ TBA – Philadelphia / Easton, PA
01/02 @ Irish Wolf – Scranton, PA
01/03 @ Whislky Warehouse – Mansfield, OH
01/04 @ Empire – Akron, OH
01/05 @ The Music Factory – Battle Creek, MI
01/06 @ Diesel – Chesterfield, MI
01/07 @ TBA – St. Joseph, MI
01/09 @ TBA – Lafayette, IN
01/10 @ Bada Brew – Crest Hill, IL
01/11 @ TBA – Rockford, IL
01/12 @ Penny Road – Barrington, IL
01/13 @ Every Buddy's Bar – Chippewa Falls, WI
01/14 @ Hijinx – Fort Atkinson, WI
01/16 @ Spicoli's – Waterloo, IA
01/17 @ Cafe Acoustic – St. Joseph, MO
01/18 @ Rose Music Hall – Columbia, MO
01/19 @ Aftershock – Merriam, KS
01/20 @ TAB – Omaha, NE
01/24 @ TBA – Grand Junction, CO
01/25 @ Herman's Hideaway – Denverr, CO
01/26 @ Sunshine Studios Live – Colorado Springs, CO
01/28 @ Gas Monkey – Dallas, TX
01/30 @ Limelight – San Antonio, TX
02/02 @ Scout Bar – Houston, TX
02/03 @ BFE Rock Club – Houston, TX
02/06 @ TBA – Flagstaff, AZ
02/07 @ Beauty Bar – Las Vegas, NV
02/08 @ TBA – San Diego, CA
02/09 @ Viper Room – Los Angeles, CA
02/10 @ TBA – Modesto, CA
02/11 @ Holy Driver – Sacramento, CA
02/13 @ TBA – Eugene, OR
02/15 @ Rock Hard PDX – Portland, OR
02/16 @ TBA – Spokane, WA
02/17 @ El Corazon – Seattle, WA
In 2016 Lead vocalist Crispin Earl took a rather unique approach to coincide with the concept of the album, Decade. He took the opportunity to reproduce five unreleased songs which were written prior to the first
incarnation of The Veer Union in 2004, bringing them back to life, as well as combining five brand new songs to bridge the span over a DECADE. Now, with the BOX SET release of Decade: History of Our Evolution, The Veer Union will continue this theme by Crispin reproducing the five remaining songs as well as adding five brand new songs again proving that The Veer Union can stand the test of time by incorporating the original vision of the band and blending it with the current incarnation. Decade: History of Our Evolution truly takes the listener through a musical and emotional journey that represents all that is The Veer Union.
The album was self produced and written by Crispin Earl.
Crispin Earl recently started his own Record Label, Rock Shop Entertainment (RSE) and this will be the labels first ever worldwide release! Crispin says, "in the past I have had the pleasure of working with many great people at various record labels and learning from some of the best in the industry. At this point in my career I feel the most important part of being an artist is not having someone impeding on the creative process and now with ROCK SHOP ENTERTAINMENT (RSE), I will have the creative freedom to do as I wish in all creative aspects which is what makes this one of the most exciting releases of my entire career."
Members:
Crispin Earl
Ryan Ramsdell
Dan Sittler
Connect With The Veer Union: