Psycho. An interview with Paul McCoy from 12 Stones.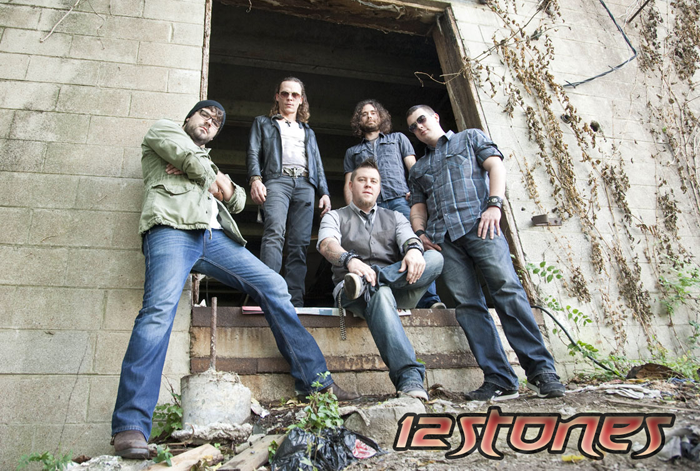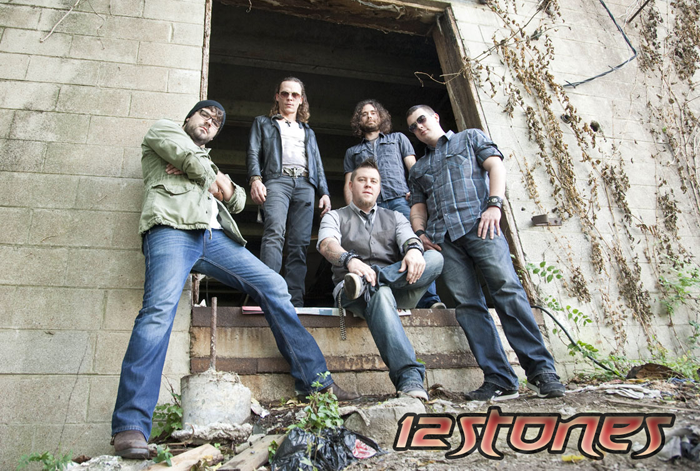 12 Stones is a band that has stayed true to their roots. Hailing from Louisiana, 12 Stones has had success in several music genres and toured relentlessly for more than a decade. After leaving Wind-Up Records, the band found their new home in Executive Music Group. With their current single Psycho, the band is on the road to promote their latest release Beneath the Scars.
I'm happy to welcome back Paul McCoy. Paul is the vocalist and guitarist of 12 Stones. Thanks for taking the time to speak with us today, and welcome to the Unsung Melody family. It's been a few months since you released your new album, Beneath the Scars. It's gotten some really great reviews. Has the album met your expectations so far?
Yeah. I mean we are still right in the middle of the process of touring on it and everything. So far, it's been really good. We've been getting really good responses from both radio and the people at our live shows. They all seem to be enjoying it. So, we are very happy to have it where it is so far.
Psycho is the new single. You guys just released a different style of lyric video, where you include some live footage. Was that footage from Rock On the Range?
Yes, it was from Rock On the Range. We played there this year. We had a great time when we were there. It was truly awesome.
I'm curious as to your thoughts on a theory I have. It's about the popularity of lyric videos. In this digital age, no one buys CD's. So, the days of killer artwork are moving slowly behind us. Having said that, do you think people are looking for an alternative, and the lyric video seems to fit the bill?
I think sometimes yes. In my opinion, there's no substitute for the real thing. I want that real cd. That's what I grew up on and the artists that I liked, I bought the album. I knew every song. It was more than liking one song that you only heard a 10 second clip of. In those days, you had to have something physical to hold onto.
How many songs off the new record are you guys playing on this tour?
We are mixing in about 5 or 6 of the new songs. We've been playing a little more than an hour, so we have a lot of songs to work in there.
We spoke with Throwing Gravity, who you guys were out with earlier this year. They had a pretty good prank they shared with us. They were all in drag and took over the stage. (You can watch the prank here) I noticed you weren't even on the stage for most of it. Did they get ya good on that one?
I was getting a bird's eye view. I went out to the crowd to take it all in. It was a magnificent site. It was a good prank. They pulled it off amazingly well.
You released this album with Executive Music Group. What was it about them that made you decide to sign with them?
They just seem to know what they are doing. They are a smaller company, which is something we liked. That way we can have a little bit more hands-on, in our daily lives and stuff. They're very receptive to us, and vice versa. I think we both saw the big picture of what we wanted to do. So, it just seemed like a really good fit.
I read an old interview about how supportive your parents have been for you. How they became your biggest supporters after accepting that music is who you are, and what you wanted to do. In this age, why do you think people are so afraid to take chances and believe in themselves?
I think it's just fear. People are just scared to fail. A lot of times, the things that are involved in chasing a dream or just following what it is you want to do, gets lost behind the fear of "Well, what if it doesn't work?" And people end up finding something that is safe and secure. I always knew that if being in a band didn't work out, I wasn't afraid to do other jobs and find ways to live, but why not try to take a chance. I took a chance 11 years ago, and I'm still out here talking to you. So, sometimes chances pay off. If you don't take them, you'll never achieve what it is you set out to do.
Alright, I always end on a random question. Since I'm from Lexington, KY and you are from New Orleans, I had to go with a basketball question. How big of an impact do you think Anthony Davis, formerly of my Kentucky Wildcats, will have on your New Orleans Hornets?
I hope he has a huge effect. We can take all the help we can get right now. We've been struggling a little bit here and there. We're looking forward to this year, to see what he can bring to the table.
I think you've got the gem of the draft, and maybe the last two or three drafts.
That's not always a good thing, being that far down on the list in order to get those draft picks. We're definitely looking forward to it.
Paul, I appreciate your time. The site and myself, we wish you and the band nothing but the best.
12 Stones members:
Paul McCoy – Vocals, Guitar
Eric Weaver – Lead Guitar, Backing Vocals
Aaron Gainer – Drums, Percussion, Backing Vocals
Will Reed – Bass, Backing Vocals
Keep up with 12 Stones below:
12Stones.Com
Facebook
Twitter
Preview or purchase Beneath the Scars by 12 Stones on Amazon below:

Check out the lyric video to Infected by 12 Stones below: