Nothing But Respect: An interview with Tommy Victor from Prong.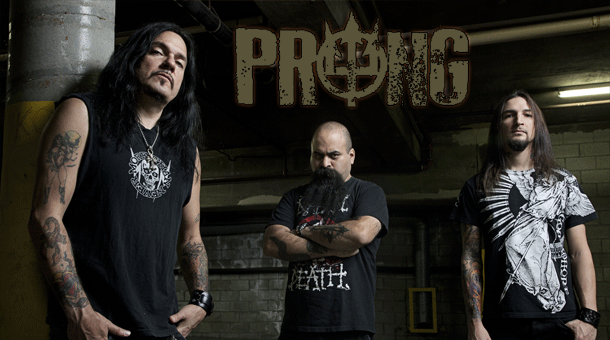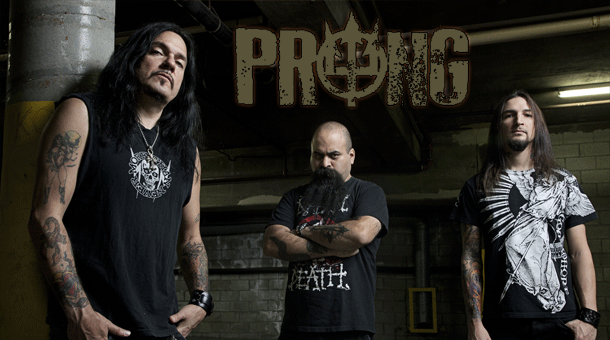 Prong is a band that has influenced so many bands, yet never had the true commercial success that defines so many. I truly think that's a shame, because no matter what incarnation of Prong has been out there, they've always delivered. Their album Beg to Differ was released on the same day as Nirvana's Nevermind, and in my eyes, both are must have albums. With a style like no one before them, Prong kind of pioneered the whole start and stop music that we enjoy today. Without Prong, there would be no Helmet, no Pantera, no KoRn, no Nine Inch Nails, no Demon Hunter and so on. All those bands cite Prong as an influence.
Tommy Victor is the man behind the guitars and vocals. He's been on the road with such acts as Danzig and Ministry, but his life was always Prong. The new album, Carved Into Stone is flat out one of the best releases of 2012 and I'm genuinely excited, not only for the band themselves, but for the opportunity to sit down and talk with one of my personal inspirations. Tommy is one of the coolest guys I've met, and this interview was one of my favorites. He's such an interesting guy and he was very genuine in all his answers. I hope you enjoy this interview, and I hope you are inspired to at least check these guys out. With Carved Into Stone, Prong is back, and deserves the recognition they've long deserved.
I'm joined today by the legendary Tommy Victor of Prong. Tommy has long been a musical idol of mine, so I'm doing my best not to be a fanboy in this interview. First off Tommy, thank you very much for joining us today, and welcome to the Unsung Melody family.
Let's talk a bit about the new album, Carved Into Stone. For me, it's a bit of a return to what made me fall in love with Prong to begin with, yet it is still definitely pushing forward. Have other fans had a somewhat similar reaction?
Absolutely, it's the same opinion. Even reviews from magazines have been like that. So, it's been really good. I felt that way too. I mean, when we were writing it, it was a lot of time and energy.
You worked with Steve Evetts on this record. How was that whole experience?
He's more of a full on producer. He works a lot with the arrangements, a lot with vocals, and he's an amazing engineer as well. He does it all, and that's what I needed. I've either co-produced or produced most of the Prong records. I just wanted a lot of the production input to be eliminated from the process, and just see what happens. Here's a guy that's worked with a lot of modern bands, and some great old ones too. Like The Cure for instance, but just to see where he was at, to bring Prong to 2012, rather than relying totally on the older stuff. He's the kind of guy who really hits you hard, too. There's a lot of work put into. You got to get in there on time, and you leave late every day. There's no fooling around. So, it wasn't a lot of fun, it was just a lot of hard work. He's a great guy, too. We're both Jets fans.
That always helps.
Yeah, right. I mean, it was primarily just me and him throughout the process because Alexi went back home after a week of drum tracks, and Tony showed up here and there to lay down a couple of bass tracks. It was basically Steve and I doing the whole record.
What I feel he brought, was maybe the tones to the modern era.
Yeah, exactly. Totally. That's another thing, as far as the engineering process, I like the tones, especially vocally. I wondered how he did it. It wasn't done with Melodyne or any of the modern technology. It was just a lot of hard work in the vocal booth, which he had the patience and the determination to get the best performance out of me that was possible
.
Where do you come from when writing lyrics? Is it more personal, more story telling, or a mix?
It's a mix of that. There's some story telling. "Revenge…Best Served Cold" is an example of that. On the other hand, a lot of it is like soul searching, therapeutic type lyrics. It's just a lot of reflections, some nihilism in there like "Keep On Living In Pain" and "I Put Myself to Sleep." So, there's a mixed bag. Then there's more light in it, like "Path of Least Resistance" and "Eternal Heat." I try to make it interesting. I spend a lot of time on the lyrics. I like to make sure that they are good, whether people notice it or not. "Ammunition" is something that just comes from the title. That was co-written with Mike Doling. He said I want this one to be called "Ammunition", so I based a lot of the lyrics from that. It's not about killing people. It's more about just an attitude, just about aggression and not giving up. Sticking to your guns so to speak. No pun intended.
There are eleven tracks of brutality on Carved Into Stone. I'm really eager to hear some of them tonight. How many of the new songs have crept their way into the setlist?
We only get 45 minutes as an opener with Static-X, so I'm always a fan of relying on the songs for the main concentration of the set. So, we've got two new ones in there.
You guys were a late addition to the WIIL Rockfest show in Twin Lakes, Wisconsin recently. How was that show?
You know what, I'm not a big fan of playing festivals. One of the good things about it is I get to see some old friends or some people that I haven't seen in a while. On the other hand, they're a little bit stressful. Whether it be the chaos of catering, and dust and dirt. Now my allergies are blowing up, because of the dust and the corn fields. I've been sneezing and all stuffy for the last day since we went out there. As a late addition, that's a tough thing too because there are not a lot of people expecting us to be there, and there was a lot of promotion for the bands that were there on the bill early. I was a little disappointed in the crowd that we had. There weren't any major disasters, which seems to happen sometimes on these festivals when your gear goes down, and things like that. It's run and gun, we didn't even have any preparation to check anything. So hopefully, the people that were there and got to see Prong thought it was good. It's hard to always tell.
I can thank Headbanger's Ball for introducing Prong to me back in the day. That was when there were few media outlets, and of course music was music and MTV played videos. Nowadays, there is such a saturation of crap out there, it's hard to sift through the bad to find the gems. I'm often curious where others find their new music. What are some of your favorite outlets to find cool new music?
I agree with you. I'm not going to say I'm jaded, but I don't pursue a lot if I hear somebody talking about something. Of course, everyone seems to be talking about Ghost, and I have a kid here with me on the road that listens to a lot of stuff that I'm exposed to. A lot of the quote unquote hardcore bands. Which I don't think they're hardcore. It's usually more of a word of mouth thing with me, because like I said, I'm old school. I'm not the type of person to sit down in front of a computer and go searching for stuff. That's not the way I was brought up. I used to go to a record store with vinyl and search through tons of records and see a cool cover. I'd be like, "Wow, these guys look cool." Back when I was a kid, we had Creem magazine, which was a great magazine for metal, the old metal. I have this mental image of their rating system. You really depended on that magazine for a lot of that stuff. I found out about Montrose through them. You did have exposure on national television though, with Don Kirshner's Rock Concert, and In Concert, and Midnight Special, Which you don't have now. Rock was king back then. Now it's totally different. We always had FM radio, which was mainly rock-oriented, but it's really changed. Ted Nugent was an FM radio hit. The idea of someone like say HellYeah, having a number one radio hit is inconceivable these days. It was easier for labels to market crossover music. Like Eminem, that was perfect. A white rapper, a legitimate rapper, ya know. It's less work. They were just like, what are we going to do with these metal bands. Now like you say, the saturation of things is just outrageous. There are just so many bands out there, so many.
It's hard to sift through and find the good stuff. Everybody has access to Pro Tools and Cakewalk and all that stuff.
Exactly. Back to the making of a record, knowing that there are so many people who think that they are producers, or engineers because they have these home studios. Still though, if you listen to the Prong record. That's real production with real microphones. There's no drum replacements. We didn't use Melodyne. In fact, a lot of the plugins that you have available in Pro Tools, we avoided that completely. It was done like an old school, external processing.
It shows.
It does, but I don't know that people appreciate that these days. There seems to be, which I can't believe, a resurgence of groups relying on backing tracks.
I hate that with a passion.
Well, we've been seeing it like crazy now.
I won't mention names, but I saw a show the other day, and I thought man these guys are really killing it. Then, I got to the other side of the stage taking photos, and I'm watching lips, and hearing something completely different from what was going on. I was like oh man, I'm truly disappointed. I understand. It's awful.
Alright, I always end with a random question, so here goes yours; East Coast or West Coast. What's your favorite and why?
It's definitely the East Coast. I was born and raised in New York City. There's so many things I miss from when I grew up there. Like the freedom of not relying on an automobile is one thing. Just being able to jump on a bus and go to a museum or a ballgame without dealing with parking. You'd have a couple of drinks at a bar and you could come home and not worry about the police. That's the main thing I miss about it all. I like the culture. I like the South too. Areas like Louisville I find to be an interesting town. Like Savanah, I was there for the first time recently. You just don't get that on the West Coast. It's all big malls and super freeways, and-
Superficial people.
(Laughter) A lot of that. (Laughter) Good one.
Tommy, thank you so much for your time. It's been an honor. The site and myself wish you and the band nothing but the best.
Prong members:
Tommy Victor – Vocals, Guitars
Tony Campos – Bass, Backing Vocals
Alexei Rodriguez – Drums
Keep up with Prong below:
Official Website
Facebook
Twitter
Purchase your copy of Carved Into Stone by Prong from Amazon below:

Check out the video to Revenge…Best Served Cold by Prong below: