Make it Rain. An interview with Jeff Stebbins from 3 Pill Morning.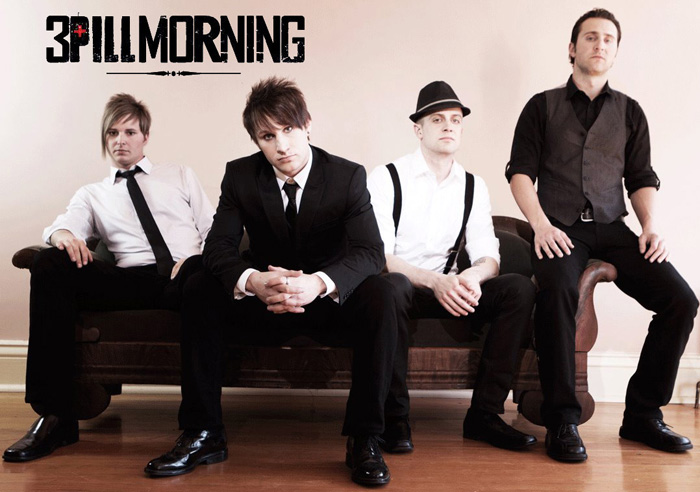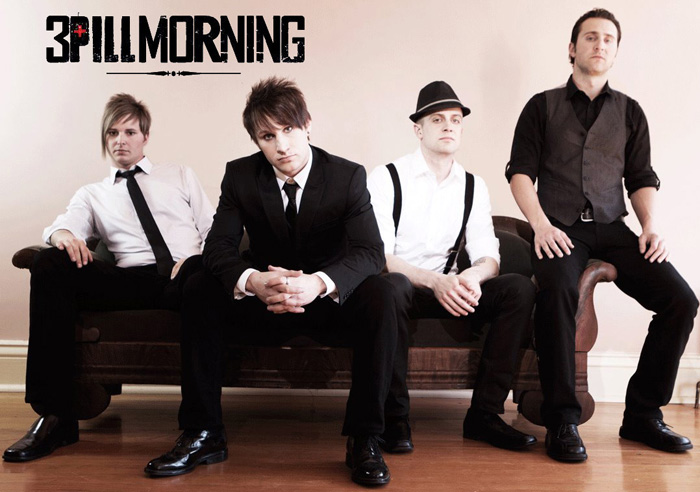 3 Pill Morning is a band from Minneapolis, that has just released their debut album, Black Tie Love Affair on Page 2 Music. You can read our review of the album here. The band has all the right things going for them to have a successful career, and things have been heating up for the band of late. With their new single Rain climbing the charts, the band has been hitting the road pretty hard. The band has even been out on tour recently with the mighty Sevendust.
Jeff Stebbins is joining us today. Jeff is the vocalist of 3 Pill Morning. First off, thanks for joining us today and welcome to the Unsung Melody Family. You guys released Black Tie Love Affair, and it's one of my favorite releases this year. It's full of great hooks, fantastic songwriting, and awesome melodies. I'm super excited for you guys and this release.
Thank you, thank you. We are too. So far, the response has been phenomenal, so hopefully that continues to keep going.
Rain is the debut single from you guys. It's doing pretty well at radio so far. How's the feedback coming from radio?
It's been good. You know, really with the release of the album, we are starting to pick up momentum there. So, we are seeing more and more stations picking it up every week and watching it slowly work our way up the charts. Hopefully people keep calling in and requesting this song, and all of a sudden it's everywhere.
Now, you have a video out there for the song Skin. Is that the next single?
It probably will be. Again, with Black Tie Love Affair, we kind of wanted to do things a little bit different than the standard release. So, we shot a video for one song. We had another song that seemed to be doing really well at radio. So, we went that direction with it, and I think all and all, it's really allowed us to show people what the album is all about and get people excited about it. So far, like I said, it looks like it was a good plan.
Who did you guys work with on Black Tie Love Affair?
We worked with a gentleman by the name of Jon King out of Nashville. He's done bands like Honest Anna, Future Leaders Of The World, and a few others. He's a guy who's really been focused on trying to help us get to the next level. So, that's the hardest thing to find in the music business, that's people who believe in a project whole heartedly and really want to give it everything. He's a guy who's definitely been there for us since day one.
You toured with Sevendust earlier this year. What was that experience like?
Awesome. I mean, that's really the only way to put it. Our focus from a 3 Pill Morning standpoint, is just to be on the road touring all the time, and that's what Sevendust does best. They've played 1000's and 1000's of shows, and every night they just go and they just rip it up. They are just really cool guys, so for us, it's been a great experience because everybody in that band is someone we definitely look up to, and try to emulate a lot of the things that they've done. So, it was a been a great experience.
You guys have posted some funny stuff from the road. So, how was the National Quilt Museum anyways?
(laughter) Yeah, you know, you see some of those signs on the side of the road and you just need to stop by. Honestly, we didn't even set foot inside the door, but we had to get a picture outside of it. I'm sure it was very, very interesting inside.
The one question that has been burning in my mind, since I confirmed this interview, is what does the band name mean?
Great question, and certainly one that we get asked a lot. Like any band will say, the toughest thing is picking a name, and we had a long list of names. 3 P morning is one that just kind of sat at the top of the list. The reason behind it, and how we came up with it, is it seems like everybody in this day and age, is medicated in some way. So, if we looked at it, we're all taking a few Tylenol after a night of maybe a little heavy drinking, or maybe you're taking some multi-vitamins, who knows? But the magic number seemed to be three, and the name just seemed to kind of stick, and people seemed to like it, so here we are many years later, and the response seems to be good to that too.
Who has been your main influence vocally?
I think right out of the gate, somebody like Robert Plant from Led Zeppelin. Anthony Keidis from the Red Hot Chili Peppers, and more modern rockers like Brent Smith in Shinedown, Jacoby Shaddix in Papa Roach. All those guys just go out and put on huge shows, and really know how to bring that level of energy. That's what we want to do every night, is make sure that we're doing something that's memorable. People get their money's worth. They come out to dance, they come out sing, mosh, whatever gets them going. Hopefully in the end, we've done our job.
Alright, I always end on a random question. So, here goes yours; This one comes from KFC, Famous or Crispy?
Oh definitely Boneless.
That wasn't an option, but I like it. That's fair enough. (laughter) Thanks for the taking the time to speak with us. The site and myself wish you, and the band, nothing but the best.
3 Pill Morning members:
Jeff Stebbins-Vocals
Ryan Walch-Guitar, Keys
Charlie McCoy-Bass, Vocals
Trent Laugerman-Drums
Keep up with 3 Pill Morning below:
3PillMorning.Com
Facebook
Twitter
Purchase Black Tie Love Affair from Amazon below:

Check out the video to Skin by 3 Pill Morning below: