Delivering like no other. An interview with Hyro Da Hero.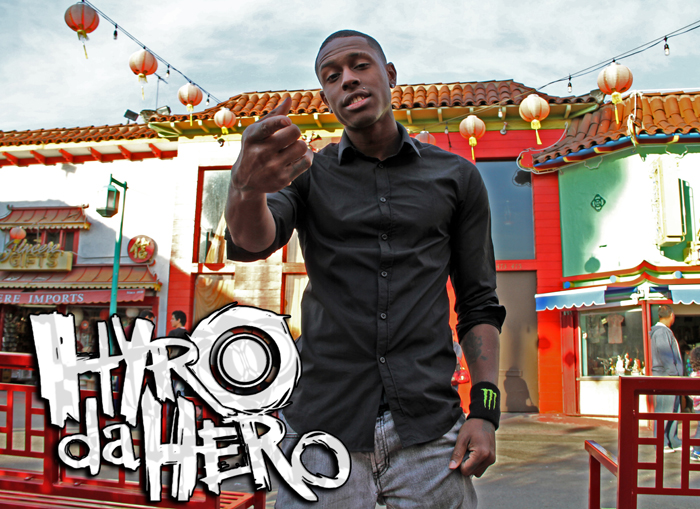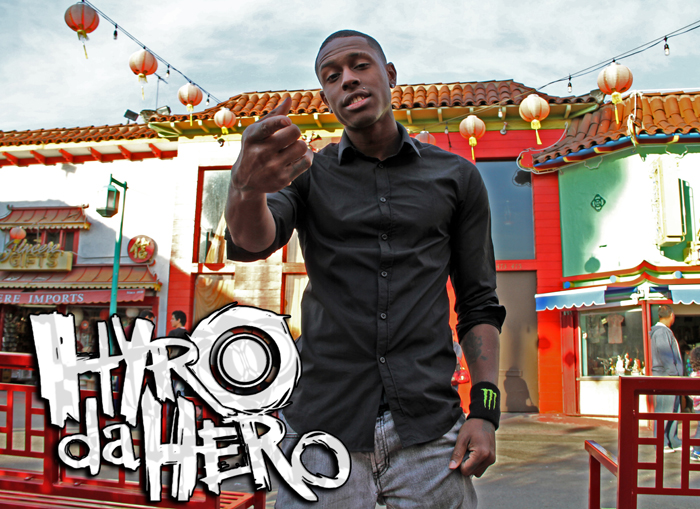 With the introduction of more and more electronics into music, I often find myself thinking of what's next. With Hyro Da Hero, I think I found what's next. I mean, we've seen styles meshed before. We've seen rap rock before, but I personally feel that Hyro's style is blazing a new path. I hear influences from Rage Against The Machine, to Suicidal Tendencies, to DMX, to Nas. It's a smorgasbord of influences that make up the music flowing from Hyro. He's a talented young man, who's surrounded himself with great musicians and created something unique. His style caught the attention of the Vans Warped Tour this year, and I feel it's the beginning of a really cool musical career.
Today, I'm joined by Hyro Da Hero. I want to thank you first and foremost for taking the time to speak with us today, and I'd like to welcome you to the Unsung Melody family. Your new album is titled Birth, School, Work, Death and it dropped on July 31st. I've had the pleasure of giving it a few spins, and I have to tell ya, I feel you've found a great formula with the band and your style. Your career is one that I'm eager to watch take off here in the States.
Thank you so much man. I just wanted to pack it with energy. I wanted my album to be like a live gunshot to wake everybody up. I feel like everybody is asleep right now, in a zombie-like state. So, I wanted to just blast away and wake everybody up with my music.
The first single off of Birth, School, Work, Death is Sleeping Giants. What's the feedback from the industry and radio been like so far?
It's been amazing. It's just a great feeling to hear my music out there. I've always been pushing. I've always been getting great reviews, and that one song right there, it just hits so heavy, so hard. It's something out of the normal of what's going on right now. I feel like what I do is creative. It's just something brand new to people, when all we have is this club kind of music. Especially in hip-hop, rock and roll kind of the same formula. I just want to blst away with something new, and I think Sleeping Giants, does that job. I'm informing people with a message. It's still catchy, it's still nice, and it's really connecting to other people.
You have a video out for Sleeping Giants. I have to ask, have you had anyone show up at your shows dressed like the masked, gloved, dancing suits in the video?
(laughter) No man, that would be crazy, if they do though. I haven't had that yet. That would be crazy. I love that video. I did that in Manchester, with these dudes called sick all soldiers. It's just an amazing thing that happened out there. It was just a cool idea, that came together real well.
Your delivery to me is very unique. It has a raw, aggressive, truthful snap about it. I think it really allows you to convey the messages you are trying to get across in a way that most, could never pull off. It makes things much more believable, and real. Where do you pull your inspiration from when writing your lyrics and shaping what becomes your unique style?
Just my life in general. Things that are going on. I read a lot of books, and stuff like that. I like to have a lot of information. I just love having knowledge, and all of that inspires me through my lyrics. I pick up the pen, and it's like,whatever the Universe, God just puts it through me. Sometimes, I'll just sit back, and I'll be like,'Wow, I can't believe I just wrote a verse like that!" It's just so weird for me, but I get my emotions, I get my feelings out. I word things that I want to say perfectly. That's how I feel about my album. When I got together with Ross and everybody, I had my mixtapes, and I wanted that sound. From my first mixtapes, up to my album, you can hear the sound I was trying to get to. Then, when I did my album, this is exactly what I wanted. It felt like it got pulled out of my mind. This is who I am right here. I'm inspired by rock bands like, Bad Brains, Fishbone, to see Brothers like that out there doing punk rock. Tupac Shakur is a big influence to me. That raw emotion over hip-hop beats. I could only imagine if he ever screamed on rock tracks. You get what I'm saying?Just pulling out that whole emotion, the lyrics painting a picture, and that's how I feel that's what my music does. In verses, that's what I try to do.
You've had some really good success in Europe and Australia. You've played some huge festivals all over the world, and you just finished playing the Vans Warped Tour here in the States How was that whole experience, and how much different is it from being overseas?
It was an amazing process. It was real rough. It was like boot camp. You're out in the sun, middle of nowhere, everyday. You wake up in a parking lot. It was real rough, but it was a fun experience. I got to meet cool people. All the bands were cool. It was like a whole hustling process that I had to get back to. It's not like when I'm overseas, where I have the hype, and the crowds and things like that. This one, I literally had to draw people in with my music. I could walk around handing out stickers, I could do whatever, but the truest thing that helped me out, was getting on that stage and rocking out. Trying to grab each and every fan and let them know who Hyro Da Hero is. On this Warped Tour, I wanted them to say, Wow, did I just pass up the next Kanye or Jay-Z or something? Did I just pass up the next superstar?I wanted them to feel like that when I'm on that stage. I wanted them to say, Dang, I just saw the next superstar or I passed up the next superstar. I didn't get a sticker from him. Those kind of things right there. It was just so fun doing that, and having that experience. To see how much the kids out there love and support music. They have to choose who to go see, so if your times clash with a huge band, you have a little problem, but you just have to rock that much harder to try and grab who's around you.
I want to ask about working with Ross Robinson. He's an unbelievable producer. How much more was he able to pull from you than you expected personally?
Oh man, he got me to scream more. I learned how to scream even more now. (laughter) He really got me to loosen up, and get my emotion out, and really put it to the microphone. Not too hold back so much. Put it all out there. This is your thing. In hip-hop, people try to be so cool, they want to be over dramatic, or too emotional on a record. With rock and roll, I just let it all go. This is me right here. That's being real, 100%. He helped with that. He asks real weird questions, that get your mind flowing. Like questions, that have no answers. He gets your mind flowing and thinking. We got in the room, Me, Mark and Cody from Blood Brothers, Paul from At The Drive-In, Romy Daniels from Idiot Pilot, got together and created some music. Six songs in one day. Just pure energy. They put great music, I had to put great lyrics. Putting that to the microphone with Ross Robinson was very special. He knew exactly how I wanted to sound when I told him. He put together the pieces of the puzzle.
Alright, I always end my interviews on a random question. I like to see what kind of reactions I can get sometimes. So, here goes yours. You being from Austin, and your style being so diverse, which hometown hero would you prefer to collaborate with; ZZ Top or Beyonce?
(laughter) Oh man, that's a crazy one. I wish I could pick both! Houston, Texas, Beyonce is the Queen, so I would love to collaborate with Beyonce and put a song out there. That would be sick. I wouldn't even be mad at that. She really came and put on in Houston, Texas. I seen her when I was young at AstorWorld. I seen her perform in front of maybe 20 or 30 people. Her and Destiny's Child. I was the first one, front row, she pointed at me and all of that stuff. Then, she took off and is at the top of the world now. Her and Jay-Z are the King and Queen of hip-hop. Just to be blessed to do something like that would be great. I think I would kill a track with Beyonce. That Houston, Texas love. ZZ Top would be amazing as well. (laughter) That's a tough one man.
Maybe we could get a collaboration of all three. Now that would be mind blowing right there.
That would be mind blowing. (laughter)
Thanks so much for joining us. The site and myself wish you nothing but the best, and hopefully, we'll catch up at a show sometime soon.
Keep up with Hyro Da Hero below:
HyroDaHero.Com
Facebook
Twitter
Purchase your copy of Birth, School, Work, Death by Hyro Da Hero from Amazon below:

Check out the video to Sleeping Giants by Hyro Da Hero below:

Check out the video to Ghetto Ambience by Hyro Da Hero below:

Check out the video to We Still Popular by Hyro Da Hero below: