Community Property. Steel Panther at The Paramount in Huntington, NY.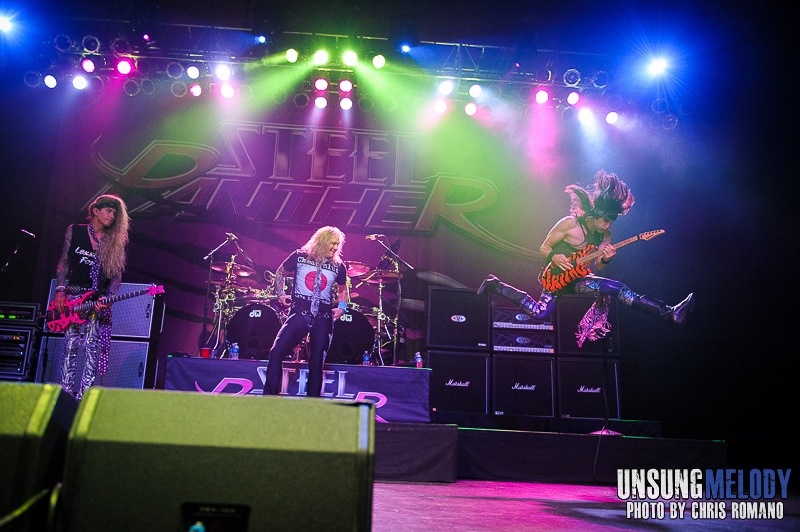 Steel Panther is not your ordinary rock band. While on the outside, it may look as if they channel the glam metal styling of Poison, Cinderella, and W.A.S.P., their style is more connected to that of comedy rock such as Spinal Tap or Tenacious D. But don't be fooled: this is not the kind of show you can bring your kids to…especially your teenage daughters. Lol

Opening for the night was Hillbilly Herald, a hard rock group with a charismatic bearded front man, and musicians donned in leather jackets and sunglasses. They were an interesting bunch, and got the crowd moving a bit with their cover of AC/DC's TNT, but seemed to be missing a bit of the spark needed to really ignite a crowd.
Once the lights finally dimmed, Iron Maiden's "The Number of the Beast" blared over the speakers. I'm not sure about everyone else, but if there is a song that brings a smile to my face and gets me pumped, its anything by Iron Maiden.
Steel Panther was clearly pumped too, as they flew out on to the stage with the first song from their sophomore release, "Supersonic Sex Machine". While furious early guitar solos flowed from lead guitarist Satchel, lead vocalist Michael Starr ran around the stage singing lyrics about nothing other than a robot built for having sex.
If it wasn't clear by the song titles, none of Steel Panther's song are "serious". All the tunes are built around a classic glam metal song writing style, but written with lyrics like in "Tomorrow Night", the next song the band geared in to, "Tomorrow night, tomorrow night, but tonight I'm playing angry birds, like a million other stupid nerds!"
As Michael took center stage for "Fat Girl", Satchel and flamboyant bassist Lexxi Foxxx coordinated for simultaneous high kicks, but battled with one another for backing vocal microphone control. "Asian Hooker" and "Just Like Tiger Woods" brought for more clear cut sexual humor, especially when the band invited a female fan up on stage with them, who must have had a fancy for drummer Stix Zadinia, as she quickly ran to the very back to chat with him.
One important thing to point out, Steel Panther LOVES to have pictures taken of them. With bright white front lighting on each member of the band nearly the entire show, if they catch you with a camera pointed at them, be ready for them to get close and pose. And if you're female, you'll likely receive a wink and a signal to meet them backstage as well.
Check out my HUGE Steel Panther photo gallery here.
Following "Turn Out the Lights," and "If You Really Really Love Me," the rest of the band exited the stage, leaving Satchel as the lone member. Satchel took center stage and began a long, intricate guitar solo. While it at point mimicked Eddie Van Halen's "Eruption", for the most part, it was concise blend of famous riffs and his own flair and style. As Satchel flew between riff after riff, I recognized riffs from Judas Priest's, "Breaking the Law", Iron Maiden's "The Trooper", Metallica's "Master of Puppets", Ozzy Ozzbourne's "Crazy Train", Guns and Roses' "Sweet Child of Mine", and finally, Black Sabbath's "Iron Man" and "Paranoid". As the crowd cheered, Satchel bowed, ran up to a microphone, and said "Thank you, thank you. Please, make some more noise for me. Please. Let's hear it for me!"
Stage banter is a huge part of Steel Panther's live performance as well. Michael and Satchel were the ones who would chat the most, offering humorous questions and pointing out random members of the audience, improvising things about what each band member thought of that person. For instance, Michael saw one guy and said, "There is this one smokin' hot chick here, and she is with a totally lame looking dude." Which Satchel replied, "If she was a car, she'd be a Mercedes, and he'd be a smart car!"
Some of the questions the band would ask were completely random, such as when Satchel wanted to know, "How many people here love Cookie Crisp? I think Cookie Crisp rules as much as this song. It's called Community Property." While many of the audience was confused, others pulled out lighters, waving them in the air for the ballad about how sharing is caring, essentially.
If I were to ever introduce someone to Steel Panther, the first song I would play for them is "Death To All But Metal". When the band played it, it had everyone in the crowd singing along. There is something just so right about it, and as a huge metal fan myself, I couldn't get enough it.
While there was a lot of talking, there was just as much rocking from Steel Panther. The guys have nailed their act down to something that looks natural and seamless, as they easily bounce jokes and ideas off one another while on stage. As much as I want to say Michael's voice was the high point, as the guy can certainly carry quite the tune, I felt Satchel's solo, with its classic metal riff mix was what really was the highlight about this particular Steel Panther show.
And now that I think about it, the only act that Steel Panther can be most closely connected to horror/comedy rocker GWAR; with boobs instead of fake blood and thrusting instead of… well GWAR has plenty of thrusting as well.