Treat Me Right. Eric Sardinas and Big Motor at House of Blues Back Porch in Chicago.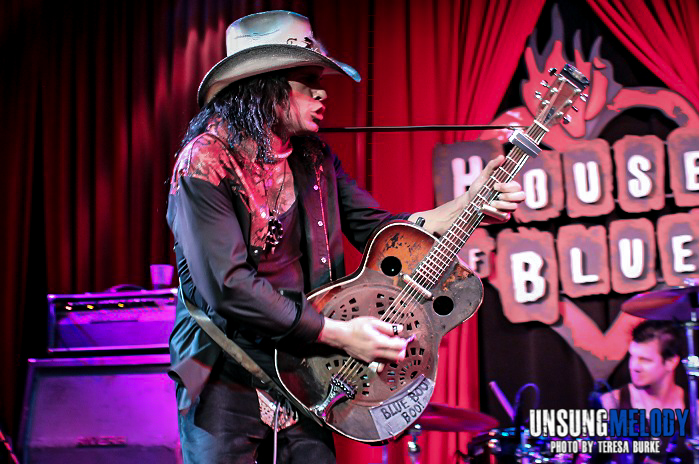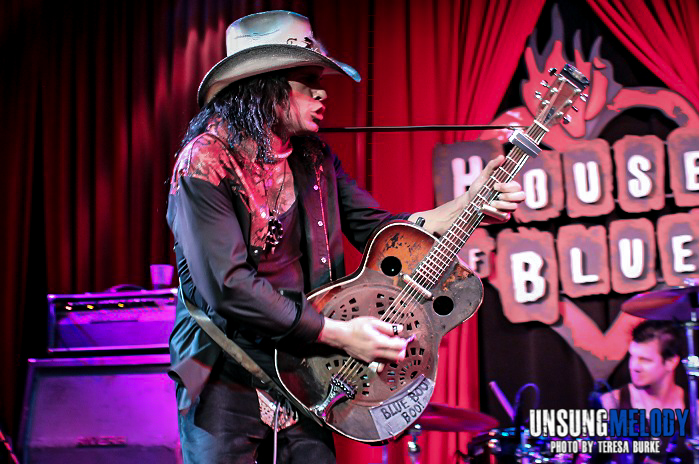 House of Blues. Not only is it a music venue in Chicago, but a venue that celebrates the Blues. Within the restaurant/bar area is a smaller stage called the Back Porch. Having played here multiple times in the past, the Chicago audience, along with visitors from at least one other country, (I overheard some fans say they were from Poland) were treated to an absolutely stellar performance from Eric Sardinas and Big Motor.
Eric, best known for his slide playing on an electrifed Gibson Resonator guitar, along with Levell Price on bass and Byran Keeling on drums, brought the house down. They played two sets for a combined total of 2 1/2 hours of blues-influenced rock. A style Eric is widely known for over the past 15 years.
Eric and Big Motor played a variety of songs from Eric's five releases that date all the way back to his first album, Treat Me Right (1999), up through his last album, Sticks & Stones (2011). Whether he was using his trademark brass pipe slide on his left pinky finger, stomping his cowboy boots to the beat, controlling the volume on his guitar, from full on electric to a more acoustic sound, there was no shortage of quality tunes, blazing slide playing and at times, what could only be described as a vocal version of fire screaming out from beneath Eric's fingers as they would fly across the neck of his guitar. I should also mention, he sings as well. His raw vocals add depth, soul and passion to each song.
Check out my photo gallery of the show here.
Off and on during the night, Eric would switch back and forth between his two resonator guitars. By the third song, the Muddy Waters' classic I Can't Be Satisfied, he was playing a guitar that was pretty beat up looking. Not to mention it had an injury, as noted by the duct tape with the words "Blue Boo Boo!" written on it. Obviously Eric wasn't going to let a mishap with the guitar keep him from playing it. I can only imagine the stories it would tell if given a voice. Upbeat and high energy, this song made you want to clap your hands, dance around and genuinely it put a very big smile on my face.
Down to Whiskey, from Devil's Train (2001), included a call and response with the crowd during the chorus and everyone was more than happy to yell out, "Get down to whiskey!" Levell introduced the band members and talked about playing newer songs and songs even further down the line, meaning songs that had not been released yet. This just proved, you never know what you're going to get at a live show.
Depending on the song, Eric would sometimes lower his mic so it was even with the guitar, which left all the attention on his playing. Other times he would sing off mic, giving the song a more acoustic vibe. Again, I wasn't sure the name of the next song, but I believe it was another blues cover. One line stood out to me though, "Stood on the corner until my feet got soaking wet." Between the lyrics and watching Eric's right hand pick while his left pinky slid up and down the neck, I was entranced. [Editor's Note: A quick bit of Google-ing says this song is a cover of Mississippi Fred McDowell's Waiting For My Baby.]
As the set neared the end, they whipped out Find My Heart from the self-titled album Eric Sardinas and Big Motor (2008). This super upbeat, fun rockin' tune had you bobbing your head or tapping your foot. Of course, they saved the best for last with the smokin' instrumental Texola, from Devil's Train. This song was full of fast picking and tasty slide licks, a deep sounding bass line and a drum beat that stood on its own. They definitely left us wanting more.
After a 45 minute break, the second set started off with songs I wasn't familiar with. I do believe I overheard one was a Jimmy Reed cover, possibly another was an unreleased song. Regardless, you didn't need to know the songs to enjoy them. Watching the way Eric handled his guitar, whether playing it while hunched over, facing it towards the crowd or off to the right or the left, I can't stress enough how cool a resonator guitar sounds electrified. At past shows, I've heard Eric play with the volume turned up high or turned down low without the help of amplification. Regardless, there's just something very original sounding, especially in this day and age, about that tin vibrating sound. Eric told a brief story about how he started playing guitar at the age of six and mentioned some of those old blues legends he remembered hearing for the first time, most notably, one Robert Johnson. He then went into an amazing cover of Hellhound On My Trail.
Levell, who also contributed backing vocals, played with a laid back style and kept a constant steady bass groove all night long. However, he really let loose during his bass solo. Yes, you read that right, bass solo. Feeling his way through deep chunky licks, it was towards the end of his solo that it got super funky. I heard someone calling out, "Keep it going!" but didn't immediately see anyone. Then I spotted the head stock of Eric's guitar peeking out from side stage. Clearly by his comments, he didn't want Levell to stop.
They played a couple more songs from Sticks & Stones, CountyLine and Full Tilt Mama. I should add, Bryan's drumming was pretty prominent all night. Whether it was a fast song or a slow song, his cool and collected vibe kept the beat in time all throughout Eric's various jams. I even noticed a couple times he'd look to Eric to make sure he was fully on board once Eric came back, so to speak, as each of his jams took you on a ride.
As the second set neared the end, Eric took us back to his first album and played the title track Treat Me Right. Just as he did off and on all the night, Eric moved to the front of the stage. This is where his passion really shone. The emotions Eric emitted while playing were mesmerizing, electrifying, and 100% genuine. His facial expressions truly gave a visual to the sounds of the notes being played. When it looks like it hurts, you KNOW it sounds good.
The band thanked the crowd and left the stage. Would there be an encore? Of course there was. Eric asked, "How about one more?" I heard someone yell out, "Two more!" and someone else, "Three more!" Just like the first set, the second set ended with another instrumental, Behind the 8, from Sticks & Stones. This instrumental was powerful and fast-paced. Eric's fantastic slide playing was loaded with that wonderful resonator sound, not to mention Levell's heavy basslines and Bryan's driving drums. It was a perfect way to end the night.
The power this 3-piece has is outstanding. All of them are accomplished musicians in their own right, but together they are a driving force to be reckoned with. If you're a fan of the blues, a fan of rock, a fan of raw, emotional and powerful playing, then by all means, look for the next date in your area. All it will take is one show from this powerhouse trio and you'll be hooked. They WILL leave you wanting more.
Keep up with the band below at their official website.