Tick Tick Boom. The Hives in Louisville, KY.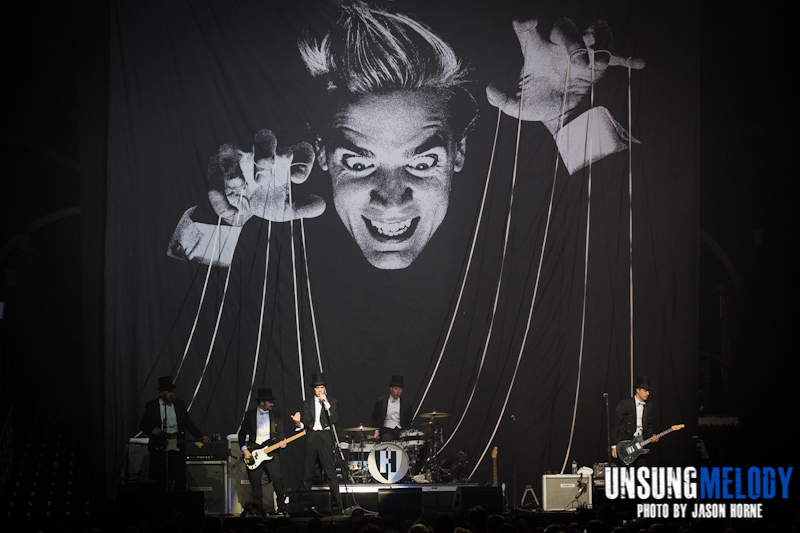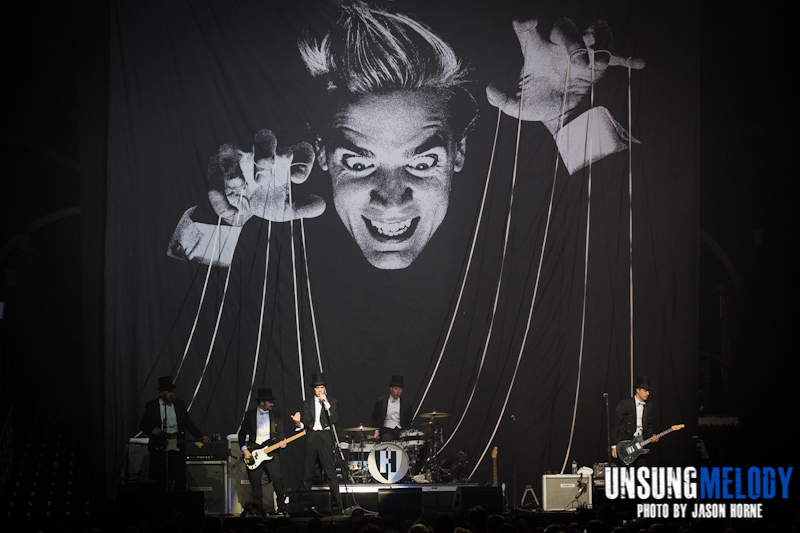 Last week, I got the privilege to shoot a sold out show at the KFC Yum! Center in Louisville, KY. Swedish garage rockers The Hives were opening the show for Pink. Pink brings all sorts of craziness to the stage, including acrobatics. Pink herself was flying around the arena while being suspended from the ceiling. The Hives, however, went with a more simple stage approach. What they brought though were their instruments and tons of energy. The Hives set the stage afire and never seemingly even took a breath, as they continued to rock the place for about 40 minutes or so.
The quintet from Fagersta, Sweden are fronted by Howlin' Pelle Almqvist, who will use any means necessary to command your attention. The band looked as if they just left a high society party, as they sported tuxes, tails, and top hats onstage. The crew were also in on the act, as they were dressed in ninja outfits for the evening. After seeing all of that, I knew we were in for an interesting show! Howlin' Pelle Almqvist had endless energy as he worked his way through the crowd. He was seen giving high fives, shaking hands, and making sure everyone was having a great time. He was being followed by a ninja that was making sure his "wired" microphone stayed connected. The whole time I kept wondering, why doesn't he just use a wireless mic… That's just me I suppose!
Be sure and check out my photo gallery from The Hives show here.
As the show carried on, the infectious swagger of The Hives was starting to spread throughout the crowd, and by the end of their set, it was clear that the band had won over a ton of new fans. Sprinkled within their set were many of their hits, such as "Main Offender", "Hate to Say", and "Tick Tick Boom". Many new faces were see clapping their hands, tapping their feet, or just dancing about enjoying the fun. Overall, it was very evident this was not your typical no-name opening band. These guys have been around for over 20 years and they know how to get an audience warmed up and out of their seats! While it seemed that most in the crowd were there for Pink and her incredibly entertaining show, The Hives were not lost in the mix of the evening. I can attest to the fact that they made at least one new fan on this night.
The Hives set list:
Come On
Main Offender
Walk Idiot Walk
Hate to Say I Told You So
Won't Be Long
Go Right Ahead
Midnight Shifter
Tick Tick Boom
Keep up with the band below:
TheHivesBroadcastingService.Com
Facebook
Twitter