Theory of a Deadman, Charm City Devils, and Seven Day Sonnet in concert in Kenosha, WI.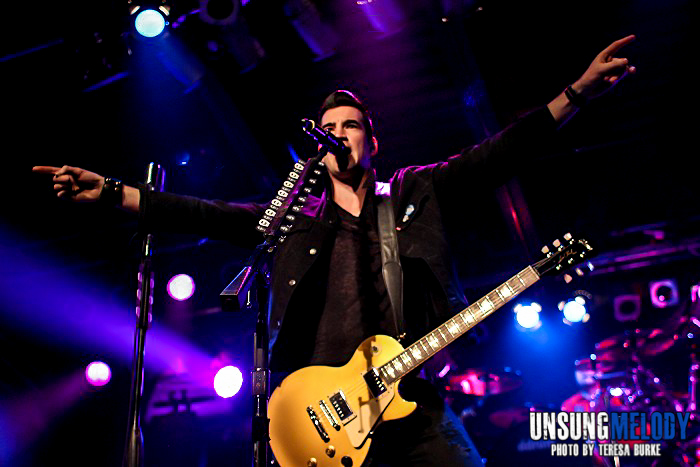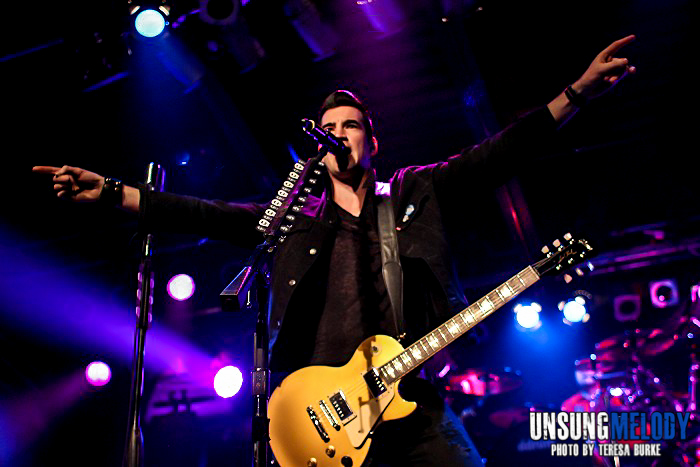 Believe it or not, Theory of a Deadman have been making music and touring for 10 years now. For most in attendance that night, this was no big surprise as the show at the Brat Stop in Kenosha, WI was SOLD OUT! Five minutes from the IL border, and known for beer, brats and a cheese market, this may seem like an odd pairing for a rock show, but for this venue, it's the norm.
The night started off with local Chicago band Seven Day Sonnet. They played their 30-minute set with a fierceness that stated, "We came to rock!" Lead singer, Benjamin VanBuskirk, took charge of the stage belting out song after song, working the crowd, and priming them for the rest of the night. While the two guitar attack of Michael Scarlata and Rick Tauber showed they had the chops to rock, bass player, Anthony Lojeski had free reign of the stage to act like a wild man, jumping and spinning around. High energy playing from drummer, Dan Kashuck, added impact to their already heavy sounding songs.
While the sold out crowd may have mostly been there to see Theory of a Deadman, fans were quickly won over by the next band, Charm City Devils. Hailing from Baltimore, MD, they brought their A-game and played a non-stop 45-minute set full of intense rock and roll that included a touch of blues influence. Recently signed to eOne Music, they mostly played songs from their newest album, Sins, along with a couple hits from their first album, Let's Rock-N-Roll.
Whether you've seen Charm City Devils live before or if it's your first time, you can't help but become engulfed in their brand of Rock 'n Roll. There's no fluff, no gimmick, just five hard working guys pouring out their heart and soul through the music they make. Listening to their music makes you want to move and react. They definitely have a winning combination when it comes to writing songs.
Lead singer, John Allen, intently performed in front of the crowd, often standing, not on the stage but on the speakers in the security pit. Whether he was engaging the crowd with his powerful vocals or hitting those high notes during his signature backbend, John is a front man through and through.
Vic Karrera, guitar, has a vibe that screams '70's Joe Perry. With Vic's smooth style and excellent guitar playing he's in a category all his own. I don't see many guitar players use a talk box on stage, but I personally love it and feel this effect really adds to the sound on their song, "Devil is a Woman." I also have to add, if you don't feel the need to move while listening to this song, you must be dead. The groove is very infectious and has a very catchy chorus.
The other guitar player in the band, Nick Kay, (who also lends a hand with backing vocals), had the most contagious smile I've ever seen. All night he appeared to be having a blast on stage and enjoyed interacting with the fans. His equally skilled talent and flair with 6 strings was thoroughly enjoyed by all.
Bass player, Anthony Arambula brings such an intense energy to the band. Whether he's playing or singing backing vocals, jumping off the drum riser or jumping around on the stage in general, his passion for these songs shows.
Lastly, WI native, Jason Heiser, was a beast sitting behind his drum kit and he played like a man on mission. That mission? Bring the rock to the masses. At one point he played so hard that a piece of his stick went flying towards Anthony, which bounced off him, and came flying towards me. Who knew there were such dangers like that at a show?
After playing a fairly heavy set, aside from hearing, "Best of the Worst," (a song not always in rotation but was dedicated to one of on air personalities at the local radio station, 95.1 WIIL) a real highlight of the night was hearing their cover of "I Got Mine" by The Black Keys. They take this song and really make it their own. Dare I say, even better than the original.
As their set was coming to an end, we were treated to a traditional song "turned up" by rock and roll. The first single from Sins, "Man of Constant Sorrow," has a musical style that only Charm City Devils could add. They breathed a new life into a song with their own arrangement that is easily one of my favorites.
Fans of WWE's "No Way Out" may have recognized the theme song, "Unstoppable," as the last song of the night. Charm City Devils started with a bang and ended with an even bigger bang. Anyone familiar with their Facebook page knows you can often find pictures of the crowd taken by John from the stage during the show. Tonight was no exception. If you haven't already, be sure and tag yourself!
After a 30-minute break, the time had come. This WI crowd was more than eager for Theory of a Deadman to take the stage. The night started off with a recording of "Blame Canada" (made famous from the South park movie). Seeing as Theory of a Deadman are from British Columbia and appear to have a great sense of humor, this was very fitting.
The band immediately took the stage starting off with their current single, "Gentleman," from their latest release The Truth Is… and the crowd became theirs. This tightly packed house of fans, sang along, danced and generally appeared to be having a great time.
Playing for a little over an hour, performing hit after hit, along with other fan favorites from all four albums, everyone in the band looked as if they were having a blast. Tyler Connolly's two mic set up afforded lots of opportunities for picks to be tossed into the crowd as he not only sang but also played guitar. For anyone that has seen Theory before, no set is complete without a little humor. However, I don't always know if he is really kidding. At one point in the night, Tyler took time to film the fans with his phone (videos are uploaded to their Facebook page) and even decided to take a football poll. For the record, based on cheers, there were many more Chicago Bears fans in attendance than Green Bay Packers fans! GO BEARS!
With Dean Back, bass, and David Brenner, guitar, sharing backing vocal duties, along with drummer, Joey Dandeneau, they still managed to find time to do their fair share of jumping around on stage. From time to time David would venture to Dean's side of the stage to interact with the fans or hang out on Joey's drum riser. Joey's space like drum kit, with its wide looking arms that curved up towards the ceiling, looked as if he was sitting in his own drum ship. All night he played with an intensity of an arena rock show.
About halfway through their set, 3 bar stools were brought to the front of the stage, and David, Tyler and Dean all sat down for a 3-song acoustic set.
Tyler got serious for a minute and discussed their involvement with Habitat for Humanity. On tour they are selling special bracelets for $5 and all proceeds will benefit the foundation. He also mentioned when the tour was finished, they planned to help build a house. Of course, Tyler wouldn't be Tyler if he didn't throw a joke in somewhere…he mentioned something about hammering nails instead of hookers.
After a quick tease of "Sweet Home Alabama," (Tyler changed out Alabama for Kenosha), he asked how many people watched MTV. Needless to say, he didn't expect the boo's coming from the crowd. As he listed random reality shows, again he was shocked by the negative reaction from the crowd. However, he referred to the days when MTV did play music and mentioned they wanted to play a song by one of their favorite bands. They did a beautiful job with "Got Me Wrong" by Alice in Chains. They continued with their own songs, "Out of My Head" and "Better Off."
The end of the night had the majority of fans singing along loudly to "Low Life." They played a teaser of another Alice in Chains song, "Nutshell," before going into the song that really kicked it off for them quite a few years ago, "Santa Monica." After that, they played the highly popular sing-a-long, "Hate My Life," which had fans more than willing to oblige during the line, "Put your middle fingers up in the air."
Most bands lead you to believe the show is over once they leave the stage, but after only a minute of darkness there was lightning and the sounds of thunder as if a storm was rolling in. This led straight into "Hurricane." Once again, the band teased us with another popular song intro, this time "Paradise City" by Guns N' Roses, before they closed with probably the most anticipated song of the night, "Bad Girlfriend." Guys and girls alike danced and sang aloud with all they had. I have to say, Theory really gives props to their favorite bands.
Picks and sticks were thrown, Thank You's were said and with that, they were gone. Everyone leaving the venue appeared to have gotten their monies worth, which really in the end, is why you go to a show. To be entertained, to have a good time, to sing along to your favorite songs and feel like you were part of something amazing.
Here are the photo galleries I mentioned:
Theory Of A Deadman
Charm City Devils
Seven Day Sonnet
Keep up with each band below:
www.theoryofadeadman.com
www.charmcitydevils.com
www.sevendaysonnet.com