Styx at Pikes Peak Center in Colorado Springs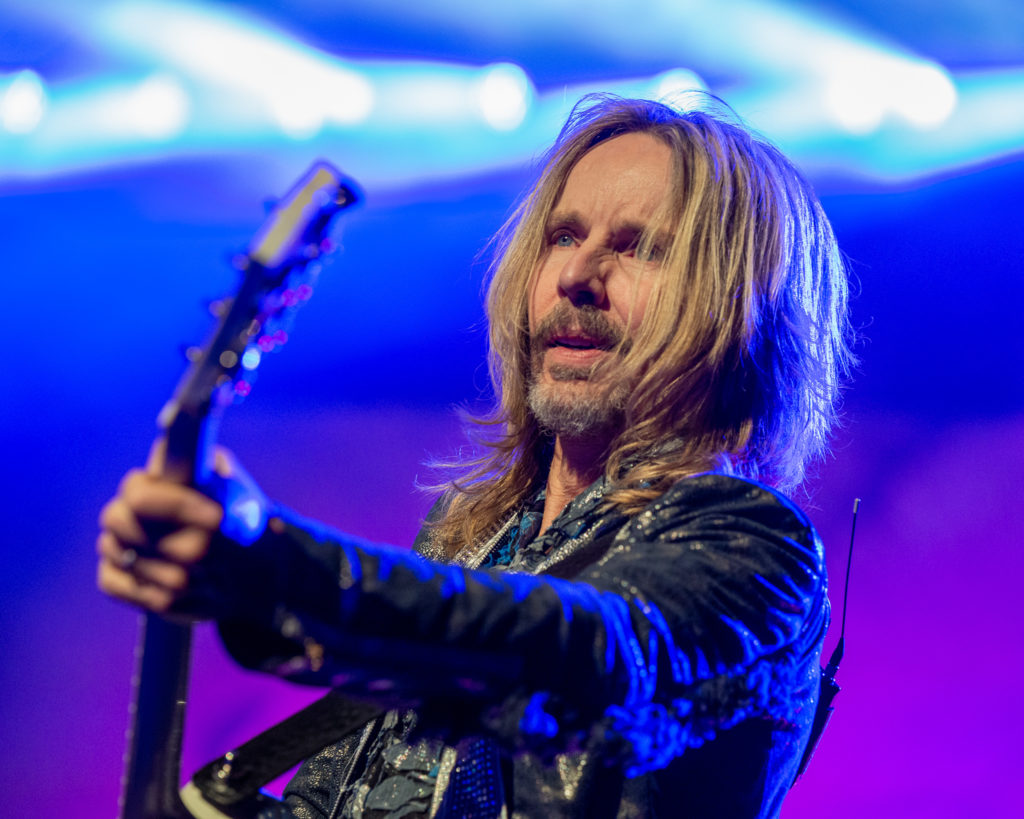 Over the last few decades, many legacy bands have had a tremendous amount of work to stay relevant to their fanbase, or even new fans. Yet, many bands are not Styx. The rockin' sextuplet, consisting of Lawrence Gowan (vocals/keys), James "J.Y" Young (vocals/guitar), Tommy Shaw (vocals/guitar), Todd Sucherman (drums and percussion), Ricky Phillips (bass), and Will Evankovich (guitar) are part of a band that have provided the soundtrack to many of our lives. The "core" of JY and Tommy Shaw still provide that tightness that one would expect after nearly 50 years of playing together. Let us not forget that Chuck Panozzo (bass), a founding member of Styx is still part time, and periodically comes out to play.
As a band that has recorded and performed together for five decades, they certainly have a plethora of material to dig into. And dig into it, they did. Performing deep cuts and big hits, alike, the pulled out seven songs from their latest record, Crash of the Crown. Kicking off the show was "A Monster", one of my favorites off their latest record. With a sound that is timeless, and unmistakably Styx, I believe it is a perfect choice to set the atmosphere for a show.
One of their biggest hits only played second fiddle to the opening song that evening, and that was "Blue Collar Man (Long Nights)". The fans whom weren't familiar with their newer material certainly did not hold back after the first few chords. Women screaming "I love you JY!!!" and "I love you Tommy Shaw!" began, and didn't really subside until the final note of the encore with "Renegade".
Deep cuts were certainly brought out, and one of the most notable was "Aku-Aku", which hadn't been played since 2012. Among those deep cuts, we were given the treat of Chuck Panozzo coming out to play a few songs. Despite being involved in touring part-time since his announcement of his HIV diagnosis, he clearly enjoys coming out and performing in front of a truly adoring crowd.
The treat of having Chuck perform was a thing of beauty. Notably, he played both "Lost at Sea", and my personal favorite, "Come Sail Away". The energy of both the crowd and the band was palpable, and Chuck was eating it up for dinner.
Closing out the 22 song set was "Mr. Roboto", and fan-favorite "Renegade". These guys have been on the road for a very long time, and yet, they sound tighter than ever, and seem to have more fun each time I see them. Witnessing their show at Pikes Peak Center was certainly different to me, as it's the smallest venue I've seen them in, having seen them perform in arenas the last several years. Despite the smaller arena, I think it was the best setting to watch them have fun on stage.