Slayer's "Final Campaign" at Broadmoor World Arena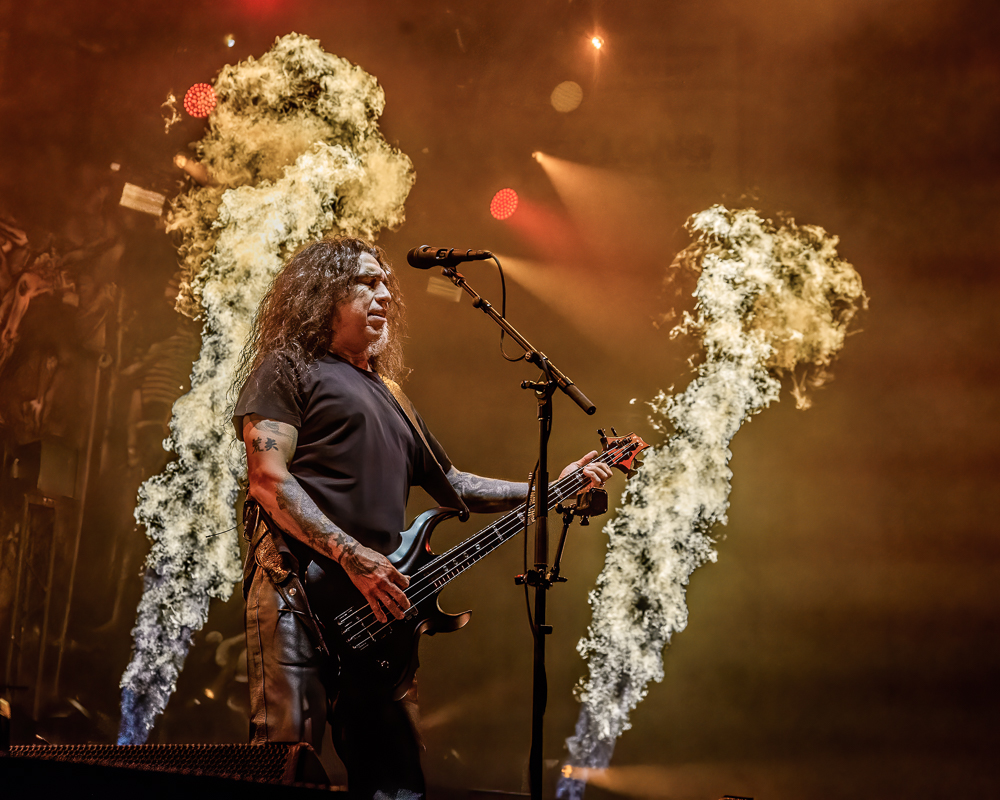 The war machine known as Slayer has been rumbling on nearly 40 years, and like all good things, they eventually come to an end. Slayer's "The Final Campaign" world tour is coming to a wrap, but it's definitely going out with a bang, not a whimper.
The final tour's line-up is definitely one of the most eclectic, chaotic, and well-received I've seen in a long time. Phillip H. Anselmo & the Illegals opened things up with their southern-fried metal, with Phil and gang performing covers of Pantera songs that had made him famous. Each cut was chosen because of the energy that it would instill unto the crowd. Well known tracks such as "Walk" and "Fucking Hostile" amped up the crowd, preparing for the later onslaught of SLAYER.
Ministry, and their ever-involved and outspoken leader, uncle Al Jourgensen wrapped up the second half of the show with a very dark, chaotic and atmospheric set. Playing a relatively abbreviated set compared to their usual headlining shows, songs such as "Stigmata", "Supernaut (Black Sabbath cover)", "NWO", "Just One Fix" and "Jesus Built My Hotrod", had fans in an utter tizzy.
The final opener of this eclectic affair is Primus. Yes, that Primus; the funkadelic rock-maestros who revel in their own weirdness. Kicking off their set was "Those Damn Blue-Collar Bastards", and they continue digging in with deep cuts and fan favorites. Closing out the set, and prepping the stage for Slayer, they end on "Jerry Was A Race Car Driver", to fantastic fanfare.
Finally ready to melt faces and destroy souls, Slayer – the disparate group of men whom channel raw fury and energy into pummeling, crushing thrash, take the stage. Two of the original members, Tom Araya (bass, vocals) and Kerry King (guitar) were joined by Gary Holt (guitar, Exodus-member) and drummer Paul Bostaph (ex-Exodus, ex-Forbidden). Gary, originally joining to perform in place of original member Jeff Hanneman during his illness, formally joined Slayer permanently after his Hanneman's death. That being said, the presence of Hanneman hung in the air.
With remarkable precision, aggression and fervor, the band tore into their catalog of songs, starting off with "Repentless". Even though the song is one of their most recent in the catalog, it is essential Slayer listening. "Mandatory Suicide" and "World Painted Blood" further drive their farewell set into deadly, and thrashing territory. "Postmortem" and "Hate Worldwide" further showcase their flair for destruction, fire and fury.
Production has never been something to sit by the wayside for the Slayer show, or fans. As always, the fire, smoke, and lights are on-point, and create an atmosphere of pure aggression.
Previously known for his aggressive headbanging, after some back and neck problems and surgery to help correct them, Araya stands mostly still while performing. However, his bass and vocals show no signs of softening up, the venom in his voice as he spits out lyrics to "Reign in Blood" and "Hell Awaits" creating a palpable and evil tension.
Sadly, it appears that this is the final tour for Slayer; however they have made no mention whether or not they'll play one-off shows here and there. If it truly is the end to Slayer, I believe we should give them one last 'scream-from-the-bottom-of-our-guts' of "SLAYERRRRRRRRRRRRRRRRRRRRRRRRRRRRRRRR!"