Scallywag brought Rancid, Pennywise, Bad Religion, and The Interrupters to Denver.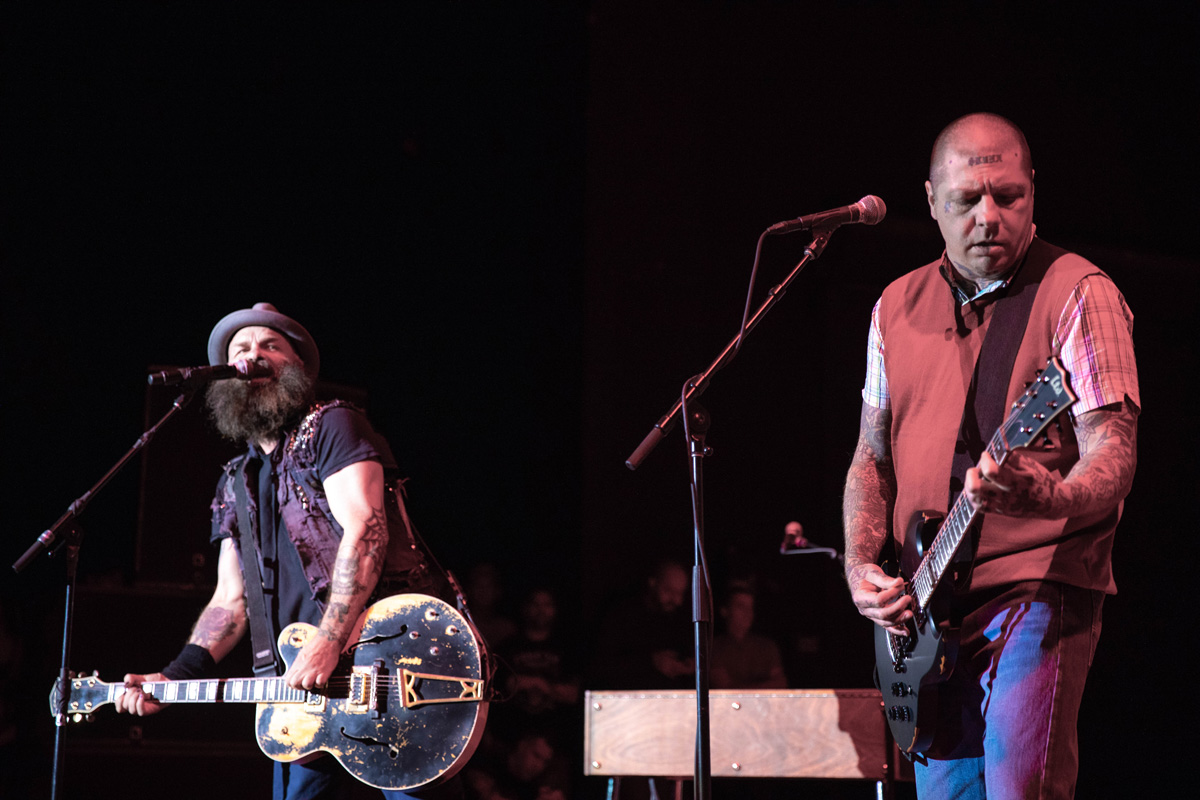 On September 22nd, the Scallywag Festival arrived in Denver, Colorado at Fiddlers Green Amphitheatre. The festival is all about beer, food, and punk rock! The music lineup was one out of a punk rock fairy tale. The Interrupters, Bad Religion, Pennywise, and Rancid were the main acts with the Mad Caddies and the Potato Pirates offering support.
Upon first seeing The Interrupters you notice 3 guys in suits and a woman that looks like a 50's pinup girl. The 3 guys in the band happen to be brothers and the woman is Aimee Interrupter. Their sound is reminiscent of a female fronted Rancid, which makes sense seeing as Tim Armstrong produced their most recent album. The band brought a ton of energy with their catchy, punk, sing-along style songs. One song was about a woman shooting her man (She's Kerosene) and another was about getting arrested (She Got Arrested). They also covered the Operation Ivy song "Soundsystem".
Bad Religion hit the stage next. They have played a large role in punk rock in the United States. Since 2018 is the 30th anniversary of their album "Suffer", they decided to play it in it's entirety. Their lead singer Greg Graffin said, "For those of you that had the album that was the end of side one. Back then you would grab your water or your reefer and flip it over to play side 2.". They haven't slowed down a bit in the last 38 years as they put on a great show.
Pennywise was the last act before Rancid hit the stage. Lead singer, Jim Lindberg, let everyone know early on that he was a bit hungover. He stated, "I just want to let you know that I'm really fucking hungover and I'm nursing it with a rum and coke". Out of all the bands playing, they are the fastest and it showed in the pit. It got to the point where Lindberg de escalated a fight that was going on. They ripped through their hits dating back to 1988 and threw in some covers. One of those covers was "Same in the End" by Sublime and the crowd loved it. Next, they asked if the crowd wanted a cover by AC/DC or the Beastie Boys. Beastie Boys won by a landslide, so they played "Fight for you Right". The crowd was energized and wanting more as Pennywise left the stage.
The headlining act was Rancid, and they were next. As they stormed out lead singer and rhythm guitarist, Tim Armstrong, went straight for the microphone and didn't waste any time. They opened it up with their hit song "Radio" and the whole crowd sang along.  Before Rancid, Armstrong and Matt Freeman (bassist) were in a punk band called Operation Ivy. Armstrong stated, "This is Matt freeman. This bass is called the Operation Ivy bass or Op Ivy bass for short". Freeman was playing the bass guitar that he played in Operation Ivy! A bit of punk rock history. Lars Frederiksen, vocalist and lead guitar made a few references to their 1994 album "Let's Go". Frederiksen said "we're going to take you back to 94 again. Off the let's go album.  The greatest bass player is going to sing it and the greatest drummer is going to drum it. This one is called "Tenderloin"". Armstrong thanked all the bands that were on stage before them and said that he loved them.
See full gallery below: