ROTR 2014 Review: SOLD OUT! Rock on the Range at Crew Stadium in Columbus, OH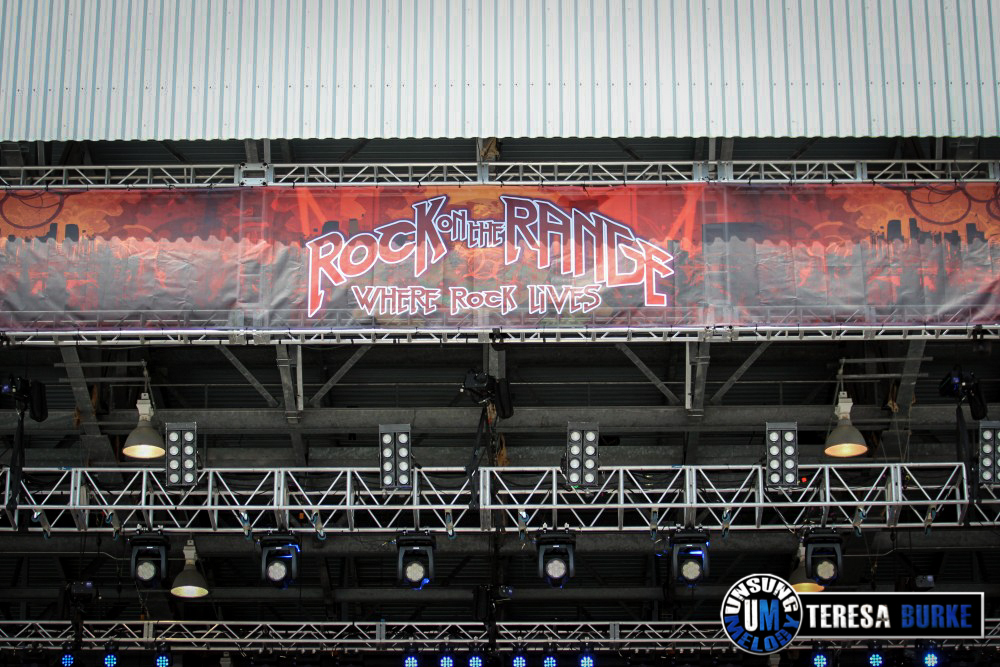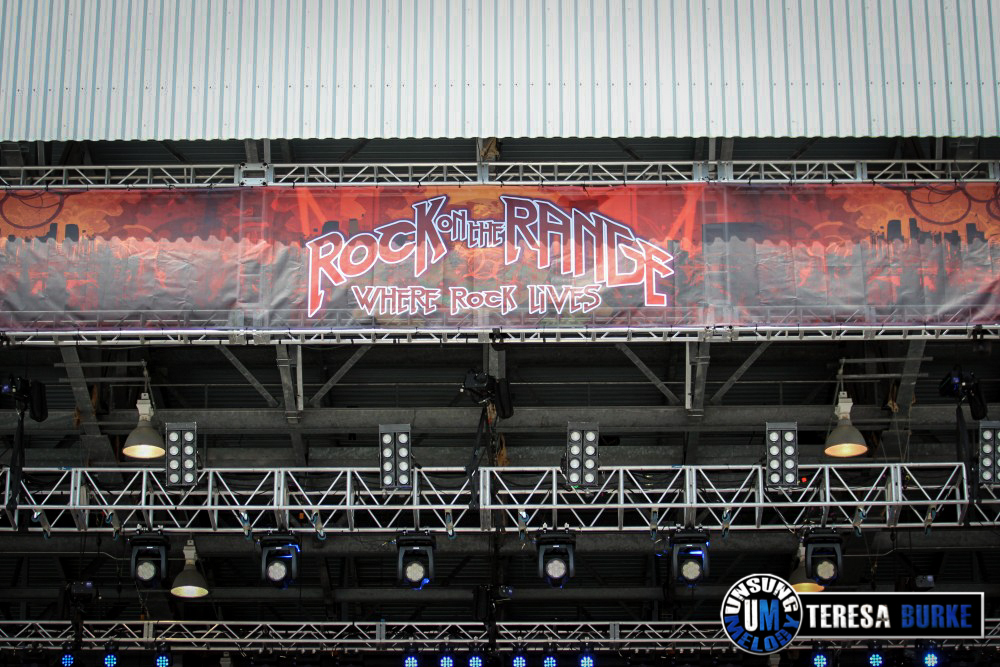 My yearly trek to the annual Rock on the Range Festival was held at Crew Stadium in Columbus, OH. Sold out for the second year in a row, there were 60 different rock and hard rock bands performing on three stages over three full days. That's 20 bands a day people. Granted, at times it was a tough decision to pick between the two side stage bands that played at the same time, but I can assure you, the thousands of fans in attendance that weekend were having more than their fair share of fun.
So, what can you say about a festival already in its 8th year? Obviously something is working, but how about a brief history lesson to show just how much it's grown. Rock on the Range, held at the same location every year, started back in 2007 as a one day, two stage festival. That quickly turned into a two day, two stage festival the following year (which also included the venue building a permanent stage inside the main bowl). By 2009, it was still a two day festival, but there were bands playing on three stages. By the fifth year, and to celebrate that milestone, they added a night time concert on the Friday before to kick off the weekend. After another successful Friday kick off the following year, in 2013, the Friday pre-show started earlier in the afternoon. This of course lead to finally making Rock on the Range a full three day festival. Praise the Rock n' Roll gods! I should also note, the number of bands paying from year to year has been growing, not to mention the caliber of bands seems to get better and better as the years go by.
As if to out do last year, they added another event to kick off the 2014 weekend. On the Thursday before, they hosted Roast on the Range with Corey Taylor. (The past two Rock n' Roll Roasts were held in CA for Zakk Wylde and Dee Snider.) Friends, a famous Clown, and various comedians roasted Corey Taylor of Slipknot/Stone Sour the best way they knew how and it was awesome! Roastmaster for the night was Sebastian Bach while Jose Mangin's role was MC and guest DJ. The celebrity dais included: Pearl Aday, M. Shawn "Clown" Crahan, Jim Florentine, Craig Gass, Scott Ian, Don Jamieson, Jamey Jasta, Finesse Mitchell, (who?) and Brian Posehn. For 2-1/2 hours, Corey, along with everyone else on the stage were ripped apart. Sebastian Bach seemed to get the worst of it from everyone, but no one was left out. In fact, a couple of times the audience were made fun of while other times various musicians not in attendance were made fun of. Out of the entire panel, Finesse Mitchell was the only person I was not familiar with however, he ended up being my favorite of the night. There was also a video tribute from Steel Panther that Corey was involved with but had no idea to what degree. It was funny to see his expression as he watched. In fact, all night he looked like he was dying from laughter and having the best time. It's always a bonus when the person being roasted has a sense of humor. They were many times everyone in attendance were rolling from laughter while other times people thought, "Did they really just say that?" Insult speeches lasted anywhere from 5-15 minutes with the final speech coming from Corey. Let me tell you, he let everyone have it. All in all I would say it was a success and I had a blast! It will be interesting to see if they plan another one next year.
So, why do I make the yearly trek to this festival? It's simple. To use a line from a song I never get tired of listening to, "I love Rock n' Roll." To be honest, when my friends and I attended that first year back in 2007, we saw it as a fun road trip with a decent ticket price for the amount of bands playing. After it was over, we thought, "Hey, if the line up next year is good, we'll go again." Well, year after year, the line up got better and better and we continued the tradition of our yearly road trip to Rock on the Range. Since this is clearly one of my favorite festivals, I decided to do a Top 10 list.
Top 10 Reasons Why You Should Attend Rock on the Range
10. Road trip!
I don't know about you, but I can't think of a better excuse for a road trip than Rock on the Range. Traveling with friends to a destination geared towards seeing live music? Sign me up time and time again. Now, if you happen to live in or near Columbus, well, you have no excuse not to attend such an awesome event.
9. Meet other people that share your love for music and concerts.
Whether you're camping overnight, tailgating, sitting in the stands, standing in front of the stage waiting for a band to start, moshing along side someone or just hanging out, chances are you're going to talk to someone you don't know. They might have even traveled from another state and you may end up keeping in touch. Attendees at Rock on the Range are a combination of young and old and everything in between. Music knows no age limit.
8. Various vendors and other activities.
If a full 12 hour day of music wasn't necessarily your thing, Rock on the Range had other ways to keep your day occupied. You could browse various vendor tents for one-of-a-kind art, glass pipes, and T-shirts, view band and event merchandise or stop and get a henna tattoo. Among the vendors were DJ Ashba (Guns N Roses) who was selling his various merch plus he participated in scheduled Meet and Greet signings at his tent while Rita Haney was there with her Dimebag Hardware tent selling various Pantera/Dimebag related merch. Plus, bigger and better than in the past, the Interactive Fan Zone featured opportunities to interact with and win prizes from Monster Energy, Ernie Ball Music Man, PS4, US Army, Zippo, Jack Daniels and more not to mention the opportunity to meet various band members. Crazy Dave's Music Experience was another interactive exhibit that featured various instruments and gear that you were allowed to get your hands on so you could feel like a rockstar. If you were looking to get your laugh on, for the second year in a row, you could check out various comedians that started performing during the early evening hours in the Comedy Tent. Well recognized names like Jim Breuer, Don Jamieson and Jim Florentine headlined each night with 11 other comedians total over the weekend.
7. Surprise guests.
You never know when an unexpected musician will appear on stage to perform. Here are a few I was aware of that weekend.
Phil Anselmo performed Pantera's Mouth For War with Rex Brown and the rest of Kill Devil Hill.
During Down's set there was a double surprise. Not only did Rex Brown play bass on Stone the Crow, at the end of Down's set, all of Living Colour came out towards the end of the last song, Bury Me In Smoke. They didn't just walk out on stage, they took over playing instruments and jammed some musical chaos.
At the end of Outside by Staind, Shaun Morgan from Seether appeared out of no where, with a devilish smile and to the surprise of the other band members, and sang the ending of the song with Aaron Lewis.
The most important guests over the weekend were the Lima Company Marines in Dress Blues representing the Eyes of Freedom. I remember seeing them walk onto the field during Pop Evil's set and as they walked past people in the stands, everyone stood up and cheered as they passed. I later found this amazing recap from one of those men. You can read that story here.
Then DMC of RUN DMC fame surprised everyone when he came out during Pop Evil's song Trenches.
6. New music.
Usually there is more than one band playing that weekend that is either promoting a recently released album or one that will be coming out soon. As a result, you often get to hear brand new songs that have never played live before or songs that have yet to be released yet. This year the newest releases included Fuel's Puppet Strings, Black Stone Cherry's Magic Mountain, Kyng's Burn the Serum, Chevelle's La Gargola, and Black Label Society's Catacombs of the Black Vatican. Upcoming releases include Mastodon's Once More 'Round the Sun (June 24), Seether's Isolate and Medicate (July 1), Theory of a Deadman's SaVages (July 8), and Adelitas Way's Stuck (July 29).
5. Meet and Greet with your favorite band(s).
While not every band on the bill does a Meet and Greet, the majority do participate in the major one sponsored by FYE. With a mini store setting, fans can purchase CDs and even some vinyl of bands playing over the weekend. After you make a purchase you receive a wrist band to meet the band. Times are scattered throughout the day, so you may end up missing a live performance because you're waiting in line. However, it's usually worth the trade off.
4. Discover new bands.
While you're probably attending a festival because of certain bands, chances are there will be bands you've never heard of or bands you've been meaning to check out. A multi-band festival like Rock on the Range is the perfect place to discover new music. And hey, if by the second or third song it's not your thing, move on to the next stage and check out the next one.
3. More Band for Your Buck.
Where else do you have the opportunity to see 60 bands for $149.99, before fees of course, over three days? ($99 if you buy Stands tickets vs the Field. Oh and by the way, Stands ticket prices have not increased since they started having the festival over a two day period back in 2008.) So let's say you were clever enough to see all 60 bands. Hey, it possibly could be done if you saw the first half of one side stage band, then raced over to the other side stage to catch the last half of that band before racing back to the main stage, before starting that all over again. Of course you'd probably have to skip some bathroom breaks and you'd probably eat while walking on your way to see the next band. If that were the case, you're looking at $2.50 a band with a Field ticket or $1.65 with a Stands ticket. Now, if you're like me, and you saw 35 bands, well, that's still $4.29/$2.83 per band. Now, if you didn't want to do any running around to other stages and only saw the bands on the main stage, well, that's still only $7 a band with a Field ticket. If you ask me, the weekend is a steal!
2. People watching.
Rock on the Range has some of THE best people watching. I swear they get crazier with each passing year. Between Mohawks and other crazy styled or colored hair and various forms of face paint, you never know what you're going to see. However, the one thing I have noticed more and more over the last couple of years are the number of people in costume. This year you would have seen Spiderman and Captain America (who were also spotted crowd surfing multiple times throughout the weekend), all four Power Rangers, the Super Mario Brothers, Waldo, a guy in a partial banana costume asking for people's signatures on the costume, a guy walking around with a horse head and people with other various masks. This year, the beer/water/pop vendors were even walking around wearing masks and wigs.
Speaking of crowd surfing, despite the signs that frown upon this activity, no matter if it was a fast song or a slow one, it was pretty much a non-stop activity all weekend, especially at the main stage. I mean, where else might you see a can of Pabst Blue Ribbon beer crowd surfing during Mastodon's set? Watching the main stage field constantly pass people over and over again to the front is always a site to see. I spotted a couple band members taking part in the fun as well. However, Aaron Buchanan, lead singer of Heaven's Basement, did something I have definitely never seen at a concert before. He had the crowd steady him so he could do a handstand complete with leg splits! He then proceeded to crowd surf a little before heading back to the stage and continued with the set. Oh and I should mention, the award for longest crowd surf goes to Rick DeJesus, lead singer of Adelitas Way. After their set ended, he crowd surfed from the front security rail all the way back towards the soundboard and then all the way back to the front again. He seemed to be having the time of his life during that short little trip. Kudos to the fans for never letting him fall and participating in a little piece of Rock on the Range history.
Click here to see photos of the people of Rock on the Range and the general atmosphere of the weekend.
1. Variety of Music: 60 bands, 3 Stages, 3 Days.
For me, this is absolutely the number one reason why I love this festival. Variety. Somehow I managed to see performances by 35 bands. Out of 60, that's not too shabby! Yes, it was crazy, especially when you're constantly running around to all the different stages. Yes it can be chaotic. Ever try to walking though a slow moving mob funneling through a narrow passage way? Yes, it sucks when two of your favorite bands are playing at the same time and ultimately you have to choose one over the other but…the amount of amazing performances I got to witness during that weekend make it all worth while. Ultimately, it didn't even matter that it rained off and on during a portion of both Friday and Saturday and that the temps never really were any higher than the 50's during the day and definitely not any higher than the 40's at night. (Sunday ended up being a pretty sunny day but still not terribly hot by any means and of course the temps dipped back down to the 50's that evening.) Again though, what I remember most that weekend were the performances. Those memories boys and girls…those stay with you for a lifetime.
PHOTO GALLERIES: Below is a list of all the bands I saw that weekend. Be sure and click on each band name to view the photos from their set. After all, as they say, a picture is worth a thousand words.
Day 1:
Kyng, Redlight King, Thousand Foot Krutch, Black Stone Cherry, Reignwolf, Black Label Society, Living Colour, Seether, Down, Staind and Guns N Roses
Fave quote: Shaun Morgan (Seether): "It feels good to be alive because of you guys."
Fave performance: Living Colour
Fave band I saw for the first time: Down

Day 2:
Stars in Stereo, Wilson, Rev Theory, Fuel, Pop Evil, Theory of a Deadman, The Pretty Reckless, Chevelle, Slayer and Avenged Sevenfold
Fave quote: M. Shadows (Avenged Sevenfold) "Everybody remember tonight. Good fucking times."
Fave performance: Avenged Sevenfold
Fave band I saw for the first time: Fuel

Day 3:
Sleepwave, Gemini Syndrome, Trivium, Heaven's Basement, Adelitas Way, Jim Breuer Band, Wolfmother, Kvelertak, Mastodon, Alter Bridge, Jason Bonham's Led Zeppelin Experience, Five Finger Death Punch and Kid Rock
Fave quote: Jason Bonham (Jason Bonham's Led Zeppelin Experience): I don't have the exact quote so I have to paraphrase. Jason spoke to the crowd and talked about why he toured as the Led Zeppelin Experience. He said when he was younger he didn't understand why people made such a big deal about his Dad, but as he got older he eventually understood. This band was his way of showing his Dad how much he appreciated him and his music because he never had a chance to tell him.
Fave performance: Jason Bonham's Led Zeppelin Experience
Fave band I saw for the first time: Heaven's Basement
Now that it's all said and done, I have no doubt there will be a 2015 version of Rock on the Range and that some how, some way, it will be bigger and better than 2014. After all, they keep upping their game and have a lot of people counting on them to bring a heck of a lot of great bands to Columbus next year. If you already have plans to go or even if you're thinking about it, keep your eyes on www.rockontherange.com and their various social media sites. The line up will be announced the early part of 2015.