Rockstar Energy UPROAR Festival at Klipsch Music Center in Noblesville, IN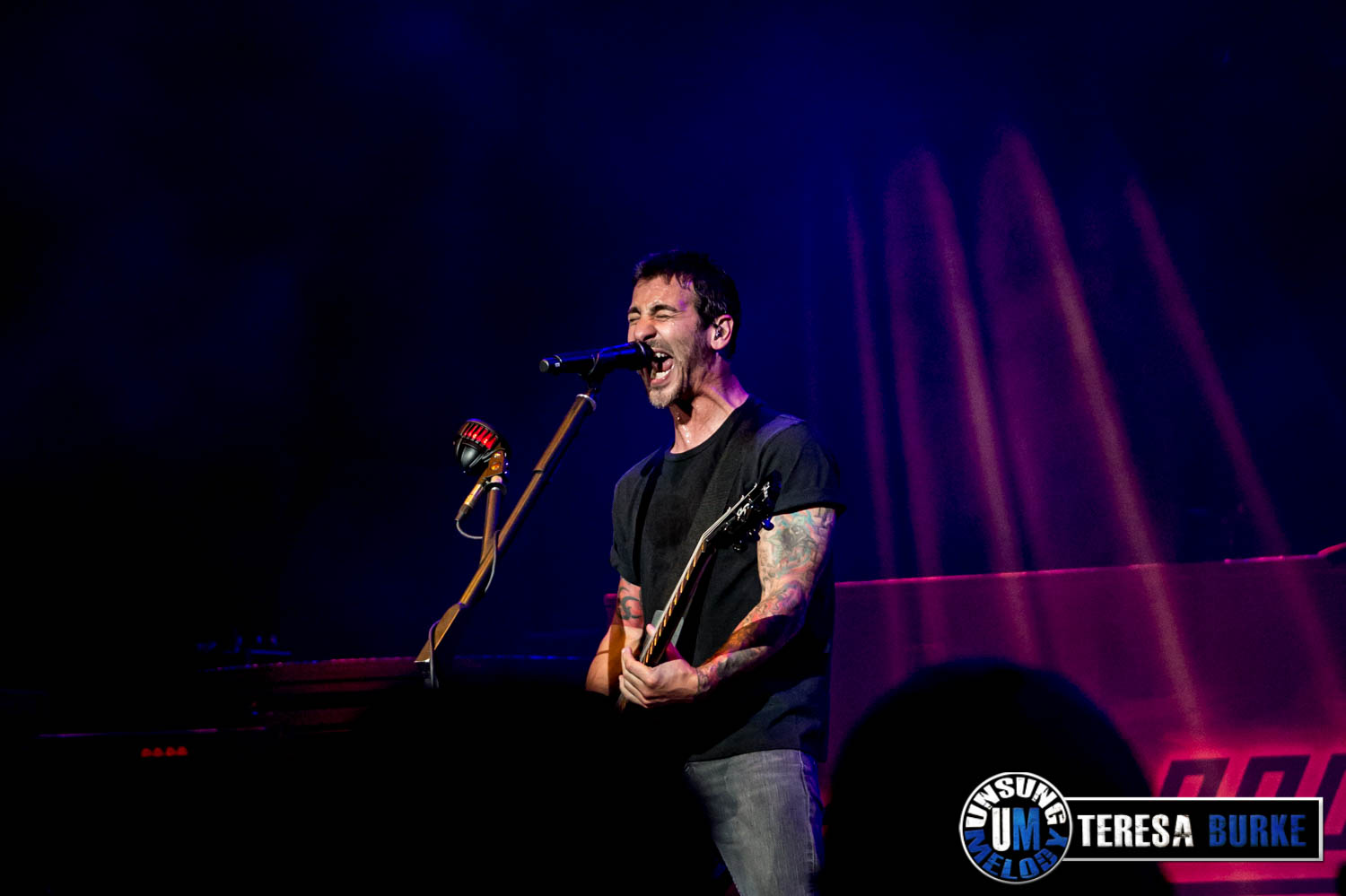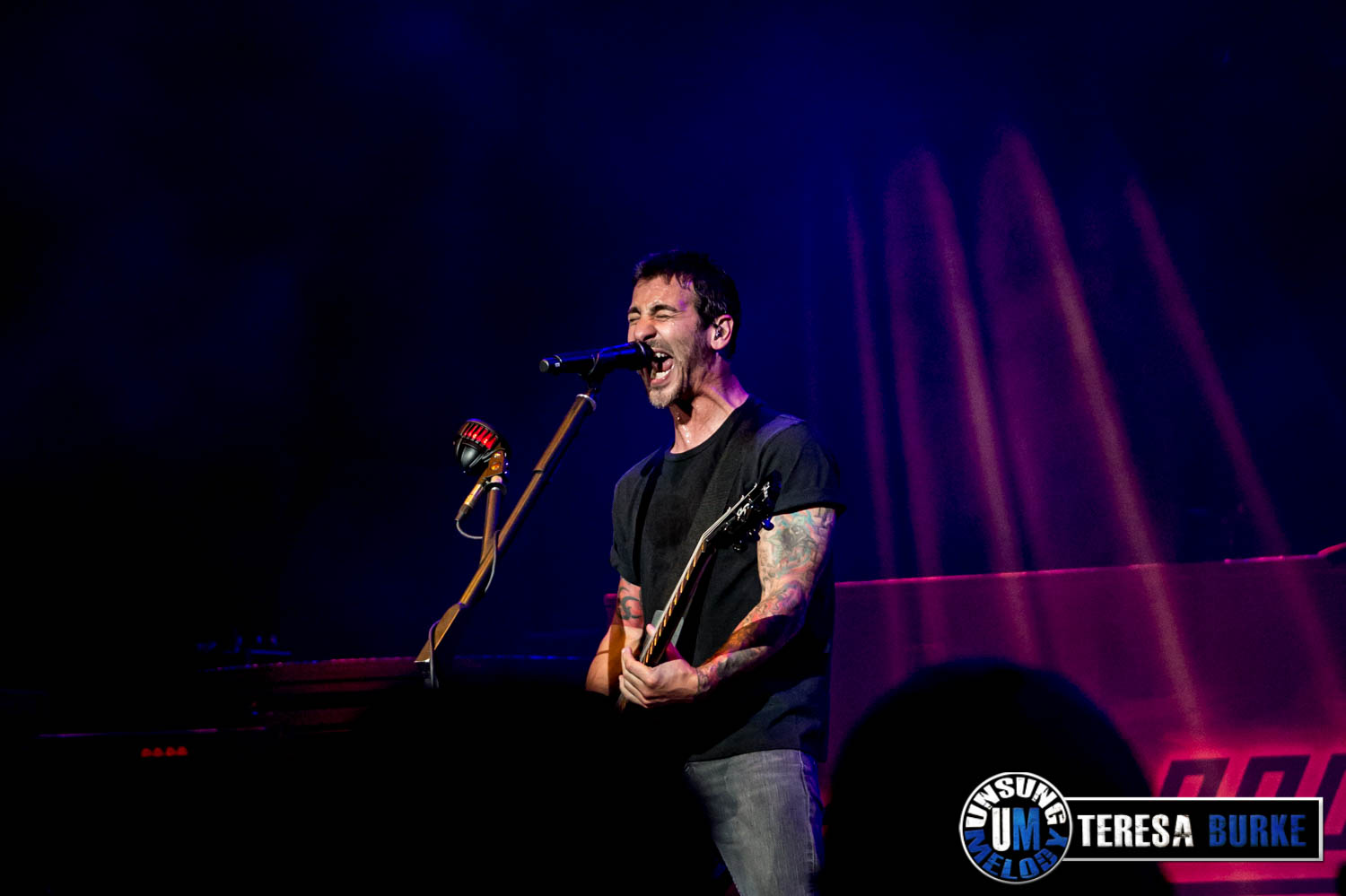 Now in its fifth year, the annual Rockstar Energy UPROAR Festival made a stop at the Klipsch Music Center in Noblesville, IN. Summer + a music festival = an experience. With temps in the high 80's with a Real Feel more like 91, plus humidity pushing 70- 90% all day made for some seriously brutal weather. Seriously. However, this did not keep fans from crowding around the second stage for Sons of Revelry, Within Reason, 3 Years Hollow, Escape the Fate and Buckcherry or from sitting in the lawn and seats at the main stage for Pop Evil, Skillet, Seether and Godsmack. The weather didn't stop the bands from giving everyone in attendance some really great performances either.
With a couple bands on the bill promoting new albums, the sets all day were a good mix of new, old, familiar, and fan favorites. I missed the Ernie Ball Battle of the Bands Winner due to an interview I had with Josh Todd, lead singer of Buckcherry, (You can check that out here.) however, as soon as that was finished I headed over to the Blackstream Records second stage for last year's Battle of the Bands winner, Sons of Revelry. Hailing from Ontario, Canada, their 20-minute set was just long enough to get you hooked on their sound. Needless to say, I enjoyed their fun, upbeat, rock sound that also included an original sounding vocal. Next up were another 4-piece band I was not familiar with, Within Reason from Birmingham, AL. Given their 20-minute time slot, they made the most of it and came out playing straight ahead Rock n Roll with pummeling drum beats, rippin' guitar and great vocals.
You can view the Sons of Revelry photo gallery here.
You can view the Within Reason photo gallery here.
Next up were Quad Cities natives, 3 Years Hollow. No strangers to playing this area, they took the stage with only 20 minutes to make an impression. Based on crowd response, their amped up set really got the crowd going especially during Remember and Chemical Ride. By the time Escape the Fate were getting ready to start, it was close to 4pm and the grueling weather would be at its worst over the next couple of hours. I noticed the heat and humidity were really taking a toll on the crowd, but there were more than enough fans still ready and willing to get crazy and rock out. Escape the Fate's 30-minute set really elevated the bar as far as energy levels go. One of the heavier bands on the second stage, with fast-paced drumming, screaming guitars and vocals, you couldn't help but want to jump up and down, mosh or crowd surf. From opening songs You're Insane and Issues on through to Ungrateful and radio single, One for the Money, they ended their set with a huge exclamation with This War Is Ours.
You can view the 3 Years Hollow photo gallery here.
You can view the Escape the Fate photo gallery here.
By the time the stage was being set for second stage headliners, Buckcherry, there was still a massive crowd waiting to see them despite the fact that the main stage seating had finally been opened. Buckcherry's 50-minute set started off with fan favorite Lit Up and they never looked back. The energy this song brings as an opener really sets the tone. As the band before them raised the bar, Buckcherry set it even higher. Continuing into Rescue Me and All Night Long, the crowd got crazy and there was more than one crowd surfer that made their way over the rail into the security pit. Having just released a brand new EP title F*CK, Buckcherry played three new songs, the first being Somebody F*cked With Me before bringing the mood down a bit with sing-a-longs Everything and Sorry. Taking it back up a notch, they went into Wrath before playing their current single Say F*ck It, which is their twist on Icona Pop's I Love It. The more I hear this song, the more I have to agree with what Josh mentioned in our interview. It really does sound like it has always been a Buckcherry song. It makes you want to move, it has some amazing guitar work from both Keith Nelson and Stevie Dacanay and I dare you to not sing along. They teased a little of AC/DC's Big Balls before playing another song from their Confessions album, Gluttony, which lead into another new song, I Don't Give A F*ck. This song has a very dirty sounding groove that just gets into your veins. All during their set, Keith and Stevie both held their own and also played to each other's strengths not to mention tossed many pics out to fans. Josh jumped and danced around as he delivered each and every lyric with conviction while Xavier and Kelly held down that steady groove that flowed in and out of every song. Of course, a Buckcherry show would not be complete without ending the night with another crowd favorite, Crazy Bitch. People always go crazy when they hear this song and that day was no exception.
You can view the Buckcherry photo gallery here.
Riding on a high of the musical experience at the second stage, and possibly slightly crazy from the heat, fans began making their way to the main stage. With 45 minutes until the next band, it offered everyone a nice break to relax from the taxing heat. However, everyone was on their feet once Pop Evil took the stage. Playing mostly songs from their latest album, Onyx, they came out with one mission in mind. To pack as much raw Rock n Roll power into their 20 minute set as they could. Aside from playing Torn to Pieces about half way through their set, they never let up. Opening with Last Man Standing, continuing with Sick Sense and Deal With the Devil, they were all over the stage. Each member playing as if the songs had taken control over them. Leigh even mentioned the Indiana crowd was officially the biggest turn out on the tour that early in the day. They closed out their set with Trenches which had a lot of people jumping along with the band.
You can view the Pop Evil photo gallery here.
Skillet's 40-minute set started with Jonathan Chu on violin and Tate Olsen on cello before the band took the stage. They too came out giving it everything they had, especially guitarist Korey Cooper. Her energy was unmatched. By the time they were playing Sick of It, which included multiple bursts of fog all across the front of the stage, and Hero, the crowd could be heard singing along. During Not Gonna Die, band members rode up and down on risers on either side of drummer/vocalist Jen Ledger's kit. Prior to Awake and Alive, Jen could be seen standing front and center as she sang the opening portion of the song before taking her seat back behind the drums. Jonathan and Tate made a couple more appearances during the set and hearing the string portions live really gave a cool layer to the mix. At one point lead singer/bassist John Cooper asked how many people had never seen Skillet before. Much to my surprise, there were a lot of hands in the air. After jokingly calling them all a bunch of sinners he said, "First timers, I love you!" After hearing the cheers of those that had seen them before, he yelled, "You People Rule!" There was quite a bit of crowd chanting during Rise and again during Monster before ending their set with Rebirthing.
You can view the Skillet photo gallery here.
Having recently released Isolate and Medicate, Seether's almost hour long set only included one new song, Words As Weapons, as they chose to satisfy the crowd with more popular songs. Opening with Gasoline really got the crowd in a frenzy before going into Fine Again and Rise Above This. It was during the third song that guitarist Bryan Wickmann started having guitar troubles. I can only image, due to the heat and humidity the equipment just wasn't having it. After a couple different guitar changes, he just gave up, held the guitar cord in his hand and sang along before eventually trying to engage the crowd in clapping. For the majority of the set, the dark lighting played well with the dark imagery of their lyrics. But it wasn't until Broken, that the true impact of a song was felt. With only Shaun Morgan and bassist Dale Stewart (who was sitting down while playing guitar) on stage, almost immediately as the opening notes started, multiple phones were in the air to record video. As Shaun sang the first few words, "I wanted you to laugh," he encouraged the crowd to sing along as he fell silent, and they did. He continued, "I keep your photograph," and once again fell silent as he let the crowd sing. It wasn't until the chorus kicked in that he sang again but the crowd could be heard loud and clear over the band. It was such an awesome thing to witness. When they launched into Country Song, the place erupted with loud cheers and as they ended the night with Fake It and Remedy, I looked around to witness so many people thoroughly enjoying the evening, singing and dancing around. It's amazing how music can make people react.
You can view the Seether photo gallery here.
The anticipation prior to Godsmack went up a notch when a large white curtain covered the stage. After a 30-minute set change, the lights dimmed and AC/DC's For Those About to Rock (We Salute You) started playing loudly while video of the band could be seen on the curtain. Once the song ended, it was dark while intro music started playing. Silhouettes of band members behind the curtain could be seen within the spotlights as they took the stage. As they started playing, I recognized the opening notes and knew we were getting a song from their new album 1000HP to kick off their set. Generation Day is bombastic and a killer song as an opener. Their "break" from touring was soon forgotten as song after song they reminded everyone of just how much of a powerhouse they were and still are as a band. Cryin' Like A Bitch lead into two back to back new songs, What's Next and Locked and Loaded which also included the first of many pyro instances during the night. The latter song is heavy and angry and sounds great live. They continued with fan favorite Keep Away which also had Shannon Larkin throwing a couple drum sticks to Robbie Merrill who threw them into the crowd. While Robbie mostly stayed on his side of the stage, he often would interact with Shannon and the fans down front.
All night Sully Erna took turns standing at one of three mics across the front of the stage while singing, however, there were a couple times he took advantage of the mic at the top of stage ramp behind Shannon's drum kit. During The Enemy, the constantly moving yellow lights reminded me of search lights. In fact, all night, the lighting really played into the overall visual of the songs. I don't know about you, but I love a good light show. I also should note, Shannon is a machine. There is no way humanly possible any normal person is able to play like he does. It was also during The Enemy I witnessed this arms over shoulder motion that is just insane to watch. I once read someone describe him as an octopus on crack. I fully agree with that. I also wonder if he sits around making up various ways he can hit his drums and cymbals. Seriously, watch him play. It's insane!
You can view the Godsmack photo gallery here.
A song I was surprised to hear live was another new song, Something Different. This song is not as heavy as the others and just like the title, it sounds different, however, it goes over really well live. Straight Out of Line lead into Awake with a barrage of strobe lights plus more stick tricks from Shannon as he would flip his stick in the air, catch it and keep playing. The song ended with red flash pots and massive explosions. Right before Speak, Sully crouched down on the stage while making alien like sounds with his guitar. Add to this the strobes flashing and it felt like we were going to be abducted any second. After a couple more songs, the highlight of the night came when Shannon's drum kit moved forward and out came a second kit. It was time for dueling drums! Both Sully and Shannon started off playing Batalla de los Tambores before going into their friendly competition between drummers. They also played a medley that included Back in Black, Walk This Way and Creeping Death. One word. Excellent.
About halfway through Whatever, cups of beer were wheeled onto the stage and Sully started tossing cups into the crowd. Much to everyone's surprise, someone actually caught the first toss! He chucked out quite a few of these cups and overall I'd say about 50% of people caught one. As they finished out the song, there was a loud chant from the crowd, "GO AWAY!" and confetti burst out from the stage and covered all the hot, sweaty fans down front plus the band members. The last song before the encore was the title track for the new album, 1000HP, and was just as energetic as the opening song. Starting with a revving engine plus the pummeling drums, it just doesn't let up. Guitarist Tony Rombola, who had been shredding off and on all night, laid into his solos for this one. With pyro going off nonstop, it was a great way to end. But wait, it wasn't quite over yet. After briefly leaving the stage, they came back out for one more song. Once again, with Tony prominently on guitar, I Stand Alone had everyone singing at the top of their lungs. Sully screamed, "Thank you very fucking much Indy!" as one last explosion went off and the song ended.
Wow. What a day. Ten bands, countless songs, and a ton of memories. The festival runs through September 21, so if by chance it's making a stop in your city, by all means, go. Also be sure to get there early and check out the second stage bands.
Keep up with the festival and the bands below:
Rockstar Energy UPROAR Festival
Godsmack
Seether
Skillet
Pop Evil
Buckcherry
Escape the Fate
3 Years Hollow
Within Reason
Sons of Revelry