Rockstar Energy Drink Uproar Festival in Tinley Park, IL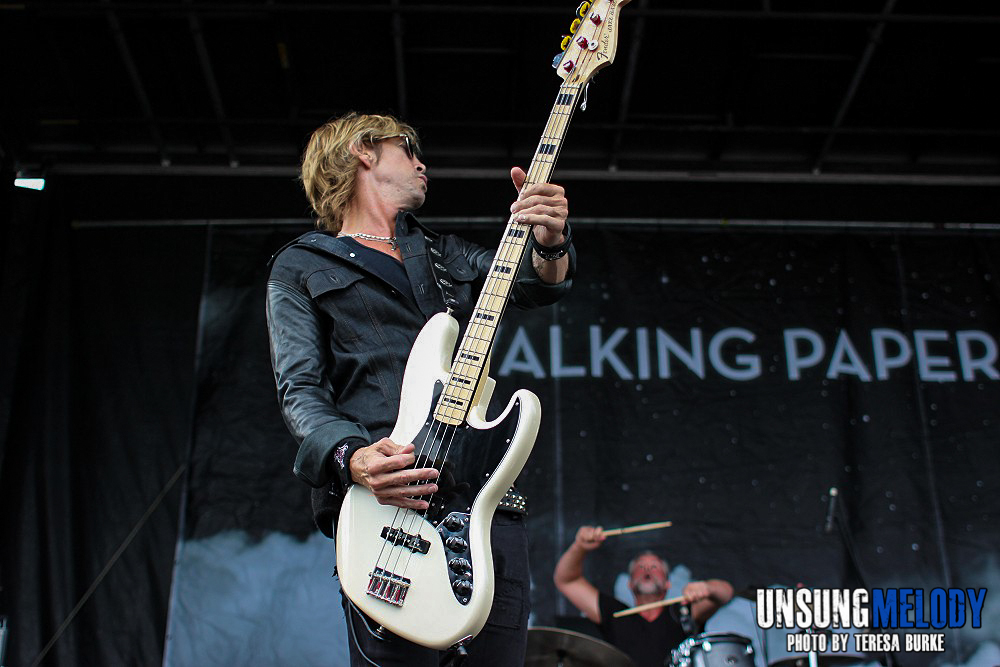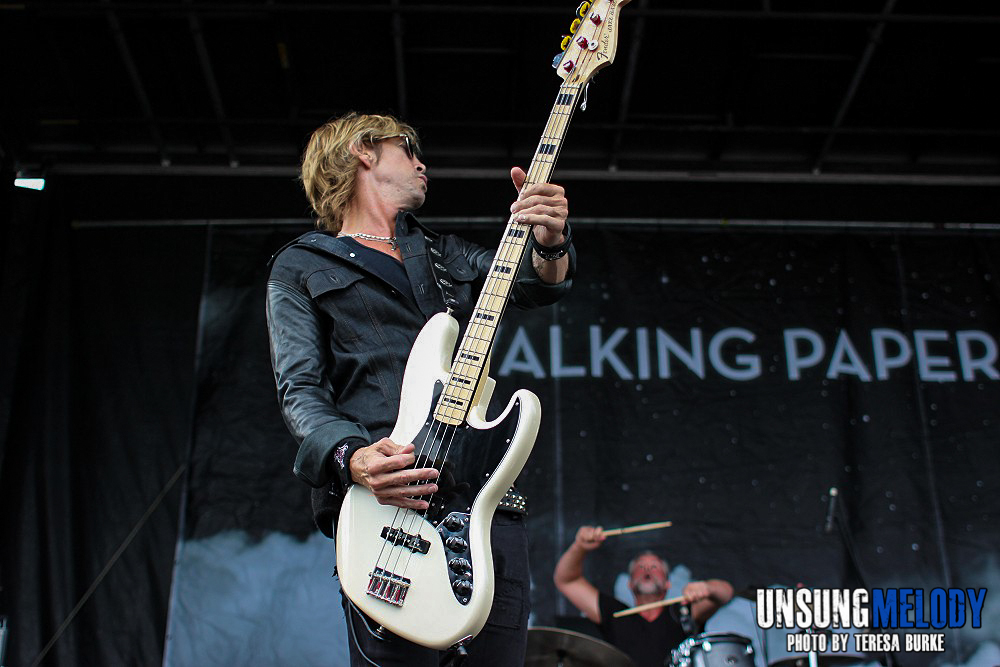 The Rockstar Energy Drink UPROAR Festival was one of several tours heading out across the U.S. this summer. This year's line up was a combination of new bands, established bands and a few bands that were from outside the U.S, playing on three stages. Being able to cover the two side stages, which were full of high energy sets, was a great way to spend a weekday. Curious if the morning and early afternoon rain would keep fans away, I was pleasantly surprised to find a decent size crowd had shown up to support and or check out the bands on the two side stages. Fortunately for everyone in attendance, the rain pretty much stopped shortly after Charming Liars started their set. Hailing from London, they kicked off the day playing the Coldcock Herbal Whiskey stage. They did a great job of getting the crowd pumped up with upbeat songs, cohesive vocals and great energy.
With the two stages side by side, fans could easily move back and forth. Kicking off the Zippo Encore stage were New Politics from Denmark. Their set consisted of songs from their new album A Bad Girl in Harlem. As he walked out, singer David Boyd was all smiles. They opened with Give Me Hope and with it's an infectious beat, had David dancing around the stage. They continued with Dignity from their 2010 self-titled album before playing Just Like Me. Prior to this song though, David started jumping and flipping on stage showing everyone his break dancing skills. Not only was he spinning around on stage, he did multiple head stands both with and without his arms for support. It was super crazy to watch and oh so much fun. Guitarist Søren Hansen was a pretty intense player and also provided backing vocals on various songs. At one point he threw his guitar up into the air so high I didn't think he was going to catch it. No problem. He caught it and continued to swing it high up in the air a couple more times. They closed out their set with Tonight You're Perfect, their current super catchy single, Harlem before ending with another from their self-titled release, Yeah Yeah Yeah.
Next up were The Chuck Shaffer Picture Show from Virginia. This 3-piece band were the 2012 Rockstar UPROAR Ernie Ball Battle of the Bands winner which sealed their spot on the 2013 tour. Their set consisted of songs from their newest release Temporary Fix. Lead singer and guitarist Ryan Johnson was both calm but determined with his playing. Drummer Adam Gilbert on the other hand was a madman behind the kit. With bassist David Stiefel, these guys held the attention of the growing UPROAR crowd.
Chuck Shaffer Picture Show photo gallery
Back on the Zippo stage were Middle Class Rut from Sacramento, CA. Known to most as a duo, singer and guitar player Zack Lopez and drummer and singer Sean Stockham are touring with extra band members due to the arrangement of songs from their newest album Pick Up Your Head. Having the added members really adds a bigger sound and at times, having two drummers is an amazing sound effect. Current single, Aunt Betty, is an interesting song to hear live especially when you notice Zack grabbing his throat to make distorted vocal sounds. MCR's songs are quick, upbeat, aggressive and just plain make you want to move. Their 30-minute set ended with two songs from their previous release, No Name, No Color, including New Low and USA. Needless to say, the crowd was amped up by the end of their set.
Middle Class Rut photo gallery
Back over to the Coldcock Herbal Whiskey stage were Mindset Evolution from Peoria, IL. Previously winners of the Rockstar UPROAR Ernie Ball Battle of the Bands, they won a spot on the 2012 UPROAR festival. Back for more this year, they showed the crowd just how they earned that spot. Singer Rob Ulrich was a nonstop ball of energy. Whether jumping around or singing to fans from any and every part of the stage, he kept their performance level high. Having two guitarists, Brad Prentice and Skyler Baer, also brings a great dynamic to any band. However, the energy from drummer Joey Gibbz could be felt all the way into the crowd as far back as he could chuck his sticks while playing. Their set included songs from their newest release Brave, Bold & Broken including single Burn It Down. What starts off as a steady tempo song quickly turns into an aggressive, in your face song that won't let up.
Mindset Evolution photo gallery
Next up were Danko Jones from Toronto. With their super sick bass lines, fast-paced tempos and catchy choruses, Danko and Co. treated the audience to one interesting performance. Lyrically geared towards woman and sex and all that's wrapped up in that, singer and guitarist, Danko Jones and bassist JC, know exactly what they are doing. Playing songs mostly from previous albums, like The Rules and Had Enough, most of the crowd was familiar with and sang along to First Date. They also played Legs from their new album, Rock and Roll Is Black and Blue. This song begs you not to sing along with the super catchy chorus. At one point, someone yelled out a request for Mango Kid. Danko was joking around noting it wasn't on the set list and admitted he was a tight ass when it came to deviating from it. He also noted they hadn't played it in a long time and instead dedicated Lovercall to the guy. Given the topic, it was during this song that Danko felt it appropriate to show the crowd his Gene Simmons' like tongue. With that all too familiar guitar intro, they ended their set with Full of Regret.
The headliner of the Coldcock Herbal Whiskey Festival Stage was a band called The Dead Daisies. I'll be honest, I had never heard of them before. Lead singer Jon Stevens came hopping out due to a broken leg and sat in a chair center stage. He also commented he had a broken thumb. As they say, the show must go on! Even though he sat for the majority of their set, I could tell by the way he moved in his chair, if he hadn't been injured, he'd be very active on stage.  Before the fourth song, Jon mentioned they were from Australia. That however, didn't explain why the keyboard player looked so familiar to me during the first song. Well, as Jon introduced the band members, not everyone was from down under. The band consisted of David Lowy on guitar, Marco Mendoza on bass, Alex Carapetis on drums, Richard Fortus on guitar and Dizzy Reed on keyboard. Bingo! I knew it was him. Their set mostly consisted of songs from their self-titled album including It's Gonna Take Time, Lock 'N' Load and Miles In Front of Me. They also played Fly, which Jon noted was from Disney's Planes soundtrack. The biggest surprise came when they closed out their set with a cover of Helter Skelter. With powerful vocals and excellent musicianship, The Dead Daisies are definitely a band to have on your radar.
The Dead Daisies photo gallery
The last band on the Zippo stage were Walking Papers from Seattle, WA. For those not familiar, the band consists of Jeff Angell on lead vocals and guitar, Barrett Martin on drums and backing vocals, Duff McKagan on bass and Benjamin Anderson on keyboards and backing vocals. This band was the highlight of the day. Not only are their songs great pieces of musical imagination, Jeff's vocals are deep and haunting and flow perfectly. Their set started off with The Whole World's Watching and Red Envelopes. I should add Benjamin is a crazy madman on those keys. There aren't many keyboard players that sing, makes faces, head bang or constantly jump up from their seat, oh and I should mention, play in their socks. His boots were neatly placed off to the side of his keyboard stand. Barrett also was a pretty aggressive player on stage. Duff on the other hand roamed the stage, stood on the drum riser, often times facing Barrett, and played on the opposite side of the stage. His attitude was all Rock and Roll. All during their set, Jeff was serious, entertaining, made strange faces, hand movements, kicked his mic stand out in front of him, and genuinely played an amazing set. During The Butcher, with its piano intro and a beat that makes you want to ballroom dance, Jeff actually went into the crowd. Luckily everyone was cool and didn't mob him. I'm sure the perspective is interesting for the artist, especially when you're out there for the majority of the song. They ended their set with Two Tickets and a Room and what I believe to be a new song called Climber.
With the two side stages done for the day, there were still four bands left on the main stage. I easily could have left and been fully satisfied with the bands' performances that day. The main stage started off with Circa Survive from PA and Coheed and Cambria from NY. Both with interesting vocalists, you could tell who were fans of the bands. While the crowd closest to the stage seemed to be the most into Circa Survive, there were many small groups of people farther back in the seats who were absolutely going crazy for Coheed. One group in particular near me sang every lyric, danced and made dramatic hand and arm movements as they more than enjoyed the set.
Up next were Jane's Addiction. Pink Floyd's Welcome to the Machine could be heard loud and clear as they eventually took the stage. Swinging from high above the stage were two women with long flowing dresses. Dark colored lights on stage added an even more dramatic effect not to mention Perry Farrell in his top hat and tails. The mood was set and as they played Underground from their last album, The Great Escape Artist, the band launched into a set full of songs from various albums. After Mountain Song and Had a Dad, which was full of what I'll refer to as Perry arm dancing, he addressed the crowd, "Chicago, Chicago, Chicago." They continued with Just Because and Aint No Right before the loudest crowd response of the night with Been Caught Stealing. Off and on during their set there were videos and various imagery. Both drummer, Stephen Perkins and guitarist, Dave Navarro played solos. Towards the end of their set Perry yelled out, "I love Chicago!" and the crowd cheered. After playing Ocean Size and Stop, the band left the stage and crew members set up for an acoustic number front and center. Bassist Chris Chaney sat in big comfy chair while Dave sat on the monitors at the edge of the stage and Stephen played both bongos and steel drums. Perry commented that he was enjoying the Jane's and Chains tour prior to starting what became the biggest crowd sing along of the night. The acoustic version of Jane Says allowed the crowd to be heard loud and clear. Definitely a cool moment during the night. The band bowed and left the stage but it wasn't until Perry put his hat back on and walked off the stage that their portion of the night was over.
Now it was time for the main event. Playing for just over an hour, Alice in Chains took the stage opening with Them Bones before playing the newest single Hollow, from The Devil Put Dinosaurs Here. I don't know what it is about that song, but it's very peaceful in a haunting way. The red and blue lights during this song really helped to set the mood visually. They launched into Again and afterwards Jerry Cantrell asked, "How's it going out there? You good?" There were many cheers from the audience. The loudest crowd response, however, came with those opening notes of Man in the Box. Complete with Jerry playing his talk box, the crowd went nuts. All night William DuVall and Jerry traded off lead vocals while bassist Mike Inez was all over the stage. Whether down front or on top of the back risers, his hair flying as much as his fingers across his strings. Drummer Sean Kinney was in his usual groove. About midway through their set I noticed his kick drum still showed initials LSMS (Layne Staley, Mike Starr). Very cool to have them remembered like that. I don't know if I was the only one, but I couldn't help but sing at the top of my lungs during Junkhead, "What's my drug of choice? Well, what have you got?" Jerry spoke again stating that Baldy had reminded them they had played Lollapalooza at this very same venue back in 1993 and that it was also Layne's b-day. They continued mixing new songs like Acid Bubble and Stone within We Die Young, Down in A Hole, which had Jerry kneeling at the edge of the stage during the last part of the song, and No Excuses. The coolest crowd highlight came at the end of Would? During the very last line of the song, the crowd was amazingly loud as they sang the drawn out verse along with the band, "If I would, could you?" Instead of the band leaving the stage just to come back out for the encore, they ended the night with Rooster. Once the song was over, I saw Jerry throw his guitar to a tech standing side stage. The few times I've seen band members do this, I'm always amazed that they are willing to risk a slip! They all threw out picks and sticks and as they were leaving the stage, Mike yelled into the mic, "Let's hear one for the Blackhawks!"
What a day, what a day. What started off as a cold and rainy Thursday ended up being a great day of music. I know some of the bands on the bill may not have been everyone's cup of tea, but as they say, variety is the spice of life. Do yourself a favor and try something new, listen to something new, just get out there and give some of these bands a shot. You never know when you're going to find your next favorite band.
Keep up with the bands below:
http://www.charmingliars.com/
http://www.newpoliticsrock.com/
http://www.cspsband.com
http://www.mcrut.com
http://www.mindsetevolution.com
http://www.dankojones.com
http://www.thedeaddaisies.com/
http://www.walking-papers.com
http://www.circasurvive.com
http://www.coheedandcambria.com
http://www.janesaddiction.com/
www.aliceinchains.com